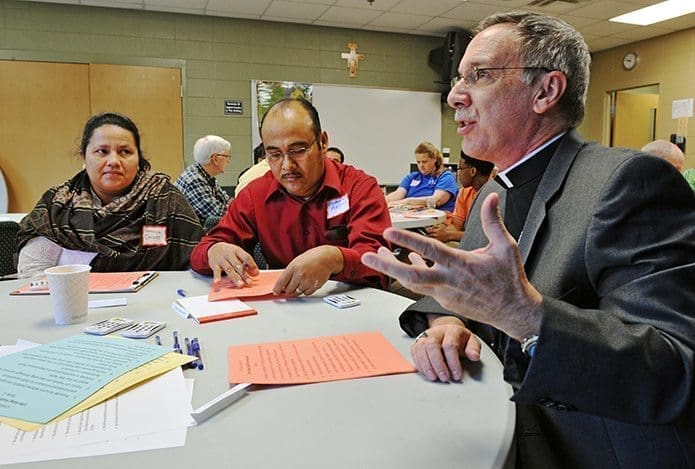 By GEORGIA BULLETIN STAFF
|

Published December 11, 2014

ATLANTA—The time is nigh for the pastoral plan for the Atlanta Archdiocese to be unveiled.

After 10 months of input, with an opportunity for all to participate through surveys, discussions, recommendations from clergy and lay people, and voting, an array of over 100 possible priorities for the archdiocese has been whittled down to 12 to 16 choices. They are the consensus priorities from 10 deanery meetings representing every part of the archdiocese, the convocation of priests, and a meeting of deacons and religious.

These choices, undisclosed at this time, have been sent to Archbishop Wilton D. Gregory, who will make the final determination of the main pillars of the pastoral plan, which will set the direction of the Archdiocese of Atlanta for the next five years.

The target date for release of the pastoral plan is January of 2015; the actual date is at the discretion of Archbishop Gregory.

Peter Faletti, director of archdiocesan planning and research, with the help of a pastoral planning committee, led the efforts of local Catholics to articulate, define and refine the recommendations through the process, which began with a survey in March.

According to Faletti, there has been a "remarkable consistency" in what Catholics across the board believe are the most important priorities of the local church over the next five years.

Whether voting took place among the priests, or at the deanery meetings held this fall, or at the separate meeting of deacons and religious, the highest priorities were substantially the same, Faletti said. The discussions at the deanery meetings were framed around four key themes: Knowing Our Faith, Living Our Faith, Keeping/Spreading Our Faith, and Evolution of Our Parishes.

These critical issues emerged from a precursor to the pastoral planning survey—the Vatican survey for the Synod of Families, which drew 5,000 local responses. Then the planning and research office developed a follow-up archdiocesan survey, which received 15,000 responses. Faletti said of the Vatican survey, "We received 5,000 responses. … It told us people wanted to be heard."
Technology streamlines decision process
At each of the 10 deanery meetings, as well as the priests' convocation in September, the groups discussed and voted on 101 recommendations that had emerged from the parishes during the summer. Using handheld voting devices, participants voted on the recommendations, paring down the choices until they had two to three for each critical issue.
A factor in the success of the voting process was the technology used, the Polling PowerPoint product from Turning Technologies. This product is credited with cutting the meeting times in half and giving a transparency to the voting process that made it exciting and helped large and diverse groups of people come to fair and open conclusions. It also preserved the anonymity of an individual's vote, which let people be more truthful in their opinions.
Deacon Gerry Kazin, a parishioner at St. Benedict Church, Johns Creek, suggested the technology, which he uses in his work as an engineer at GE Global Research. He said that this kind of polling software technology helps a "group of people to capture their top priorities … and agree on their preferred recommendations."
The voting device is a credit card-like keypad linked to software, which then displays the polls on a screen that all can see. Through a step-by-step process, the participants at each of the deanery meetings were able to distill the 101 recommendations into what Deacon Kazin called a "manageable list." Technology, he said, "made it faster, with confidence in the answers—increased confidence in what the diocese should do."
Deacon Kazin noted that "very clear" common threads evolved as the voting process occurred, as a "collective preference" for an issue became obvious. He said that the technology added credibility to the process, which was streamlined.
One of the other aspects of using technology in the voting process was that "anonymity was protected," he said. People were able to vote freely in expressing their choices.
He said this technology is good for the archdiocese—a "good future tool" for future projects.
Deanery meetings yield final recommendations
On Oct. 4, delegates from Sacred Heart Church, Griffin; St. Philip Benizi Church, Jonesboro; San Felipe de Jesus Mission, Forest Park; Our Lady of Vietnam Church, Riverdale; St. Gabriel Church, Fayetteville; St. Peter the Rock Church, The Rock; and Holy Trinity Church, Peachtree City, gathered at the South Deanery meeting held at the Jonesboro parish to discuss and select the final recommendations from their deanery.
"We appreciate you taking Saturday time to help with our pastoral planning process," Faletti told those gathered.
Planning analyst Jenny Scheb would reconfigure the slides after each vote tabulation, showing the top vote-getters. Participants took about seven minutes to discuss each slide, which contained on average eight topics or recommendations.
Bishop Luis R. Zarama attended the session and was on hand to translate for Spanish-speaking participants.
Bishop Zarama took notice of the frosty fall weather that morning, noting that it would've been a "beautiful day" to stay at home and read the newspaper or sleep late. "But you are here," he said in appreciation.
This process, said the bishop, is not for the archdiocese to dictate what is vital, but for Catholics to outline what the most important needs are.
"It will be a very easy and interesting process," he said. "The most beautiful thing that will happen today … you will share," he said to the participants.
"Today, we have huge challenges," said Bishop Zarama. "The question is how to keep our faith strong and help others come back to the church."
"How can we present the beauty of what we believe?" he asked.
"This whole process is very critical," said Faletti, who told the gathering that the archbishop would take results from all the deanery meetings to personally write the pastoral plan.
Sitting at circular tables, participants, including clergy and parishioners, discussed points before casting votes with the individual electronic voting cards. Issues discussed ranged from promoting deeper sacramental life to allowing deacons more administrative tasks to assist priests or free them up for pastoral duties. Other issues of concern were keeping college students active in the Church while away from home, cultivating prayer life, more solid faith formation for both catechists and children.
Delegates from the smaller parishes mentioned the challenge of only having one priest.
The discussion was not meant to pressure people to change their opinions.
"No one is trying to persuade. We want you to think of them from three different directions," said Faletti.
As a guide to decision-making, people were asked to consider what the impact would be of any recommended action, whether it could be implemented by most parishes, and whether the archdiocese has the resources to implement the changes to address the issue.
"They are all really great ideas," acknowledged Faletti, as some of the votes were close with ties occurring and re-votes needed to narrow down recommendations.
Abigail Arthur-Chillman is on the archbishop's pastoral committee and a parishioner of St. Brigid Church, in Johns Creek. She and other volunteers, including Lauren Schell, principal of Holy Redeemer School, were on hand to help. Deacon Peter Swan, of St. Philip Benizi, volunteered and kept the orange juice and coffee flowing for participants.
Schell, who served on the pastoral planning committee and is an active member of St. Brigid, said that Faletti and Scheb "did an excellent job in leading this committee and the process of the pastoral planning."
"The process for gathering information from surveys, meetings and 'town hall' format discussions allowed for input from a variety of sources as well as allowing both those actively involved in the church, those who are less involved, and even those who may not be currently involved at all to be heard," Schell said.
She said that the process was well-managed, allowing meetings to be productive and the process to move forward in a timely manner.
Schell said that the process not only showed where the Catholic community is now, but also gave a direction for the future.
"I also learned that as diverse as we are, we are similar in so many ways and that we share not only similar concerns for our Church, our families and our communities, but more importantly, we share a love for our faith, which has guided this process and will continue to guide us as a church," said Schell.
"It was a privilege to have the opportunity to be a part of this committee," she said.
Susan Baker, St. Philip Benizi's youth minister for the past two years, was joined by Michael Ekpo, 16, in representing their parish. Baker said their pastor, Father John Koziol, OFM Conv., wanted a teenager's perspective during pastoral planning discussions.
Ekpo attends public school at Mundy's Mill High School in Clayton County.
The teen likes the idea of having input from leaders but also wondered if groups of teens, parents and then other adults would be good to have as well for future discussions.
Understanding the why behind church teaching is vital for living the faith and evangelizing. "Sometimes the 'why' is wrong," said Baker about what she encounters.
Three Saturdays later, nearly 50 Catholics showed up on Oct. 25 for the North Metro Deanery meeting at the Chancery.
"People are looking for direction. People want to understand the why," said Bill Hughey, a member of the Archdiocesan Pastoral Council.
Hughey participated in nearly every workshop planning session. He said lots of conversations were dominated about serving the needs of the family.
Vicky Dorsey, 51, works at the University of Georgia and worships at Sts. Peter and Paul Church in Decatur. Her family has roots at the parish back to the early 1970s.
Her goal is to ensure parishes thrive so 20 years from now, people will have places to contribute and grow in their faith.
An emphasis on "serving the poor, sharing the joy of Christ and doing his work" is a place to start, she said. "I'm amazed that everyone still wants to focus on the basics—faith and charity," she said.
Another key element is making the church welcoming to young Catholics and parish leaders improving their communication with them, she said.
Mike Gannon, 30, who attends All Saints Church in Dunwoody, said, "It's good we are polling the Catholic people to understand the underlying currents and trying to meet them where they are."
It's good the church leaders are seeking opinions from the community to know its needs, he said. "It's good to know we are listening."
John Buckett, 67, retired from Scientific Atlanta, and a religion teacher at St. Benedict Church, Johns Creek, feared the pastoral plan, if too ambitious, may not get implemented.
"To tackle too many questions sometimes dooms you to failure," he said.
Father Paul Flood, pastor of St. Benedict, joined parishioners afterward for lunch. He thought the process was revealing to Catholics.
"They feel the pulse of the archdiocese" by attending these and seeing the long list of recommendations, he said.