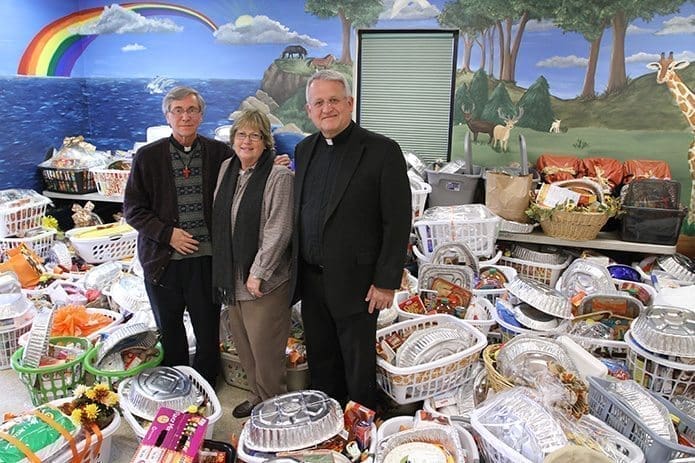 By ANDREW NELSON, Staff Writer
|

Published November 27, 2014

WOODSTOCK—There are 450 requests for Thanksgiving baskets at St. Michael the Archangel Church, in Woodstock.

With less than a week to delivery, only 290 baskets were filled with Thanksgiving items.

"We'll do what we have to do. God will provide," said a volunteer, who asked not to be named. "This is a little thing I do between God and myself. I don't want it recognized."

Chris Berens, the Life Teen and youth minister, was also calm about the shortfall.

"There always seems to be an abundance," she said. "Our Lord multiples and (Our Lady) sends us out to do the work," said Berens, who has coordinated the event for the past 14 years. The parish has taken on this ministry for the past 16 years.

The root of the outreach is the Life Teen ministry. Teens raise money with car washes, raffles and other projects to buy the turkeys, the eggs and other ingredients. They raise about $10,000 for this effort, Berens said.

Parishioners, from seniors to students in the parish religious education program, pitch in to supply the rest for a traditional Thanksgiving dinner.

In addition, many people customize their baskets. Some add blankets, others hats and gloves. People decorate them, wrapping them in cellophane.

Delivery also requires an all-hands-on-deck approach. They are delivered the Saturday before Thanksgiving. The recipients are spread throughout the area and have let the church know of their needs.

"It's a whole parish outreach. (Young people) get so pumped up when they go and deliver the baskets. We're handing on the faith. This is what we do" as Catholics to live the Beatitudes and care for the least of God's people, she said.

Baskets are to be blessed following Mass before drivers and volunteers pick up the baskets and the turkeys for delivery.

"There are hundreds of people who come out to help," Berens said.