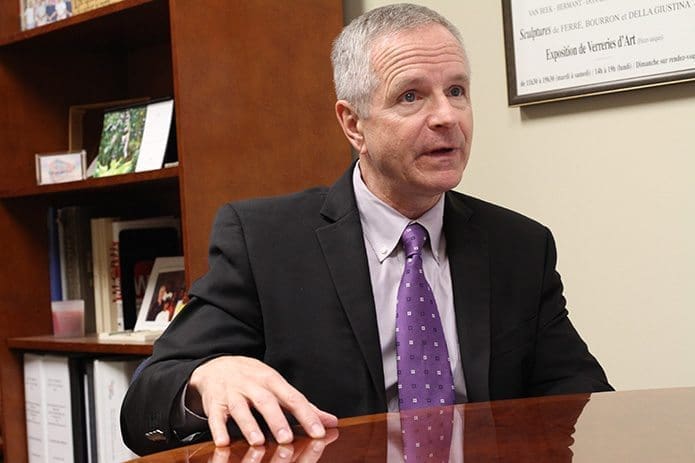 By ANDREW NELSON, Staff Writer
|

Published November 27, 2014

ATLANTA—With the ambition of enlarging its health care safety net, Atlanta's Mercy Care is having to reintroduce itself to the metro community. Once an offshoot of Saint Joseph's Hospital, the nonprofit now stands on its own.

"We have been the best-kept secret," said Tom Andrews, the president of Mercy Care. "We don't want to be the best-kept secret, and we need community support."

Its medical staff of nearly 30 doctors and nurses on staff, along with some 200 volunteers, work in nine clinics around metro Atlanta, serving in struggling neighborhoods. Its five large mobile vans become medical clinics when they park outside homeless shelters, offering primary medical care to adults and children, along with dental care and prescriptions.

Street medicine teams seek out hard-to-reach people living on the streets and under bridges.

Two out of three patients in 2013 served by Mercy Care staff were homeless, as the organization continues in the mission of the Sisters of Mercy caring for the needy.
Sisters started Atlanta's first hospital
Pioneering Sisters of Mercy arrived in Atlanta 15 years after the Civil War. The religious community created something new in the bustling commercial center, its first hospital. The sisters' 1880 mission expanded in 1900 when a school of nursing began. The ministry, known as Saint Joseph's Infirmary, began on Baker Street in downtown Atlanta and moved to a larger location on Courtland Street.
However, as the city population shifted to the suburbs in the 1960s and 1970s, the hospital also moved. It opened a 13-acre campus on the northern edge of Atlanta in the late 1970s.
But teams of nurses, doctors, sisters, and other volunteers soon returned to downtown Atlanta to care for the poor. Vans served as clinics to treat people on the street and in homeless shelters. Medical supplies were carried in tackle boxes.
In 1985, Saint Joseph's Mercy Care Services was incorporated to continue the Sisters of Mercy's mission to care for the indigent. A downtown Atlanta clinic opened in 2001 on Decatur Street to be closer to the poor patients. The hospital for years served as a benefactor in support of this outreach.
However, that has changed. In response to changes in health care, Saint Joseph's Hospital became part of Emory Healthcare in 2012 with a joint operating company. Mercy Care Services and Saint Joseph's Mercy Foundation were not part of the new entity.
As it moves from a hospital charity to a community charity, Mercy Care no longer relies on $5 million in hospital contributions.
Its director of mission, Mercy Sister Angela Ebberwein, the vice president of mission, called the relationship between Mercy Care and the hospital now as that of a "distant cousin."
Mercy Care renamed itself this year. People mistakenly thought it was still supported by the hospital though the relationship changed in 2012. Its new name no longer includes the hospital, but instead Mercy Care calls itself "a legacy" of Saint Joseph's Hospital. It also revised its logo, reimaging itself as two hands embracing a heart with a cross in the middle, a reflection of the Sisters of Mercy logo.
A right to access health care
Andrews has a long history with the charity, working first for Saint Joseph's Hospital and then taking the helm of Mercy Care in 2003. His background is in allied health, the field in which he earned a degree from Ohio State University, followed by five years as the director of managed care for Saint Joseph's Hospital.
Large black and white photos decorate his office. One shows Anglican Archbishop Desmond Tutu of South Africa visiting Mercy Care, and another shows Mercy Care workers and volunteers grabbing medical supplies in tackle boxes out of a van to serve patients.
Andrews, 58, attends Immaculate Heart of Mary Church, Atlanta. He said he is an example of the "Francis effect," returning to the church as he has seen its leaders "talking about the right issues now."
Health care for the poor in Georgia gets a D-minus grade, said Andrews.
"We are always in the upper 40 (of 50 states) as it relates to low birth weight, life expectancy," he said, adding the federal-state health care program to serve the poor is difficult to access. "Everyone should have access to health care. Georgia is among the worst states having access to health care," he said. "You have to jump through a lot of hoops."
People fall through the cracks and the mission of Mercy Care is to care for those people, he said. Indeed, the controversial Affordable Care Act has allowed Mercy Care to enlarge its services to patients without insurance. Nine out of 10 patients treated by Mercy Care don't have insurance, and eight out of 10 live in poverty.
"I don't think the Affordable Care Act is perfect," he said, but "we are not talking about fixing the problems. We're still talking about repealing it. You don't hear success stories."
Mercy Care serves its patients with ACA-funded grants worth $800,000. It receives another $3 million from the federal government as a community health center focused on care of the homeless.
Two large grants paid for Mercy Care to treat behavioral health illnesses in all 14 of its clinics. The treatment focuses on the root cause of some patients' illnesses and can be a step in managing other illnesses, from drug abuse to anxiety. Together, these treatments can help the patients stabilize their lives and lead to a life off the streets, Andrews said.
Mercy Care relies on its foundation, private donors, and government grants to fund its programs. However, Andrews said the organization still has a shortfall covering its annual operating expenses of between $5 and $6 million. Less than 8 percent of Mercy Care's $12 million annual budget comes from net patient revenue.
Future goals to serve more people
There are an estimated 493,000 people without health insurance in DeKalb, Fulton, and Gwinnett counties, according to the 2013 American Community Survey. Mercy Care is moving forward with projects to serve them.
One project is to enlarge Mercy Care North, an existing clinic in Chamblee that is "busting at the seams," Andrews said.
Medical staff at the Chamblee clinic saw 9,747 patients in 2013, nearly a third of them Hispanic, and 2,500 of them at or below 100 percent of the federal poverty level. For a family of four, that is an annual income of $29,820.
Mercy Care's goal is to raise $12 million to build a new clinic, located near public transit, with medical, dental and mental health services focused on the elderly and women. The program will expand services for children through a partnership with Children's Healthcare of Atlanta.
A second project is to open a place for women to recover from surgery, instead of being discharged to the street. It will mirror the seven-year project that has opened a rehabilitation center for men.
This project—with its price tag of $350,000—is to be hosted by the City of Refuge, a ministry to women and families in crisis. Its goal is to reduce the need for costly emergency room visits by women recovering from surgery and to give support to them that could lead to stable housing and other assistance.
"Most Catholics, and Christians, resonate with the concept of what it is to show mercy," said Andrews. Of those who make up Mercy Care, Andrews said, "I think we are the living example of people who show mercy every day, always with compassion, without regard to the status of the person. For me, we are the embodiment of the Good Samaritan."
---
A list of Mercy Care projects to expand its health ministry is available here.