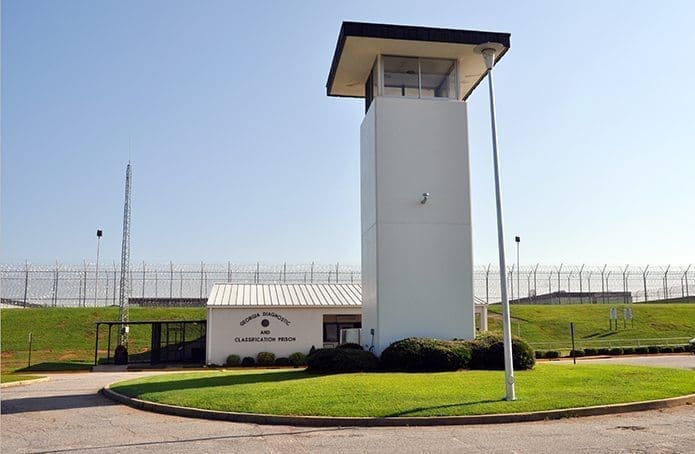 By ANDREW NELSON, Staff Writer
|

Published October 16, 2014

ATLANTA—Letters may be a throwback in the digital age, but an envelope stuffed with paper is evidence someone is thinking of you. Letters are a bridge linking people, and maybe even more so if the letter is read behind the bars of a cell.
Many years ago, Diana Shertenlieb plucked a name off a list of prison inmates, drawn to the man simply because he was the youngest. Joshua Bishop was just 22.
She overcame family resistance to write to the death row prisoner. Letters turned into prison visits, again over family objections. Words of comfort were supplanted by words of deep faith.
"I thought this experience would be no more than a few words of comfort every so often from someone on the outside," said Shertenlieb, 68. "Never in a million years did I think I would become part of his life or he part of ours."
The impact of the letters sent to death row came to light when The Georgia Bulletin submitted a series of questions to Bishop about his faith life. While he was not permitted to give an interview, he was allowed to write answers, which were vetted by his attorney.
Bishop, now 39, talked about Shertenlieb and what her friendship has done for his faith.
"She was the first face of the Catholic Church of the Atlanta Archdiocese," Bishop wrote.
"It has been 17 years now and her and her husband Gary, along with their children, have made me a part of their family," he wrote.
"What drew me to the Catholic Church was (her) kindness," he wrote. "Had it not been (for) the letters from Ms. Shertenlieb and her husband, I'd have not given the Church a chance."
"I had lost my trust in people. But she brought me back into the arms of God," he wrote. "I truly cannot say enough about them."
To live her faith more deeply
In 1997, the Internet was in its infancy. Shertenlieb, the mother of three sons and two daughters and active at St. Catherine of Siena Church, in Kennesaw, shared her thoughts on a website focused on faith. A priest saw her posts and asked if she'd be interested in corresponding with an inmate on death row. She declined, but changed her mind. The lifelong Catholic thought about the lessons she'd learned about visiting the imprisoned as a corporal work of mercy, in addition to the church's call to respect all life, from conception to natural death.
"You can't be pro-life unless you're against the death penalty," she said.
Her enthusiasm was not shared by her husband and children. They were skeptical and feared an inmate having their home address.
Gary Shertenlieb served as a military policeman and had studied criminology in college, so he felt he was more aware of the situation than his wife. He said he was being protective as her husband. Add to that, he considered himself in favor of the death penalty.
But she prevailed and she penned letters to Bishop at the Georgia Diagnostic and Classification State Prison in Jackson.
"I started to write to him. He wrote back right away," she said.
She drove to the prison within a year, which angered her husband even more. She hasn't forgotten the first visit, walking through various prison checkpoints.
"I was very intimidated by the guards. They can smell a newbie," she said.
The first face-to-face meeting between Bishop and Shertenlieb lasted two hours.
"He just wasn't what I expected," she said. "He looked like a kid you'd see out fishing. He just seems to be one of my kids."
Gary said he saw a change in his wife, set aside his skepticism, and saw the person behind the slogans about the death penalty his wife did. He now has a fatherly relationship with Bishop.
"We are just two men talking to each other," he said.
Correspondence brings hope, Bishop said. "Communication is the greatest gift you can give to us guys and girl (One female is on Georgia's death row.)."
"I would have to say letters are the glue that keeps us in here connected to our sanity and it gives us a (sense) of belonging to something bigger than this place or death sentence," he said.
Bishop phones their home every few days. He can talk for 15 minutes at a time. Many times, the Shertenliebs aren't home, but a blinking light on their answering machine is a clue they've missed his call. They last visited him about a month ago.
Catholics practice faith behind bars
The prison ministry in the Archdiocese of Atlanta serves inmates in nearly two dozen prisons and more than 70 jails. Mass is celebrated weekly for death row prisoners by priests and, on occasion, bishops.
Father Austin Fogarty, who died in January, dedicated years to the ministry. Bishop remembers him fondly.
"He always wanted me and the other fellas to know we are temporary guests on this earth and we must always be ready to leave this place," he wrote.
According to court records, Bishop was sentenced to death by a jury in Baldwin County in February 1996. He had been convicted of murder while attempting to steal a car. He was 19. A jury found Bishop and an accomplice beat Leverett Morrison to death to get the car keys. He then told police he had killed a man he believed had assaulted his mother. His co-defendant in both crimes, who was nearly 20 years older than Bishop, received a life sentence with the possibility of parole.
Testimony left jurors and others in tears concerning Bishop's tragic childhood, according to a recent ruling by the 11th Circuit Court of Appeals. He and his brother were moved in and out of foster homes and group homes when their mother, dependent on alcohol and drugs and in violent relationships, frequently couldn't care for them. At times they were homeless. According to the court document, Bishop had become alcohol and drug dependent for at least four years before the 1994 murder.
His mother, older brother, staff from the Department of Family and Children's Services and foster parents spoke on his behalf, but the death sentence was imposed.
Shertenlieb sent her first letter to Bishop spurred by her faith. But she said evangelization wasn't her goal, although she sent Catholic books, a rosary, and other religious items.
"I just wanted him to have something to hold on to," she said. "I wanted him to know that someone on the outside was thinking of him and praying for him."
Bishop said he was drawn to the church because of that kindness.
At 22, he started to attend Mass. At 23, he was baptized and confirmed by Archbishop John F. Donoghue. A recent photo shows Archbishop Wilton D. Gregory with a middle-aged Bishop wearing white prison clothes.
"The family of the church has saved me," Bishop wrote. "Every day is not a picnic, but I try every day to live my Christian faith by doing something positive with my life left. Society with the death penalty say(s) we are unredeemable. But the change in me is to say no matter what they say I must still offer my life up to give back anything I can that will be positive to those I hurt and those that live around me."
"The family of the church has saved me. If it's not a 'family' it's not true or real. But the Catholic church that I am a member of is so, so real because I have the love of family—God's love, God's family, and on death row, seeing friends executed, you need that love of family that God provides," he wrote.
On Bishop's baptismal certificate, Shertenlieb and her husband are listed as his godparents, although they were not able to attend the ceremony. St. Francis of Assisi is his patron saint. "I loved nature and during my years out in the world as a young man I stayed in the woods or on the banks of the river or just sitting on a rock by a stream watching nature move around me," he wrote.
Bishop reflects on the daily readings in his cell and participates in Mass or a Communion service as often as possible, he said. Bishop said he always remembers his victims in his prayers. "My daily prayer and thoughts always goes to why I am here on death row. I pray that the people I hurt, hurt less every day. I ask God not to let me forget but to forgive me for my sins and for all the hurt my actions caused."
"I strive to live my faith because I know without it I'd be lost. I learn more and more each day while trying to live a spiritual life in prison. I try to keep an open heart so that when Jesus wants to tell me something I will hear it."
His faith is a "great gift and blessing" which runs counter to a prison atmosphere that demands a hard heart and toughness from inmates. "I try every day to get closer to God by living with an open heart and not worry if the people here think I am weak."
Faith is shared
The final chapter of his legal efforts is being written.
The case tears at Shertenlieb.
"I'd do anything for him. I just see the unfairness in it all," she said.
Executing him seems pointless and cruel, she said.
Both Shertenlieb and Bishop turn to God in faith.
"It's in God's hands our lives," wrote Bishop. "And Amen I say."