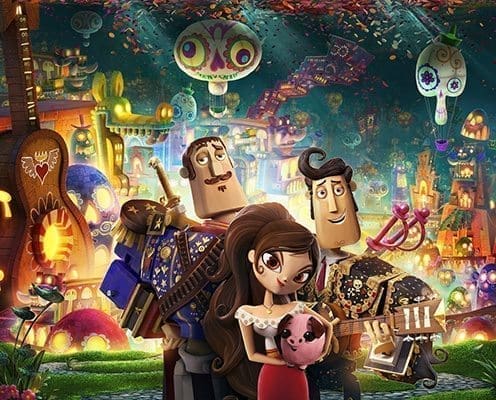 By JOSEPH MCALEER, Catholic News Service
|

Published October 30, 2014

NEW YORK (CNS)—Who knew the Day of the Dead could be so much fun? The Mexican method of observing All Souls' Day, Nov. 2, is the backdrop for "The Book of Life" (Fox), an entertaining and visually stunning 3-D animated film.

Traditionally on this feast day, families visit cemeteries to place gifts by the gravesides of their departed loved ones in a spirit of remembrance. Although the practice is Aztec in origin, its intentions correspond with Catholic teaching, which encourages prayer for the souls of the deceased.

In popular culture, the Day of the Dead has often morphed into a Halloween-like party with multicolored skulls and imagery bordering on the diabolical. Fortunately, this is not the case in "The Book of Life." Instead, director and co-writer (with Douglas Langdale) Jorge R. Gutierrez uses the observance to highlight the enduring bonds of family.

Yes, dancing skeletons abound, and there are mythological aspects to the plot that might call for discussion with impressionable youngsters. But this is, in essence, a harmless fairy tale.

At its core, "The Book of Life" is a love story, told to schoolchildren on a museum visit by one of the institution's guides, Mary Beth (voice of Christina Applegate). She uses wooden dolls that spring to life to enact her yarn.

In the Mexican village of San Angel, best friends Manolo (voice of Diego Luna) and Joaquin (voice of Channing Tatum) have been in love with the same woman, Maria (voice of Zoe Saldana), since childhood.

Manolo is a reluctant bullfighter, forced into the ring to uphold his family's proud tradition. A gentle, sensitive soul, Manolo would rather make beautiful music with his guitar—and with Maria. (He woos her with a surprising playlist that includes covers of Elvis Presley and Rod Stewart.)

Joaquin, on the other hand, is a puffed-up macho soldier, struggling to live up to his own family line of fierce warriors.

Unbeknownst to Manolo, Joaquin has a secret weapon: a medal which makes him invincible. This charm was given to him by the god Xibalba (voice of Ron Perlman), the ruler of the desolate Land of the Forgotten, a purgatory-like underworld populated by the spirits of those who have no one to pray for them.

Xibalba longs to escape his realm. So he makes a wager with his estranged wife, the goddess La Muerte (voice of Kate del Castillo), overseer of the heaven-like Land of the Remembered. The bet centers on Maria. If she chooses Joaquin as her mate, La Muerte will, reluctantly, swap positions with Xibalba.

Since Xibalba has stacked the deck in favor of Joaquin, things look bad for La Muerte and Manolo. But several twists and turns are in store as the action shifts back and forth among the three worlds.

Although "The Book of Life" is a fantasy and does not espouse a particular religion, it does include among hundreds of background characters a (presumably Catholic) priest and a trio of nuns. Their depiction is, however, perfectly respectful.

Parents should be advised that, while the tone is light and the action slapstick, there are several dark moments which may frighten younger viewers.

In the end, Catholic moviegoers will concur with the script's lesson about honoring the dearly departed: "As long as we remember, they are always with us."

The film contains nonscriptural religious themes, some mildly scary sequences, occasional bathroom humor and a few very mild oaths in Spanish. The Catholic News Service classification is A-II—adults and adolescents. The Motion Picture Association of America rating is PG—parental guidance suggested. Some material may not be suitable for children.
"The Best of Me" (Relativity)
Based on the 2011 best-selling novel by Catholic author Nicholas Sparks, this entertaining but morally flawed drama about destiny, directed by Michael Hoffman, poses a perennial question: If given a second chance, would you pursue a lost love? Former high school sweethearts (James Marsden and Michelle Monaghan) are reunited after 20 years apart when they return to their small Louisiana hometown for the funeral of a mutual friend (Gerald McRaney). The duo continues to carry a torch for each other, despite her unhappy marriage and unresolved issues from his past. That history is examined in flashbacks featuring their younger selves (Luke Bracey and Liana Liberato). For these star-crossed lovers, there are many shocking twists and turns on the road to reconciliation and redemption. There are also a number of ethical lapses at which J. Mills Goodloe and Will Fetters' script winks, making this appropriate material for mature, discerning viewers only. Gunplay, domestic violence, drug use, benignly viewed adultery and nongraphic nonmarital sexual activity, an out-of-wedlock pregnancy, occasional profane and crude language. The Catholic News Service classification is A-III—adults. The Motion Picture Association of America rating is PG-13—parents strongly cautioned. Some material may be inappropriate for children under 13.
"Fury" (Sony)
Writer-director David Ayer combines brutal realism with a passing admixture of scriptural spirituality in this powerful study of the psychological effects of combat, set during the last stages of World War II in Europe. Assigned to a veteran tank crew, despite having been trained for a desk job, a novice gunner (Logan Lerman) has difficulty killing the enemy until subjected to the savage mentoring of the vehicle's commander (Brad Pitt) and the peer pressure of his newfound comrades (Shia LaBeouf, Michael Pena and Jon Bernthal). As he navigates the kill-or-be-killed environment into which he has been thrown, the neophyte warrior gradually learns to follow the lead of his superior—suspending some aspects of basic morality while keeping other facets of his humanity intact. Mature moviegoers will require sound judgment to assess the terms of that bargain as well as a high tolerance for harsh visuals to endure the graphically portrayed circumstances which lead to its adoption. Pervasive wartime violence with much gore, an off-screen nonmarital bedroom encounter, numerous uses of profanity, relentless rough and crude language. The Catholic News Service classification is L—limited adult audience, films whose problematic content many adults would find troubling. The Motion Picture Association of America rating is R—restricted. Under 17 requires accompanying parent or adult guardian.
"Alexander and the Terrible, Horrible, No Good, Very Bad Day" (Disney)
The 1972 children's book by Judith Viorst becomes a manic comedy about the exploits of a 12-year-old boy (Ed Oxenbould) as he experiences the seemingly worst day of his life. In a departure from the book, director Miguel Arteta and screenwriter Rob Lieber extend the mayhem to the boy's parents (Steve Carell and Jennifer Garner) and siblings (Dylan Minnette, Kerris Dorsey, Elise and Zoey Vargas) so they, too, can feel what it's like at the very bottom of the totem pole. Amid relentless physical gags, a peeing baby and a vomiting teenager, there's a small lesson here in how a family pulls together in the midst of adversity. Mild family discord, some bathroom humor, references to body parts. The Catholic News Service classification is A-II—adults and adolescents. The Motion Picture Association of America rating is PG—parental guidance suggested. Some material may not be suitable for children.