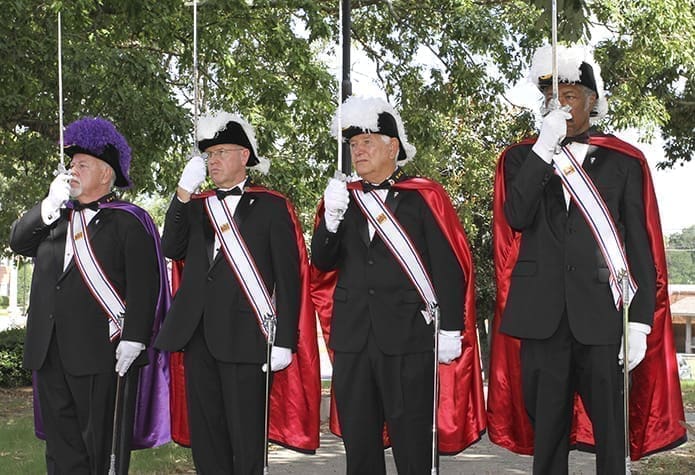 By NICHOLE GOLDEN, Staff Writer
|

Published September 5, 2014

JONESBORO—Named for a Civil War Catholic chaplain killed on the battlefield, the Father Emmeran Bliemel O.S.B. Assembly of the Knights of Columbus marked the 150th anniversary of the priest's death by announcing a new fund that could help support priestly vocations to serve the military.

Following a memorial Mass Aug. 30 at St. Philip Benizi Church, the Knights held a luncheon and officially announced a program to help support seminarians preparing to serve as military chaplains in the Archdiocese for the Military Services, USA.

"It's the Father Emmeran Bliemel Military Seminary Fund," said Knight Ed Bucsek, coordinator of the fund.

Unlike other archdioceses, which have geographical territory and parishioners, the Archdiocese for the Military Services (AMS) "really has no money," explained Bucsek.

The AMS relies on individual donations, gifts from dioceses, charitable bequests, gifts from military communities and grants. The AMS receives no support from the U.S. government. The financial challenge facing the AMS led the U.S. bishops in 2012 to approve a national collection to assist them, but it is taken up voluntarily in parishes only every three years.

The Father Bliemel Fund is in keeping with the Knights of Columbus Supreme Council's establishment of a scholarship program in 2011 to help fund the education of seminarians preparing to be chaplains in the armed forces.

The $1 million "Father McGivney Military Chaplain Scholarship" is named after Venerable Father Michael McGivney, the 19th-century priest who founded the Knights of Columbus.

The money, over a period of five years, goes to the Archdiocese for Military Services' Co-Sponsored Seminarian Program. The archdiocese initiated the program to recruit priestly vocations from the military for the benefit of the armed forces as well as participating dioceses and religious orders throughout the country.

Under the Co-Sponsored Seminarian Program, the AMS contracts with each participating diocese to fund 50 percent of the cost of the five years of seminarian education. In return, the candidate agrees that, upon ordination and after three years' service to an assigned parish in the diocese, he will commit to serve as a military chaplain under the auspices of the Archdiocese for the Military Services.

According to the AMS, there were more than 400 active duty Catholic chaplains in 2001. Today there are only 265. While some 25 percent of men and women in the military are Catholic, only 8 percent of military chaplains are Catholic priests. This places a burden on Catholic chaplains and results in military men and women who are serving "in harm's way" not having access to the sacraments frequently.

The local fund "will be used to fund the seminary training of future priests" to serve as military chaplains, according to its website. "You can contribute online already," said Bucsek.

 
---