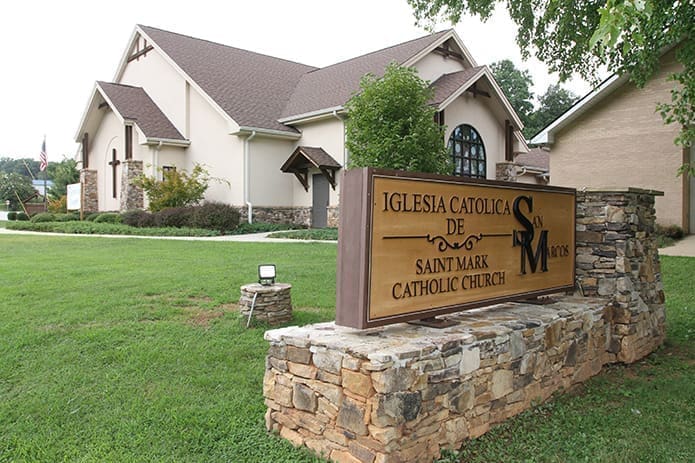 By ANDREW NELSON, Staff Writer
|

Published September 5, 2014

CLARKSVILLE—On a recent Saturday afternoon, 15-year-old Elidia Mora, in an aqua blue dress adorned with sequins, was the center of attention. She sat in a special chair, set apart from the gathering of some 30 family and friends at St. Mark Church. They were there to celebrate a "quinceañera," a Mexican traditional rite of passage to mark a girl becoming a woman.

A shy teen, Elidia said the ceremony, which took place during Mass, is a way for her and her family to give thanks for God's blessings.

"I'm about to become a grown adult. That's how we celebrate," said Elidia, who is also an altar server at Mass. "I like serving God."

During the ceremony, her grandparents gave her jewelry and other symbols of womanhood. Later, the family threw a party. In addition, they celebrated her sister's baptism.

About a dozen of these celebrations fill St. Mark's calendar yearly. The parish sees the Mexican custom as an opportunity for evangelization. It is an additional celebration for teenaged girls who are part of the parish community, regularly attending Mass and confirmed or enrolled in the confirmation program.

The parish is one of four faith communities in the Atlanta Archdiocese started in 1964. Archbishop Paul Hallinan established St. Mark Church in June of that year.

A summer celebration marked the parish's golden anniversary, bringing together English and Spanish Catholics in this rural north Georgia town. With its theme, "Renew our parish, renew our spirit," parishioners prayed at a jubilee Mass celebrated by Bishop David P. Talley and spent time getting to know each other. The Knights of Columbus cooked out on the grill, face painting and other activities were offered for youngsters, and parishioners shared in a potluck lunch.

"That was the goal to kick off the next 50 years," said organizer Anne Dunlap, part of a committee with Linda Stelter, Nora Dukes, Blanca Gonzalez and Mari Benson.

Clarkesville is about 80 miles northeast of Atlanta. This small city is the county seat for Habersham County, with its 43,000 residents. St. Mark, where Father José Luis Hernández-Ayala is the pastor, is the only Catholic parish in the county, with around 584 registered families.

A longtime church member said, "We call it God's country."

Long-timers relish this parish for its family atmosphere, where no one is a stranger for long, and grief is a burden lightened by the care shown by others.

"They were all just right there for me, they still are," said Benson, 80, a parishioner for 19 years, after she buried her husband earlier this year.

As early as 1954, Catholics in Habersham County traveled to attend Mass in Gainesville 40 miles away. The first Mass was celebrated in Clarkesville in March 1961 in the Lions Club Hall. Priests of the Glenmary Home Missioners staffed St. Mark Church from 1964 until the early 1990s. The parish then came under the care of archdiocesan priests. Atlanta Auxiliary Bishop Luis R. Zarama, who was the first Hispanic priest to be named a pastor in the Atlanta Archdiocese, served here for 10 years starting in 1996.

"I still miss being a pastor there. I never forget St. Mark and St. Helena (in Clayton)," said Bishop Zarama, especially the people in the two churches and the lack of rush-hour traffic. Sitting in his Smyrna office, he recalled moving from the hubbub in downtown Atlanta when he served at Sacred Heart Basilica to the quiet of Clarkesville. The stillness and the hushed noise made it tough at first to sleep, he said. As a first-time pastor, still becoming familiar with English, Bishop Zarama said he was apprehensive. But from day one, the community welcomed him.

"That sense of belonging to a family made a big difference to me," he said. "It was a beautiful, beautiful experience."
Diversity enlivens the parish
The parish serves two communities, English- and Spanish-speaking Catholics. At the Spanish Masses, the church pews often fill, and people overflow into the social hall where the Mass is on closed circuit TV.
"Quinceañeras" are just one sign of the Hispanic Catholic influence. Another is the monthly celebration of baptisms. Held on the first Saturday of the month, new parents, mostly Hispanic, bring their children to be initiated into the faith. In 2013, nearly 90 baptisms were celebrated at the parish.
Some 5,200 people in Habersham County are Hispanic, increasing from 2,700 in the year 2000, according to the American Community Survey.
Deacon Gary Roche, who has been here for a few years, said the Latino community keeps the parish lively, with many young children.
"Diversity brings a different way of looking at things," he said.
Language barriers can be a challenge, as can resistance from some who don't like change, he said. But it is an "opportunity to remember it is not my parish, but everyone's parish," he said.
"I just kick myself I don't know Spanish well enough," said Deacon Roche. "There are challenges, but to me, it is a blessing to have that kind of diversity."
Bishop Zamara said forming a thriving parish with two communities means recognizing how each can contribute to a goal. For instance, when the parish built the church during his time as pastor, English-speakers filled out customary pledge cards, but the idea would not work for the Hispanic community, he said. Instead, the Latino Catholics organized among themselves and assigned people to visit homes almost weekly to solicit contributions.
A small parish, but not in service
Dunlap, one of five who organized the anniversary celebration, knows both big and small parishes.
She and her husband, Steve, were active in ministry at St. Ann Church, Marietta, with its nearly 4,000 families, until they moved here.
She compared attending a large parish and a small parish to attending a music concert. Some concerts are so large fans can only see the band on large screens. Other concerts are more personal, where all share the same experience. A small parish means a "much more intimate" experience, she said.
She's learned the success of a parish does not depend on its size or how many ministries are available. "Your faith is strengthened and maintained by your community, your pastor, and the Mass and the sacraments," she said.
The desire for rural living brought the Lammers family here.
Ruth Lammers moved to the mountains when the family converted a weekend-getaway into a permanent home. Since her husband traveled all week, the family opted to move from DeKalb County, where her children attended school at Sts. Peter and Paul Church, to the country. That was more than 40 years ago.
The family, with 14 children, made St. Mark Church a cornerstone of their new life.
Faith "was not just a Sunday thing," said Lammers, who is 87, and recently entertained a grandson who is a seminarian.
"We loved our faith. We wanted the children to grow up not just belonging to the church, but part of it. We quickly met all the people," she said.
During her younger years, she shepherded folks curious about the church while they were becoming Catholic.
"I loved the people coming into the church. Every year it was exciting. Every year I ended up loving the people," she said.
Ministries offer support
New parishioners here are invited to join the Supper Club, a ministry of people who gather at each other's homes to build ties outside of the church.
"Once people join, they don't want to leave," said Benson, a longtime organizer.
People get to know each other on a different level by sharing meals.
"It's a social function in the parish. They come from all walks of life. I enjoy just meeting with everyone. It's very comfortable. Everyone feels very comfortable," she said.
The dinners help connect people in a different way than at the parish.
"Anytime you are together with your fellow Catholics, it makes you closer," said Benson.
Parishioners have small handmade "prayer squares" to help them through rough times. They are a gift of the Prayer Shawl Ministry, which for now is the work of Carol McManus.
"I do a lot of needlework, knitting, crochet. I thought I needed to do something with it, not something just to pass the time," she said.
In December, she'll be a parish member for some 35 years. She is also a lector and helps distribute Communion. She visits family at other larger parishes in the archdiocese and finds them "alive but anonymous." As for St. Mark, "It's a family. They are my spiritual family."
McManus, who is 70, makes the pocket squares, which have a cross embroidered in the middle of them, in addition to making the shawls that cover a person's lap.
A retired nurse, the needlework is her opportunity for prayer. "Each stitch has three parts," she said, when she repeats "in the name of the Father, Son and Holy Spirit."
This year, she's stitched about half a dozen blankets. The material costs about $20 for the good yarn she likes to ensure the blanket holds its shape. The finished blankets are blessed and handed to people in need.
She hopes the blankets provide comfort, physically and spiritually.
"They would always have family at St. Mark. It represents for them God's love and the prayers from their parish family," McManus said.
---
To visit: St. Mark Church, 5410 Highway 97 South, Clarkesville. Contact: 706-754-4518 or www.stmarkcc.com.
Weekend Masses:
Saturday
5 p.m. (English)
6:30 p.m. (Spanish) in Cornelia
7:30 p.m. Neocatechumenal Way (Bilingual)
Sunday
9 a.m. (English)
11:30 a.m. (Spanish)