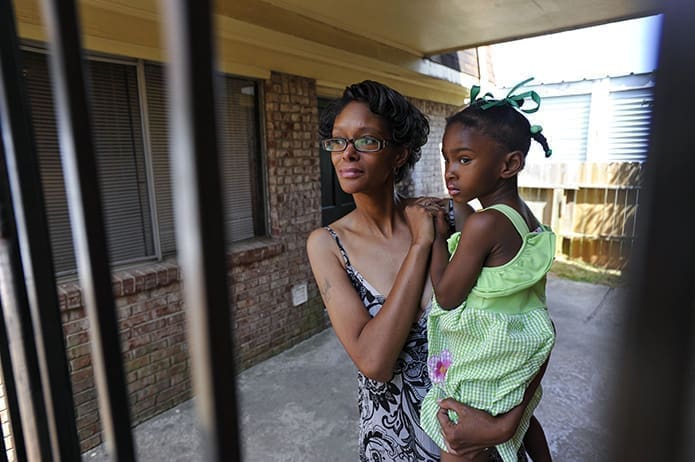 By NICHOLE GOLDEN, Staff Writer
|

Published August 7, 2014

ATLANTA—The face of poverty isn't always someone living in a tent under a city overpass. Sometimes it's the person sitting next to you in the church pew struggling to buy groceries.

The Society of St. Vincent de Paul Georgia is featuring a photography exhibit throughout the month of August to depict the plight of Georgians living below the federal poverty level.

"Profiles of Poverty," on display at Colony Square on Peachtree Street in midtown Atlanta, features 50 black and white and color images by 12 photographers. Veteran photographer John Glenn, whose 25-year career has included work at USA Today and The Atlanta Journal-Constitution, is curator of the exhibit.

An opening reception was held Tuesday, Aug. 5.

John Berry, executive director of SVdP, said the exhibit was planned to celebrate the 100th anniversary of the society in Georgia.

"It's the first time we've ever done anything like that," said Berry.

Although the exhibit is a new concept, the message about poverty is the same—to show that the poor look just like the rest of us.

"I think it's a message that we've consistently tried to get out," said Berry.

The photos highlight the issues affecting the poor, including hunger, access to health care, unemployment, homelessness and aging. Despite the serious subject matter, the exhibit aims to capture the spirit of those in tough situations, including clients now on better paths thanks to the society's programs.

According to SVdP, nearly one in five Georgians is living below the federal poverty level.

"It's moving out to the suburbs," said Berry. That's a trend the society staff and volunteers began to see more when the economy turned downward in 2008.

Poverty and what leads to that struggle is an "amazingly complex issue," said Berry.

"Nobody is born, goes to school and aspires to be poor and dependent," he said.

In addition to the direct aid the society provides for immediate needs such as food or utility bills, it also offers programs to help people become more self-sufficient through mentoring, job training and education.

"It's hope as well as help," said Berry.
Three stories of a 'hand up' from SVdP
Sandra Hughes of Jasper is one of the people whose photograph is featured. Nine years ago, she was expecting her third child, had a 13-year-old daughter at home, and an older son living with her ex-husband.
Hughes was leaving an abusive relationship with the baby's father, whom she never married, and she was working as a waitress. She knew education was key in providing for her family and kept telling herself, "You know, I really need to get out of this dead-end job."
When Hughes applied for financial aid at Chattahoochee Technical College, a staff member there told her about St. Vincent de Paul and its Family Uplift program.
To qualify to receive $500 a month for her bills, Hughes had to follow certain rules, including maintaining a good grade point average and submitting a regular budget.
Mike Martin served as a mentor for Hughes in guiding her about financial and life decisions.
"He was absolutely amazing," she said.
When she was having vehicle trouble, Martin called her one day and asked, "Would you be interested in a car?"
Hughes said the car, a 1998 Buick LeSabre, had been donated to SVdP. After she no longer needed it, Hughes re-gifted the car to someone who could use it.
In addition to receiving an education, the society's assistance helped Hughes to land a job at Chattahoochee Tech's Appalachian campus. She has worked there for more than four years.
"I help students with registering for classes," said Hughes.
Also a tutor for accounting students, Hughes is currently working toward a master's degree online in human services for marriage and family counseling through Liberty University.
Hughes is now happily married, volunteers at her church as a Sunday school teacher and with a prison ministry. She called the St. Vincent de Paul program a "hand up" and remains in touch with her mentor.
"It was just a godsend," said Hughes.
Photographer Tim Redman photographed Hughes in an on-campus library to remind viewers of the power of an education.
"I definitely wanted to put her in that environment," said Redman.
Redman, whose work has appeared in Atlanta Magazine, attended the post-graduate program at The Portfolio Center, a school with programs in creative communications arts.
The "Profiles of Poverty" exhibit features photos from talented photojournalists. Others participating in the exhibit include David Tulis, Renee Brock, Joeff Davis, Rachel Parrish, Lindsey Lingenfelter, Chris Hunt, Stephen Morton, Ramon Taylor, Barry Glustoff, Lesley Ann Price and curator Glenn. Georgia Power is the exhibit's presenting sponsor. Kickstarter donors provided funds as well.
St. Vincent de Paul clients, who are featured in some of the photos, include Lavardo Lawrence and Chanda Baptist. Other images come from the streets, neighborhoods and homeless tent cities of Georgia, as well as places where the poor find refuge and care.
Lawrence is a single father of a 5-year-old daughter helped by SVdP with a rent payment in May when he lost a job. He has now returned to work.
Baptist and her 3-year-old daughter, Journi, were homeless and living out of a 1995 Volvo. Thanks to the Sullivan Center at St. Vincent de Paul Georgia, they now reside in a small apartment in College Park. Although the apartment buzzes from planes at nearby Hartsfield-Jackson Atlanta International Airport, Baptist says she doesn't mind the noise and is blessed to be there.
Following the launch of the exhibit, the collection will be moved to various parishes for presentations and will also be displayed at the Celebration of Hope in Action, the anniversary gala for SVdP to be held Sept. 25 at the newly opened Center for Civil and Human Rights in Atlanta.
There are many ways to support the Society of St. Vincent de Paul's work in Georgia, said Berry, including online donations, volunteering at its many thrift stores in metro Atlanta or through prayers.
Founded in 1914, the Georgia program will continue to work to help the poor overcome barriers to self-sufficiency.
"There's much more there than just paying a bill," said Berry.
---
To learn more about St. Vincent de Paul Georgia or to make a contribution, visit www.svdpgeorgia.org.