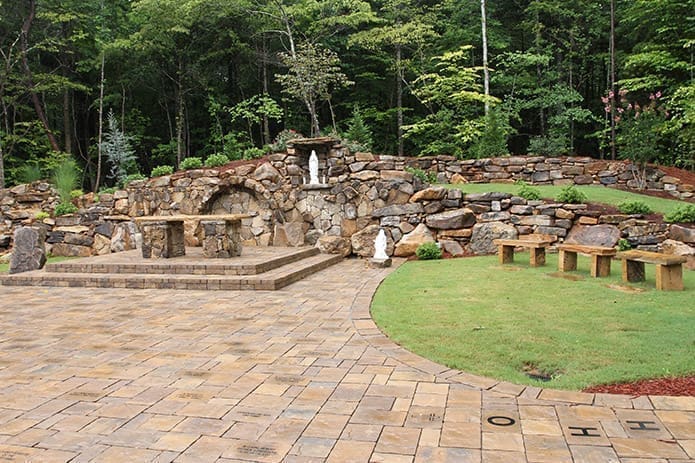 By ANDREW NELSON, Staff Writer
|

Published July 10, 2014

DAWSONVILLE—This place of serenity was built with prayer, sweat, and some 200 tons of stones.

"Every stone was essentially a prayer for me. It was a pleasure. I miss so much being there," said longtime stonemason Allen Cerinetti.

The grotto is at Christ the Redeemer Church, some 56 miles north of Atlanta. It's dedicated to the Virgin Mary, and also is a memorial to a local tragedy involving a college student at the now-closed Southern Catholic College.

Irish native Kevin Sinnott attended the college, also in Dawsonville. During an outing in 2009, some students decided to swim across a nearby pond. Sinnott drowned. Prior to his death, he and his classmates had talked about building a campus memorial to the Virgin Mary. Donations in his memory for such a grotto at the college sat in a bank account untouched after the school closed in 2010 due to financial challenges.

Former students asked Father Brian Higgins, a college chaplain well liked by the students and now pastor at the church, to build the memorial in Sinnott's name.

Members of the parish Knights of Columbus, Blessed Mother Mary Council, took on the task. This seemed appropriate since Sinnott himself was a member of the fraternal organization. The Knights managed additional fundraising efforts to add to what the former students had collected, by selling engraved brick pavers and memorial benches. The grotto was dedicated on May 24.

This sanctuary of stonework and prayer is drawing people, who visit throughout the day.

"We have visitors who come just for the purpose of visiting the grotto," said Mary Poole, the parish director of religious education. There is an elevated interest in Marian devotions, from the young to retirees, since its dedication, she said.

"It's brought interest from people who are not at our parish," she said.

Cerinetti volunteered to build the project for free, redesigning what had been a flat, forested parcel on the parish grounds. Cerinetti is a 30-year veteran of stonework.

Nearly 50 trees were cleared. His crew and dirt movers from his business dug out an amphitheater to resemble the side of a mountain.

"I really wanted to recreate what God created in nature," he said, taking a break from his current project building a retaining wall.

The discussion started in October 2013, but bad weather slowed construction. Once work started again in January, it was done by April and dedicated at the end of May.

The inspiration came from a picture Cerinetti stared at for many years as a student in his New Jersey Catholic school. It portrayed the Lourdes apparition, where the Virgin Mary appeared to St. Bernadette.

Cerinetti was so moved by the project, he changed his business name from a generic sounding North Atlanta Construction to Upon This Rock Hardscapes, subtle enough that Christian clients could get the statement of faith. The 52-year-old learned the trade on the side, after working his day job in law enforcement.

"I love stone, the feel of stone, what you can do with stone," he said.

And this project was one he'll treasure.

"I'm in awe of what an opportunity I had in my expressing my faith in what I do for a living," Cerinetti said. "It was actually a gift for me in my eyes that I was able to do it."

There are three parts of the complex. A shrine of Our Lady of Guadalupe, a pregnant Mary, is a place of refuge for women and where people can be inspired to pray for the unborn. The opposite side has a statue of St. Peregrine who is the patron saint of cancer patients and those suffering from illnesses. In the middle of the grotto is a rock altar. A 3,000-pound boulder serves as the ambo. Workers recreated the shrine in Lourdes, France, with the statue of the Blessed Mother in a niche overlooking the altar. Running water streams through the rocks. "Living water is not a dead place," said Cerinetti, who is a third degree Knight.

The grotto is open to the community, Catholics and non-Catholics alike. Cerinetti told a client who is facing cancer treatments about St. Peregrine. He doused her with holy water he carried in his work truck and encouraged her to visit to pray there. When the woman said she wasn't Catholic, he told her to pray to Jesus when she visits.

"I can build a hundred fireplaces. I'll have money in the bank, but I won't have the same feeling as with the shrine," he said.