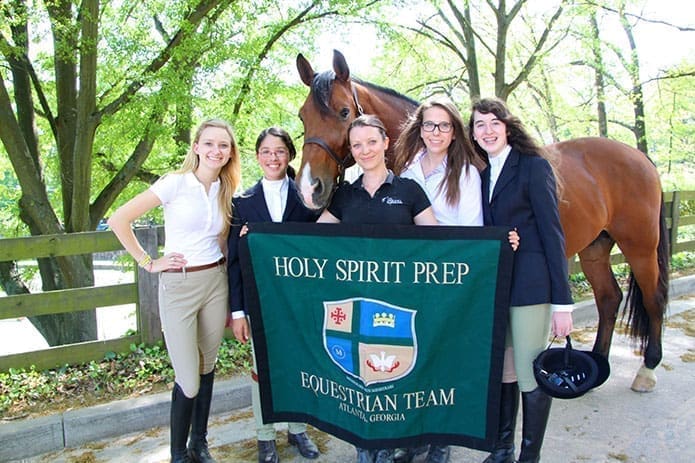 By PRISCILLA GREEAR, Special to the Bulletin
|

Published May 1, 2014

ATLANTA—At her high school, Mary Ruth Nagel created an equestrian team, co-led a homeless shelter ministry and excelled in AP calculus and other classes. Equine therapy and deep faith enabled the anxious youth to find her stride and grow into a school leader—while designing Catholic jewelry on the side.

Mary Ruth is the fourth of five children of April and Phil Nagel and will graduate this May from Holy Spirit Preparatory School, which she's attended since preschool. She'll attend Trinity College in Hartford, Conn.

Mary Ruth began riding horses at Chastain Horse Park at the age of 4, begging her mother to take lessons after her younger brother Peter enrolled in its therapeutic riding program to treat his mild cerebral palsy. And while she barely talked at school until first grade and has always had "bad anxiety," she too found new strength on horseback.

"I was adamant that if he was going to ride horses, I wanted to do it. I started in the regular lessons program and loved it," she recalled. "I think that horses are very therapeutic, both physically, like it was for my brother, and mentally. There's a sense of confidence you get as a little girl when you realize that your actions influence the actions of such a large animal."

Mary Ruth went on to own four ponies and train at a farm in South Carolina. She competed in horse shows through the Southeast, missing about 30 school days yearly and jumping in hunter classes over fences up to three feet. She amassed enough U.S. Equestrian Federation points to compete with her white Welsh pony Belle in the medium ponies class in the renowned Devon Horse Show in Philadelphia.

"I was so nervous being there. I was like 12, and just by chance I got picked to go first," she recalled. "It was probably my most proud moment of riding. They took the top 30 from each class, and I qualified."

Mary Ruth also learned patience for life challenges in training her ponies and time management in doing so much schoolwork outside of class. But by high school her mother felt that she needed to stop traveling and make the most of her teen years at Holy Spirit. She reluctantly agreed but eventually committed herself to her studies and helped establish a school equestrian team—back at Chastain. As the program grew and other Catholic schools like Marist and St. Pius X were invited to participate, she came out of her "shell" and grew in confidence herself. She even decided to try something she'd always considered and became a cheerleader.

"Looking back, I feel I would have regretted missing a lot of things (with traveling). I'm happy I've been able to experience all that," she said. "A lot of teenagers are apathetic about school. My theory has always been … if you have to be there, why wouldn't you try to make it fun and fulfilling rather than a miserable experience? At the end of the day you are going to regret the things that you didn't try way more than the things that you tried and didn't end up being very good at."

Mary Ruth's favorite subjects are science and math, and brother Peter inspired her to pursue a pre-med college track. She closely watched him progress through horseback therapy, several surgeries and physical therapy to where he now is preparing to become the football team captain.

Her interest deepened after traveling on a Mustard Seed Communities mission trip to an orphanage for children with disabilities in Jamaica where she saw youth with cerebral palsy who lacked access to the most advanced treatments.

At Holy Spirit, she serves as co-president of the One apostolate that has sewn sleeping bags, prepared lunch sacks and served meals monthly for the homeless at the Shrine of the Immaculate Conception's shelter. She also delivered meals during the first winter storm of 2014 to stranded elderly persons through Project Open Hand.

Jill Stedman, her Advanced Placement government and history teacher, said Mary Ruth volunteered to help lead the Shrine outreach.

"I'm very grateful for the leadership she has shown. I'm always impressed by the joy with which she lives her life in all aspects. … I'm always grateful for her reliability—in a 17-year-old it's not a quality you often find," she said. "Everybody loves to be around Mary Ruth."

Her teacher described her as inquisitive, funny and insightful and a "phenomenal class participant" with a depth of knowledge—and love of Franklin D. Roosevelt. Additionally, Stedman said, "we always pray at the start of class, and she frequently volunteers to lead prayer in class. She is always praying for individual peers."

Mary Ruth has been inspired in faith and service by her father who overcame adversity in his life and now prays in their home chapel and attends daily Mass.

"He plays a major role in showing me what it means to be a Catholic," she said. "My faith and prayer have also really helped with my anxiety. If something scares me or stresses me out, I've found that a quick Hail Mary is a good way to re-gather my thoughts and continue dealing with the situation."

She has also learned business skills from her parents, who founded a staffing company. Additionally, she and her mother with three other women and their daughters launched Catholic Bling in 2011 to sell stylish faith-themed jewelry. They now have a store on Roswell Road with some 15 employees plus sales representatives nationwide.

"In the beginning … we each made everything we sold. We weren't selling much," she said. "Now we sell so much more than we could make. We do a lot of coming up with the design ideas."

Artistic, she dons her favorites, including the Called to Serve leather wrap bracelet with charm crosses.

"We live in a culture where it's not cool to be very outward with what faith you are. … It's a good way to inject your faith into your everyday life," she said.

For now she is enjoying her final days at Holy Spirit with the satisfaction of knowing she maximized her time there and rode her best in class. Armed with her Bling designs and paddock boots, she looks forward to college in the Northeast—and to riding on the Trinity equestrian team.

"I think that part of the fun and excitement of college is being adventurous and trying new things for four years," she said.