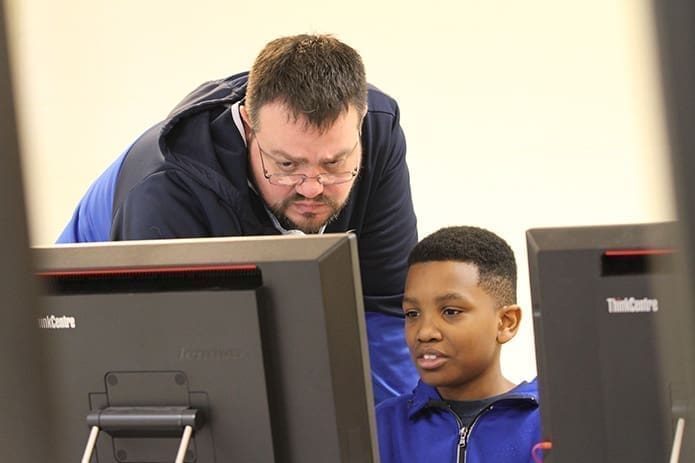 By PRISCILLA GREEAR, Special To The Bulletin
|

Published February 6, 2014

DECATUR—As a Spanish and technology teacher at St. Peter Claver Regional School, Rafael Nazario continually strives to grow professionally and to help meet school needs. This year that meant tackling a third subject and teaching physical education.

"It's a learning process. I go a lot to the website of the archdiocese and check the curriculum and skills kids need to learn to master to prepare for classes. I'm better teaching Spanish, but I love technology and even PE. It's my first year teaching PE and I enjoy every day," said Nazario, a teacher of 20 years.

"For me, life is a learning process," he said.

Nazario grew up in Puerto Rico, part of a family that included police officers, soldiers—and many teachers. At his elementary school, one of his aunts was the principal and two more were teachers, as was his mother, who still teaches English. After graduating from college with a major in political science and a minor in education at the University of Puerto Rico, he taught at a Title I school for at-risk children and forgot about his plan B to go to law school. Later recruiters came to the island, and in 1999 he was hired as a middle school Spanish teacher for Atlanta Public Schools, where he also mentored other foreign language teachers. Seeking a more spiritual environment, in 2006 Nazario joined the faculty at St. Peter Claver School, where his daughter and son are now students.

In public school he always did a sponge activity at the beginning of class to focus students on learning the language. Now at St. Peter Claver, he starts all lower school classes and even pre-kindergarten with a greeting and the guardian angel prayer in Spanish.

"That is like my opening for every class and that sets their mind to the target language of learning Spanish. I was in need of that prayer," recalled Nazario. "My father taught me that prayer when I was a little kid.  I was scared of the dark so my dad asked me to pray  'Angel de la Guarda' every night before going to sleep."

Middle school students begin with the Our Father and Hail Mary in Spanish, he added.

Nazario strives to keep his Spanish classes lively with games, songs, cultural activities and music. He has lower grades converse with puppets, including Ramona, a tropical rain forest tree frog, and Pablito, a purple octopus who can't speak English.

Offering some field practice, he also warmly greets parents and students in Spanish each morning outside as he guides the morning and afternoon carpool line. And he sprinkles Spanish in his PE and computer classes.

"I tell them, if you give up, if you don't learn Spanish, you will regret it. I hear that from their parents," he said. "I feel good doing what I'm doing. If I see kids trying to speak the language—it doesn't matter whether they're doing it right or wrong—I celebrate that, and it inspires you to keep going."

He never has forgotten his own middle school teacher, Sister Isabel, who celebrated his answer to a question that stumped everyone at a time when he didn't like to participate in class.

"She gave me the confidence that I needed. … That is what I'm trying to do to all my students. I always treat them like my brothers and sisters and remind them that we all are the same in God's eyes."

Also vowing to keep technology fun, he's teaching young children to navigate with the computer mouse, to type and operate in Microsoft Word, preparing them to do research and use programs like Excel and PowerPoint in middle school. He coaches basketball as well as teaching PE and mentors a student teacher from Notre Dame University.

Administrative assistant Christy Clune described his cheerful helpfulness and Christ-like nature.

"He always jumps in there. He is an outstanding individual. He's always so cooperative and willing to fill in everywhere. We are short staffed over here. He's just a great guy, very thoughtful, as are his wife and children. We are very blessed to have him," she said. "He's just an excellent role model to the students and I see his faith as shining through. He's always correcting students in a gentle way and reminding them of their manners."

Nazario recently had a few graduates drop by to thank him.

"These are the things you want to hear from a student that make you think I'm in the right place and doing something good," he said. "These students are doing good, and you were an influence over what they chose to be."

He was touched to be honored this year by SPC.

"This is the first time I guess I got recognized for something I love to do so well. I'm humbled and I appreciate it. I'm happy about it and I'll keep doing the same job and I'll keep trying to be a better teacher. With 20 years there's a lot more you know how to teach, but there's also an open window to learn more," he said.