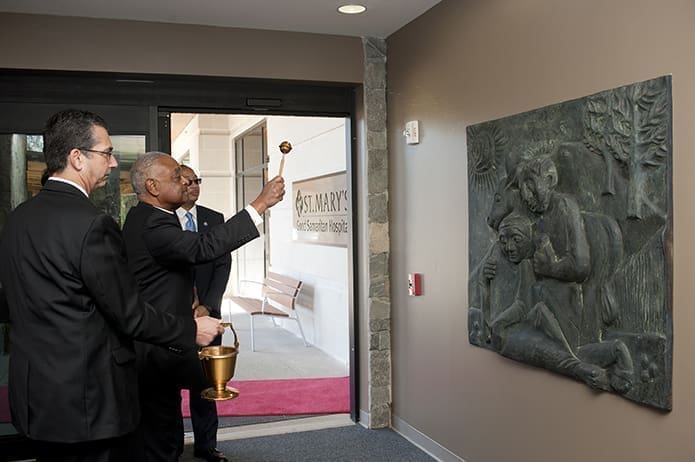 By ANDREW NELSON, Staff Writer
|

Published November 21, 2013

GREENSBORO—St. Mary's Good Samaritan Hospital moves Nov. 25 into its new $40 million facility.

The 25-bed critical care Catholic hospital serves Greene County and the Lake Oconee area, some 80 miles east of Atlanta.

Medical staff and patients will move out of a building built in 1949 and into a facility built for contemporary medical care. The new hospital includes surgical suites, rehabilitation gyms, a chapel, and other amenities designed to promote healing.

"We are working hard to make the new hospital the most modern and comfortable healing environment possible," said Montez Carter, the president of the hospital, in a news release. The goal is to make it "patient-centered care," he said.

Nearly 70 percent of people in Greene County now go outside the county to receive medical treatment, Carter said. However, this new hospital facility and its services will allow people to stay close to home, he said.

St. Mary's Good Samaritan will have three surgical suites compared to the one it formerly had. The interior design puts complementary services near each other, and the array of medical technology will be superior, he said. It will offer around-the-clock emergency room care.

The original hospital, known as Minnie G. Boswell, was acquired by Atlanta's St. Joseph's Hospital in 2008. When St. Joseph's merged with Emory Healthcare in 2012, the Catholic hospital system in Athens, St. Mary's Health Care, acquired the Greensboro facility. St. Mary's, a nonprofit, is sponsored by the Sisters of Mercy and is part of Catholic Health East. Its flagship is St. Mary's Hospital, in Athens, a 196-bed facility that has served the region for 75 years.

Some 300 people attended the Nov. 5 blessing of the new St. Mary's Good Samaritan Hospital, led by Archbishop Wilton D. Gregory.

Sister Ray Maria McNamara, of the Sisters of Mercy, said the Greensboro hospital continues her religious congregation's mission to create a bridge between those who need care and those who provide it.

"This facility establishes for many years to come the ability to continue the mission of being a compassionate healing presence in your community, committed to the sacredness of human life, and the dignity of each person served," she said in a news release.

The community faces medical challenges. A 2013 community survey conducted by the hospital found that 22 percent of residents don't have health insurance and some 18 percent of residents perceive their health as poor/fair, which is worse than the national benchmark of 10 percent.  The county also has fewer people with a college education, which can be a risk factor for poor health.

St. Mary's Good Samaritan Hospital provided $406,546 in community benefit in 2012, including more than $380,000 in charity care for the uninsured and those with low incomes, according to the hospital. It employs about 160 people and expects to hire an additional 60.

It yearly registers some 9,000 patient visits to the emergency room, Carter said.

The opening will be at 7 a.m. on Monday, Nov. 25, as emergency patients are transported to the new facility at 5401 Lake Oconee Parkway. Inpatients at the current facility on Siloam Road will be discharged or transported to the new hospital, as needed. Outpatient appointments for Nov. 25 and beyond will be scheduled at the new facility.

The opening comes months ahead of schedule. Carter praised general contractor Brasfield & Gorrie, Earl Architects, and the subcontractors who built the new hospital. "We have a lot to be thankful for this Thanksgiving," he said.

An $8 million capital campaign is also underway to provide cutting-edge technology at St. Mary's Good Samaritan Hospital. The effort recently received from Dick and Wendy O'Toole a $1 million gift annuity, putting the campaign at 58 percent of its goal. The hospital had announced earlier a $400,000 donation from BankSouth Foundation.

Carter said the campaign aims to bring to Greene County services and medical tools rarely found outside of metropolitan areas, including remote patient vital signs' monitoring throughout the facility.
---
For more information, visit www.stmarysgoodsam.org.