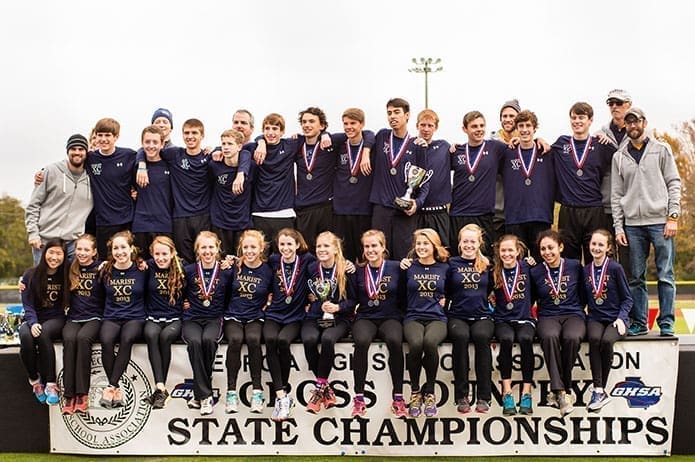 Published November 22, 2013
CARROLLTON—Blessed Trinity High School, Roswell, was one of three Catholic high schools to win a 2013 state cross country championship during the Nov. 9 meet at Carrollton High School. The girls team won its first Class AAA championship since winning back-to-back championships in 2005 and 2006. Seniors Anna Gandolfo (20:04) and Bailey Willett (20:23) and sophomore Mary Claire Solomon (20:42) finished in third, fifth and seventh place, respectively. Junior Katie McConnell (20:53) and sophomore Kaleigh Evans (20:54) rounded out the top 20 with finishes of 12th and 14th place, respectively.
The Blessed Trinity boys finished as a team in fourth place at the state meet. They were led by Matt Munns, who had the highest individual finish at state in school history, finishing in second place with a time 16:39. Sophomore Robby Gipson finished in 18th place with a time of 17:24. Ben McCoy (17:52) and Ben Simonsen (17:53) had the fastest times for freshmen at a state meet in school history. This year marks the eighth time that the boys team has finished in the top four during state competition.
The boys and girls at Marist School, Atlanta, won the Class AAAA state championship. Senior Daniel Navarro (16:13) finished in first place for the boys, while junior Morgan Ilse (18:53) finished first for the girls. Seniors Michael Thurston (third place, 16:39) and Jim Galvin (eighth place, 17:08) and sophomore Frank Pittman (18th place, 17:38) finished in the top 20 for the boys. The other top 20 finishers for the girls included freshmen Anna Renou (second place, 19:45) and Kendall Nelson (fourth place, 20:07), seniors Anne Marie Ilse (seventh place, 20:26) and Courtney Marburger (18th place, 21:09) and juniors Caitie Faust (eighth place, 20:29) and Myriam Shehata (12th place, 20:50). For the Marist boys it was the team's fifth championship in the last six years. It was the team's sixth consecutive state championship for the girls.
The boys from St. Pius X High School, Atlanta, were the third team to win a state championship. This was the team's fourth straight Class AAA state title, a first-time feat in school history. Not only did they finish as the top team in all classifications, they also set a state record for the lowest score ever in the boys state meet with 26 points, surpassing Marist School's previous best of 27. Senior Austin Sprague (16:08) finished in first place. The other top 10 finishers for the boys included juniors Nik Calia (fourth place, 16:45.35) and Stephen Martinez (fifth place, 16:45.69) and seniors Joey Ferrugia (seventh place, 16:51) and Andrew Anastasiades (ninth place, 16:52).
The St. Pius X girls team finished as Class AAA runners-up. Senior Margaret Crawford finished in fourth place (20:15), as junior Rebecca Entrekin finished sixth (20:29), junior Rachel Pyden finished 11th (20:50), freshman Lucey O'Brien finished 15th (20:56) and sophomore Emma Jayne Braxton finished 20th (21:16).
In Class A, Jessica Zalzman, a senior at Pinecrest Academy, Cumming, finished in 10th place with a time of 20:30.
The Holy Spirit Preparatory School girls cross country team finished third overall in the Georgia Independent School Association (GISA) state meet. Angela Dale had the best individual finish of third place (20:33). First-year cross country coach Lauren Blankenship was also named Region 1AAA Coach of the Year.