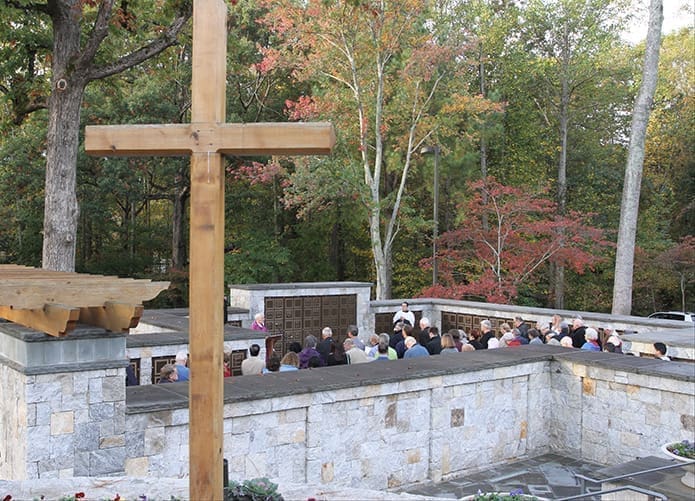 By ANDREW NELSON, Staff Writer
|

Published November 7, 2013

DUNWOODY—Pat Casey stops at the niche holding his wife's remains, rubbing his finger over the name of his high school sweetheart and wife of 49 years.

"It's been perfect. I go to daily Mass and when I come out of All Saints Church, I can look straight into the columbarium and see her. I go tell her how much I loved her," said the 74-year-old Dunwoody resident who worships at the parish.

Daphne Casey died in July 2010 from ovarian cancer. She was 70.

Casey, a retiree from Bell South, often recites the Hail Mary and a prayer a granddaughter found which ends, "Together we hope for heaven."

"When you lose the one you deeply love, a child or a parent, you want to hold onto them. This way, it allows us the opportunity when we go to worship our God, it gives us an opportunity to visit our loved ones," he said.

November is a time to reflect and give thanks. The month starts with the solemnity of All Saints, a holy day of obligation, followed by the feast of All Souls. Many parishes feature a Book of the Dead where people remember the deceased by writing their names. The book is used in prayer throughout the month.

Casey and his wife are part of the growing number of people of faith choosing cremation after they die instead of traditional burial. Parishes in return are responding to the faithful's needs as more people approach the funeral of their beloved dead with cremation in mind. There are about a half-dozen memorial gardens connected to parishes around the Atlanta Archdiocese along with a few columbaria—structures with aboveground niches—for people to put to rest the cremated remains of their children, parents, husbands, wives.

People are increasingly choosing cremation in large part because it's less expensive than a typical funeral with a burial or tomb. In Georgia, a cremation costs as little as $700, according to the state Department of Human Services' Division of Aging. The national average cost for a direct cremation is between $1,146 and $1,542. A funeral followed by a burial costs some $7,000, because of expenses that range from a casket to the purchase and preparation of the gravesite. Natural burials may be considerably less.

However, for Catholics, that isn't the only consideration. There is the practice of their faith to consider as they prepare for death. It was only in 1963 that the church lifted its centuries-old ban on cremation.

The Blairsville Catholic community, some 100 miles northeast of Atlanta, recently expanded its parish memorial garden. It holds about 300 plots for the disposition of cremated remains. About half of the plots are used or reserved.

"It's really a comfort to a lot of people. It tends to make you think about the deceased. It's almost being part of the family. It's a way to keep them alive," said Michele Kiefer, of St. Francis of Assisi Church, Blairsville.

A large number of retired people worship here. This ministry provides a sense of peace, she said. "They don't plan on ever going back" to their former communities, so they choose to be buried as members of this parish, she said.

'Very much part of the parish'

Maria Martin watches people interact daily with the All Saints Church columbarium as the granite-landscaped structure sits on a well-traveled path to the church.

"It's very touching. It's right here so it's very visible. It's very much part of the parish. People come to church and park and walk through it," said the parish receptionist.

It's also where she and her husband will be laid to rest. "This was the place we got to know and love. My parish is my spiritual home. I don't relate well to going to a cemetery. But a parish I come to all the time. I look at it as home for my remains."

Archbishop Wilton D. Gregory dedicated the All Saints columbarium in 2010. There is also a memorial plaque where parishioners who chose to be buried elsewhere are remembered. To be laid to rest here, a person must be Catholic but not necessarily part of the parish. With some 1,000 niches, about half are already reserved by people who have planned ahead.

Responding to the needs of believers

Some 2.4 million people die in the United States yearly. In 2012, more than 43 percent were cremated, up from 26 percent in 2000, according to the Cremation Association of North America. In five years, the association estimates nearly half of funerals will involve cremation.

The Atlanta Archdiocese does not operate cemeteries, unlike older traditionally Catholic regions of the country. Many Catholics are buried in private cemeteries where the ground has been blessed as a Catholic section. The sprawl of the population across 69 counties and the cost of land dissuaded the archdiocese from making the purchase for a cemetery, said Deacon Ray Egan, who works on the archdiocesan cemeteries committee.

Several parishes built columbaria and memorial gardens for cremated remains to serve parishioners' needs. They were forbidden for years, but now these sites may be built with the approval of the archbishop. Deacon Egan said the driving concern has been relocating a columbarium or a memorial garden, if a parish church ever moves. A new archdiocesan policy requires a parish to reserve with the archdiocese one-third of construction costs in case a memorial area ever needs to be relocated, said Deacon Egan.

Memorial garden is a place of joy, of life

At Holy Spirit Church, Atlanta, an unassuming garden is the final resting place for close to 140 parishioners, family members and friends.

The pocket park is a knot garden, with sweet-smelling box, an evergreen shrub, with an arbor. A statue of the Virgin Mary watches over the garden, as two Celtic crosses and a crucifix hang nearby.  There are roses and other flowering plants. Plaques on a wall identify those whose remains have been placed in the garden.

Msgr. Edward Dillon, the pastor, said he wanted a place to allow on-site burial for those seeking an alternative to burial in a cemetery, which, by definition, is always apart from the church. It's a Catholic custom for people to be buried near their church, he said.

The garden is named for the young girl buried here in 2006. Amelia Mary Hewett died after a virus attacked her heart.

Monte Hewett said a cemetery wasn't a place where he wanted his daughter buried.

"She's a 3-year-old. I didn't feel she belonged there," said the 52-year-old homebuilder. He and his wife, Jill, have three children.

Msgr. Dillon mentioned the garden to the family, who didn't know about the intimate retreat, tucked behind the main entrance.  The garden was part of the 1995 church redesign.

"It just made so much sense. She was connected to the church, she was baptized there," Hewett said. "For us, it was obvious."

Hewett said he'll stop by to pay his respects, pray, or "just to say hi," he said. "I feel this connects the dots between her, God and me."

Hewett's company designed the garden into its formal style. Later, the parish named the garden for his daughter.

Jane Bickers takes people to the garden, if they are considering burying a loved one there after cremation. "When the roses are in bloom, it's really nice," said Bickers. The area is recycled over time so it's her job to ensure the vessel holding the remains is biodegradable. Families pay a nominal fee for a memorial plaque.

"It's not about money. It's about your final days. It's a sacred time," said Bickers.

Jaime Fernando Ochoa will play his mother's favorite Chopin classical piano pieces when he visits the garden. Mariella Hoyas De Ochoa, who was 79, was buried in 2009.

"It was very peaceful, it's very beautiful. It's a very happy place," said Ochoa, an artist, who lives nearby in the Chastain Park neighborhood.

There's life in the garden, he said. "I go there now and it's a source of joy for me. One day, I know I will be resting in the same place," he said.

Ochoa said he prays for everyone in the garden, including its namesake, Amelia Mary. He has never met the Hewett family, but their contribution lifted the hearts of many families, he said.

"I'm eternally thankful to her and her family," he said.

Grace Mary Cocks was buried a week after she was born. She died from a genetic defect.

It's been 15 years since her death. Her mother, Ellen Cocks, 46, returns to the garden often, on special days with flowers or balloons, other times to seek solace. "Comfort" is the word she repeats often to describe the garden.

"My emotional side said I'd love for her to be at the parish so I could visit the garden every day," she said thinking about the hard days after her daughter died. Cocks and her husband, Stephen, have two children. They live in Sandy Springs.

"I do go to the garden once a week. When I am in need of her intercession, I go to her garden," she said.

A few years ago, Cocks helped start a parish chapter of the Elizabeth Ministry, which aids mothers and fathers "through the joys, challenges and sorrows of child-bearing years." They host a Mass of remembrance of the Holy Innocents each November, this year on Nov. 13.

Columbarium a place of rest for members of the parish

At All Saints Church, Dunwoody, the faithful gather at the granite walls of the columbarium to light the Easter Vigil fire. Easter sunrise Mass is celebrated there, surrounded by the bronzed names of fellow parishioners who have died.  On the feast of All Souls, the faith community gathers there again.

Parish secretary Martin, who said she's "over 65," and her husband, John, 74, opted to buy a niche and prepare for the future. The couple feels strongly connected to the parish, and the columbarium on the church property is the right decision for them.  They no longer worry about being a burden on family "at the last minute."

"It took me a little time to make a decision. Now, we are thrilled," Martin said.

At All Saints Church, Ed Konopka, the parish business manager, sees a weight lifted from people as they sit in his small office.

"A burden is lifted off these people who came here. The decision is made where they are going," he said.

After a funeral with cremated remains, the ashes are carried in a cherry wood box to rest on an oak table beside the niche. At the interment service, the remains and the niche are blessed, the remains are deposited and later sealed.

"They are members of the parish, and they are staying here," he said.