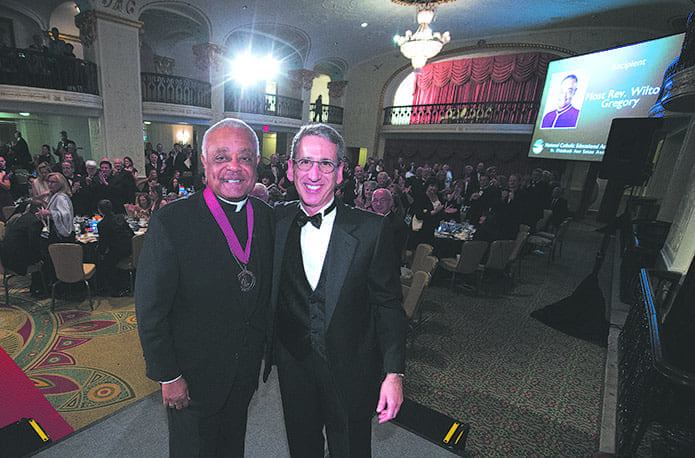 Published October 11, 2013
ARLINGTON, Va.—Archbishop Wilton D. Gregory was one of six individuals who received the NCEA Seton Award from the National Catholic Educational Association at the 23rd annual Seton Awards ceremony, held Oct. 7 in Washington, D.C.
This award honors philanthropy, leadership and service to Catholic education and is the NCEA's highest honor. The award is named in honor of St. Elizabeth Ann Seton (1774-1821), the first native-born American saint.
Archbishop Gregory wrote that Catholic schools are at the "heart of the Church" and "are a living witness to the unity we have in Jesus." He urged that they be kept available to all parents and guardians who desire a Catholic education for their children.
The nomination stated that, in a 2010 statement on Catholic School Education, Archbishop Gregory "called on the support of all Catholics to financially support Catholic Schools through the spirituality of stewardship. This financial support continues today as the Archbishop supports an archdiocesan assessment on all parishes (in the Atlanta Archdiocese) as a means of investing in our future." In addition, he maintains a full schedule that includes supporting the archdiocesan and independent schools by celebrating Masses throughout the year, hosting the annual education banquet and recognizing the service of Catholic school teachers and administrators each year at an in-service event. He currently serves as honorary co-chair for Cristo Rey Atlanta, a school that is expected to open in August 2014.
Archbishop Gregory has recently completed his term as NCEA's chairman of the board.
Other recipients of the Seton Award this year include: Brendan (B.J.) and Bebe Cassin, of Los Altos Hills, Calif.; Robert Healey, of Lumberton, N.J.; Michael Patterson, of Bainbridge Island, Wash.; and Ronald Wolf, of Sewickley, Pa.
Brother Robert Bimonte, NCEA president, said, "The NCEA Seton Awards program recognizes great leaders who are supporting Catholic education in many ways. At the same time, it's an excellent opportunity to encourage others to follow in the footsteps of these individuals who are helping to strengthen Catholic schools for the next generation."
Established in 1904, the NCEA is the largest private professional education organization in the world, representing 150,000 Catholic educators serving 2 million students in schools from pre-K through high school as well as in parishes, seminaries and boards.