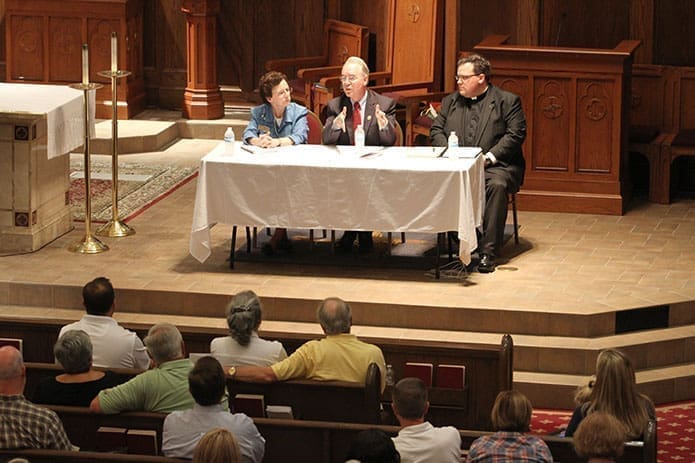 By NICHOLE GOLDEN, STAFF WRITER
|

Published September 12, 2013

JOHNS CREEK—Late afternoon sunlight streamed into the sanctuary at St. Brigid Church in Johns Creek Sept. 4 as hundreds filled the pews to learn more about the U.S. Health and Human Services' mandate and its impact on their religious freedoms.

More than 400 people attended the forum, "A Christian's Response to the HHS Mandate," which featured Father Joshua Allen, U.S. Rep. Tom Price and the archdiocesan respect life director, Mary Boyert, as speakers.

Boyert provided a timeline of the federal mandate, which requires employers to pay for and "facilitate" coverage of employees' contraceptives, abortifacients, and voluntary sterilizations in health coverage.

While the Archdiocese of Atlanta's litigation against the federal mandate is still pending, Catholics attending the forum were searching for practical ways to voice their opposition to the mandate.

"This is very, very serious," said Boyert. "How did it come to be that we as Catholics are being forced into this position?"

When beginning her own pro-life work years ago, Boyert was encouraged to learn about legislation and to contact her representatives. She wasn't initially interested in civics, but quickly learned "I had to find out" to be effective in advocacy work. Catholics in the pews also have to be active citizens, she said.

Boyert noted that non-Catholics are joining in efforts to fight the mandate even when they don't necessarily agree with Catholic teaching on contraception or abortion.

"They understand that this mandate affects all of us," she said.

Boyert emphasized that opposition to the mandate is a moral issue because church entities will be required to pay for medical services in violation of church teaching.

"The Church is not concerned with partisan politics," she said.

Father Allen, parochial vicar at St. Brigid's, addressed the spiritual impact of the federal mandate.

"Religious liberty is not a product of the Republic. It is a prerequisite," said Father Allen.

Religious freedom must exist for other liberties, including political and economic freedoms, to survive, he said.

Father Allen spoke about justice and the law. "Laws are supposed to encourage and instruct on the best ways to live," he said.

Father Allen used society's past acceptance of slavery to illustrate that something cannot be deemed a just practice merely because it is supported by a large group of people. Citizens tabled their moral objections to slavery preferring to view it as an economic issue to the detriment of the country.

Justice "transcends" culture, time or geography, said Father Allen.

"All values must be grounded in something," he said. "Justice is grounded in God."

Father Allen also warned that the current issue at hand is not the end of the struggle.

"That's just the beginning. There will be more mandates," he said.

Business owners, acknowledged Father Allen, have very tough decisions ahead in whether to provide insurance that violates their beliefs or to pay hefty fines.

"I don't have an easy answer. Go and speak to your priest," said Father Allen. "Your conscience is where God speaks to you."

He also encouraged Catholics to pray and fast. "I mean real fasting … not just leaving off the salt," he said.

Father Allen shared the words of St. Thomas More prior to his execution for refusing to accept King Henry VIII's divorce and declaration of the king as head of the church: "I die the King's good servant, and God's first."

These words remind us, said Allen, that Catholics are not just called to be sons and daughters of America.

"We are called to be children of God first," he said.

Price, who represents Georgia's 6th Congressional District, agreed that religious freedoms are a prerequisite for all other freedoms. "Our founders knew that," said Price.

Price, who said he entered public service because as a physician he was interested in health care and its interface with government, called the U.S. Supreme Court's ruling to uphold the Affordable Care Act in 2012 a "terribly flawed" decision. But he also recalled Chief Justice John Roberts' comments that it was not the court's role to protect society from the "consequences" of their own political choices.

According to Boyert, there are some 67 lawsuits against the federal mandate and 200 plaintiffs.

Price hopes through these lawsuits the judicial branch will recognize that the definition of religious organizations to receive an exemption from objectionable parts of the mandate is too "narrow."

The congressman said he believes if implemented, the Affordable Care Act will be the destruction of quality health care in this country. He added that the trouble lies with the word "mandate," which means the government, instead of patients, is deciding what health care is and what it is not.

Price echoed the words of John Adams: "The Constitution was made only for a moral and religious people. It is wholly inadequate to the government of any other."

Price also gave spiritual encouragement. "Pray, Pray, pray, incessantly pray. These will not be solved by man alone."

In any free society, the people cede a little bit of liberty to the government to prevent chaos, explained Price.

"We have ceded too much," he said to applause.

A question-and-answer session followed with all three speakers serving on the panel.

Father Neil Herlihy, pastor of St. Brigid, read questions from parishioners and others ranging from policy to faith.

One attendee asked if civil disobedience would be appropriate.

"The Catechism (of the Catholic Church) does allow for the provision of civil disobedience," said Father Allen, but it does require a blatant, egregious offense, and so one should wait for direction from the bishops.

Father Herlihy also read the question: "Why are some Catholics complacent?"

Father Allen surmised that some have been complacent on the issue because of the complexities involved. He also noted that for many years, the Church has not done the best job of talking about its position on contraceptives with more root work and education needed. "We can do better," he said.

Stephanie Endres attended the forum with her young daughter Amanda. Endres has been following the HHS mandate debate all along the way, but said she learned some new things during the program.

"The Constitution in and of itself is being attacked. Everybody can be doing more," she said.

A St. Brigid parishioner, Endres has two other children, including a son with special needs.

Endres and her husband have seen firsthand how others, including the government, try to make decisions for them. Their son's development has exceeded the expectations of others because they have been proactive with his care and education. "We forged our own path for him," she said.

Janice Givens of St. Brigid's and Go FISH Outreach, who helped plan the event, was very pleased with the turnout, which included a contingent from Atlanta Catholic Singles.

Givens is worried about what the mandate means for her own family and other young families.

"We've got to just step up," she said.

Givens and volunteers distributed postcards for participants to send to their representatives and senators on protecting the rights of conscience in health care.

Above all, Father Allen encouraged the audience to have hope, looking to their faith, grounded in the resurrection of Jesus.

"If we can believe in that, anything is possible," said Father Allen.