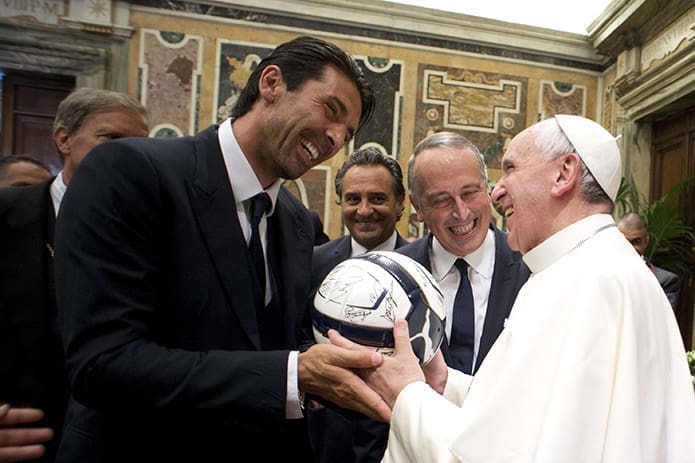 Published August 29, 2013
VATICAN CITY (CNS)—With big smiles all around, the lifelong soccer fan Pope Francis met the star players and coaches of the Argentine and Italian national soccer teams hoping to compete for the World Cup in 2014.
The teams were led to the Clementine Hall Aug. 13 by Argentine captain Lionel Messi, a forward currently playing for FC Barcelona, and Italian captain Gianluigi Buffon, a goalie currently playing for Juventus FC.
The two teams were in Rome to play a "friendly" match in the pope's honor Aug. 14; the game had no bearing on the process of qualifying for the World Cup tournament.
In a brief speech to the players, coaches and referees, Pope Francis encouraged everyone involved with professional soccer to maintain the spirit and passion of it being a game, a team sport.
"Even if the team wins" the game, he said, without beauty, graciousness and teamwork, both the team and the fans lose.
"Before being champions, you are men, human beings with your talents and your defects, heart and ideas, aspirations and problems," Pope Francis said. "Even if you are stars, remain men both in your sport and in your life."
He asked the players to take responsibility for the fact that for millions of people, young and old, they are heroes and role models.
"Be aware of this and set an example of loyalty, respect and altruism," he said. "I have confidence in all the good you can do among the young."
The pope, who follows soccer, knows that in Europe the game has been plagued by incidents of players and fans making racist comments about players from Africa. He told the players they must be models of inclusion, working to "permanently eliminate the danger of discrimination."
When teams are committed to good sportsmanship, he said, everyone in the stadium grows, "violence disappears" and "you'll start seeing families in the stands again."
Pope Francis also asked the players to pray for him, "so that I too, on the 'field' where God has put me, can play an honest and courageous game for the good of all."
Buffon said the pope asking for the players' prayers was another sign of his "humility and humanity."
"With a pope like this, it's easier to be better," he said. "He shows us the way, he warms hearts, he moves people's souls" in a way that all the good they've talked about doing they would actually start trying to live.
Julio Humberto Grondona, president of the Argentine soccer association, asked the pope to bless Argentine soccer "so that the stadiums would be like they were when you first experienced the emotion of being a fan."
The matches, he said, should be a time for family enjoyment "in peace, with respect and fraternity."