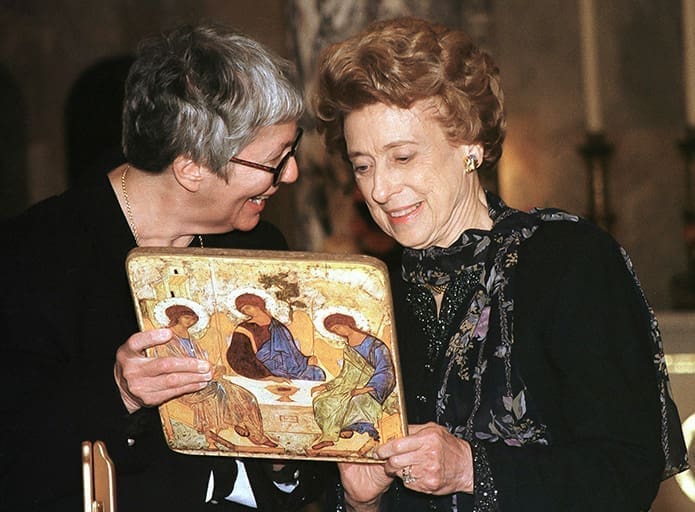 By Peter Finney Jr., Catholic News Service
|

Published August 1, 2013

NEW ORLEANS (CNS)—Former U.S. Ambassador to the Vatican Lindy Boggs, whose career in public service spanned 60 years, including four years in Rome during which she served as a staunch advocate for human trafficking victims, died July 27 at her home in Chevy Chase, Md. She was 97.

Her funeral Mass was to be celebrated Aug. 1 in New Orleans at St. Louis Cathedral, where she was an active parishioner. She will be buried at St. Mary's Cemetery in her hometown of New Roads.

Boggs was the wife of former Louisiana Congressman Hale Boggs, who died when the private plane he was in crashed in Alaska in 1972 during a campaign trip for a Democratic colleague.

His body was never found. After his death was officially recognized in 1973, a special election was held and Lindy Boggs ran successfully as a Democrat for her husband's vacant seat in Louisiana's 2nd Congressional District, based in New Orleans.

She served nine terms as the first woman from Louisiana to be elected to Congress. She retired in January 1991, and in 1997 President Bill Clinton appointed her U.S. ambassador to the Vatican when she was 81 years old. She held the post until 2001.

After learning of her death, New Orleans Archbishop Gregory M. Aymond said, "I have been in touch with her family to offer the prayers and condolences of the people of Louisiana and especially New Orleans."

"We thank God for her life of faith and her life of service to the people of Louisiana and beyond. May she know the fullness of God's peace and love," he said.

President Barack Obama said in a statement July 27 that he and first lady Michelle Obama sent their "thoughts and prayers to the family and loved ones" of Boggs. He said "her legacy as a champion of women's and civil rights" during her service in the House and as the first woman elected to the Congress from Louisiana "will continue to inspire generations to come."

In a July 30 post on his blog, "The Gospel in the Digital Age," New York Cardinal Timothy M. Dolan, who is president of the U.S. bishops' conference, called Boggs "one of the more gracious, influential people I've ever come to know, a woman at 97 still ever young."

As ambassador to the Holy See, he said, she served with "charm and effectiveness" and had once told him "she relished the appointment when offered it by President Clinton, as it gave her the chance to work for two of the towering loves of her life, her church and her country."

Boggs was perceptive at the Vatican "about issues of mutual concern to both the Holy See and the United States: world hunger, disarmament, the plight of refugees, religious freedom, the rights of women and unborn babies, health care, education, human trafficking, and world peace," Cardinal Dolan said. "She had worked hard on these concerns during her celebrated years in Congress, so, she was a natural."

In July 1990 Boggs announced she would not seek a 10th term, in part to care for her ailing daughter Barbara Sigmund, who was suffering from terminal cancer. Sigmund, who was mayor of Princeton, N.J., died of cancer in October 1990.

Boggs' two other children are Tom, a Washington attorney, and Cokie Roberts, a journalist, author and commentator for ABC News and National Public Radio. Another child, William Robertson Boggs, died in infancy.

Her Vatican service coincided with the latter years of Blessed John Paul II's 27-year pontificate and the Great Jubilee of the Year 2000. As an astute observer of politics, Boggs often marveled at the way in which Blessed John Paul commanded the attention of world leaders.

"The Holy Father probably has the best understanding of our government of any leader west of Paris," she said in a 2001 interview with the New Orleans archdiocesan newspaper, Clarion Herald, after returning home from her Vatican service. "He's such a structured person and a student of history and political theory. He has a love for the U.S. and a respect for our system of government. Sometimes things don't work as expeditiously as we would like."

Besides the jubilee year ceremonies, other highlights of her tenure as Vatican ambassador were witnessing the elevation to cardinal of five Americans: J. Francis Stafford, Francis E. George, Theodore E. McCarrick, Edward M. Egan and Avery Dulles.

She also had extensive conversations with Vatican officials about the resolution of the war in Kosovo and about "Ex Corde Ecclesiae," the pope's apostolic constitution that outlined the identity and mission of Catholic colleges and provided universal norms to ensure colleges maintain such standards.

Boggs may have been most touched by ongoing talks on international trafficking in women and children.

"Trafficking in women and children is a huge problem," she said. "People in refugee camps are just prey. They will be promised something better, and then they are trapped."

There were several perks involved with her Vatican job. Her eldest great-grandson, Andrew Hale Boggs, got to receive his first Communion from the pope during a canonization ceremony in St. Peter's Square.

"He got to sit down with the families of the saints, and he loved it," Boggs said. "He thought it was all for his first Communion. We had a party at the embassy, and the next morning his family was ready to go back to Los Angeles. Andrew locked himself in the bathroom and said he wasn't coming out. He said he wanted to live with Maw Maw and the pope."

"I thought that was a grand idea."

Among her numerous honors, Boggs received the University of Notre Dame's Laetare Medal given to a Catholic who has exhibited outstanding public service. She also received the Pope John Paul II Award from the Catholic Foundation of the Archdiocese of New Orleans in 1998.

In 1976 she became the first woman to chair a major political convention. For her support of veterans programs, she became the first woman to receive the Congressional Award of the Veterans of Foreign Wars in March 1986. In 1989 she chaired the House Bicentenary Commission, observing the 200th anniversary of Congress.
---
Finney is executive editor/general manager of the Clarion Herald, newspaper of the New Orleans Archdiocese.