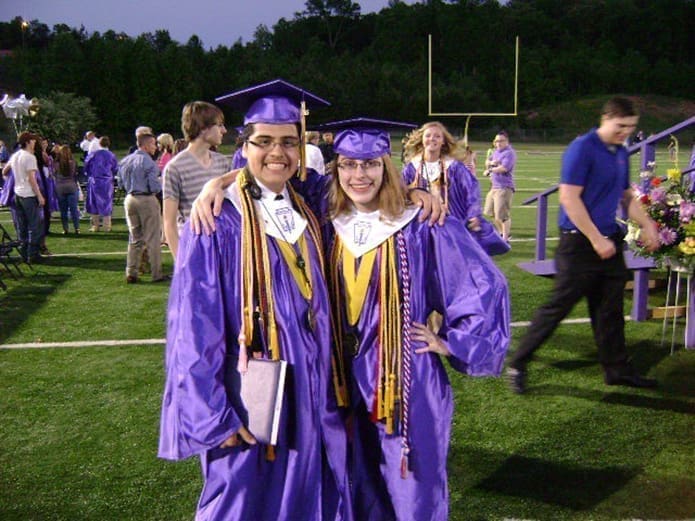 By PRISCILLA GREEAR Special to the Bulletin
|

Published July 18, 2013

DAHLONEGA—In the largest senior class in Lumpkin County High School history, the top two graduates hailed for the first time from St. Luke's Church in Dahlonega.

Jose Moran, valedictorian of the 220-member class of 2013, is the son of Maria and Dagoberto Moran, and the salutatorian, Rebekah Worick, is the daughter of Monika and Chris Worick. Friends since middle school and academic quiz bowl teammates, both will attend the University of Georgia with full-tuition Zell Miller Scholarships. Their pastor said, "Both have represented St. Luke's very well."

"I am extremely proud of Rebekah and Jose for their hard work and dedication in devoting themselves to academic excellence," said Father Neil Dhabliwala.

Worick said they have had a friendly rivalry since ninth grade about landing the top academic slot and she happily conceded defeat at graduation.

"Jose is one of the hardest working people I know, and I can't imagine anybody who I'd have preferred to be valedictorian," she said. "He deserves it completely, and I'm thrilled that I've gotten the chance to share an honor like this with one of my best friends."

Worick plans to major in international affairs, fulfilling a long-standing interest in some sort of "global career." Growing up, she often traveled to Germany, her mother's homeland, and discovered a love of languages and their practical applications in high school after signing up for Spanish on a whim her freshman year.

A member of the Modern Language Club, she started studying French her junior year. She found that her favorite subject was world history.

"A few years ago, the idea of being a diplomat just sort of hit me. I began to seriously think about that as a career option, and my interest in languages just spurred me to consider it further alongside an international affairs major," she said.
Band Cut The Stress
Valedictorian Moran attributes his work ethic to his parents who emigrated in the 1970s from El Salvador in search of better opportunities.
"They always motivated me to do my best in everything I did … just to keep my mind on track," he said. "I wanted to stay on top and stay motivated so I didn't feel like I was wasting my time or my energy. I always tried to push myself further every day."
At Lumpkin, he participated in the National Honor Society and Beta Club as well as the winning quiz bowl team. But it was band that helped him find his stride as he marched for four years, playing the saxophone and serving as a section leader where he guided new and old members. He also participated in the Tri-M Music Honor Society that provided musicians for community events.
"If I didn't have music, I would have been extremely stressed through high school a lot more often," he said. "It helped me build my leadership qualities and social skills. In band you have to talk to people outside of the norm. Whether it would be on the stage in the spring for the concert band or the symphonic band or marching in the fall … each performance was an adrenaline rush. It made me happy to keep doing it. I am going to be in the Redcoats, the marching band at UGA."
Moran gravitated to the sciences but got excited about math after taking advanced placement calculus. He now plans to major in math at UGA and have a career in actuarial sciences or in another applied math field.
"I'd always been OK at math and appreciated it. When I got into that class I felt a lot of pieces came together … how it applied to things," he said.
Mary Cooper, his honors chemistry and advanced placement biology teacher, recalled his passion and determination to learn from mistakes when not meeting his own expectations. And he was kind, respectful and quite funny, she added.
"He worked very hard outside of class and was always ready to participate inside the classroom. His work was always very detailed and he was always ready to help a peer if they struggled with a concept," she said. "He has such a high level of motivation that it spills over to his peers."
At St. Luke's, Moran's participation in the confirmation program deepened his sense of the call to holiness.
"I realized how important it was to not only listen to the Masses but to truly understand the messages and morals that the priest teaches to the people of the church and apply them to my life," he reflected.
Moran speaks Spanish and looks forward at UGA to joining an Hispanic organization. He originally wanted to branch out and attend New York University but then realized that UGA is the best choice.
"When I visited UGA and saw how diverse and how great it was (I knew) that is what I was looking for. And it's close by."
He is glad to have his trusted friend Worick at UGA and fondly looks back at their friendly competition.
"It was a good match," he said. "I definitely consider her a friend. She is really nice. If I needed somebody to talk to, she'd be a person I could consider turning to about any problem."
Life Teen 'Stretched' Her Faith
Worick is "really excited" about taking advantage of the myriad learning opportunities available in UGA's large international affairs' department. She'll continue her past practice in order to stay engaged—start early and don't procrastinate so as not to get overwhelmed. In high school she played trombone in the band and was a member of the Beta Club, National Honor Society and Spanish and French National Honor Societies.
She and Moran participated together for four years on the academic quiz bowl team that this year placed seventh out of 130 in state competition.
"I tried to space things out and make myself busy so I wouldn't have time to get distracted and I think that worked very well," said Worick. "And I had a good group of friends from elementary to high school—we were all peas in a pod."
Worick was guided in faith by the strong example of her parents. An altar server for many years and a vacation Bible school volunteer, she participated in the Life Teen program at St. Luke's where she found excellent role models and a supportive community of friends. She went on pilgrimages to study the origins of the U.S. Catholic Church in St. Augustine, Fla., and Washington, D.C.
"I just liked being in that environment. The Life Teen atmosphere really gave me a chance to stretch my faith. We were all able to grow together in faith," she said.
Serving at Mass, "I got the chance to participate actively in my faith, and I loved having that experience."
Father Dhabliwala said, "She has always been a model of service and generosity and has been very active in our youth group."
Now Worick is emboldened in faith to become a global citizen.
"I think that being part of the universal Catholic Church has definitely opened my eyes to a more global world. … I want my faith to be an integral part of my personality and my future career, and I hope that I can one day be an example of a genuinely Catholic civil servant," Worick said.