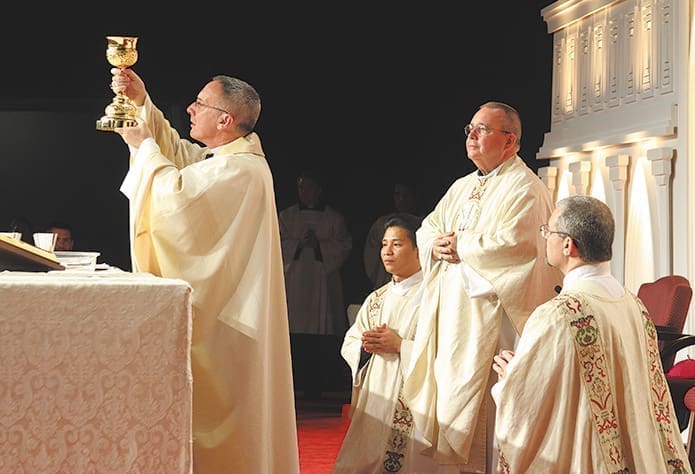 By SUZANNE HAUGH, Special To The Bulletin
|

Published June 6, 2013

COLLEGE PARK—As Mary rushed with joy to see her cousin Elizabeth, so Catholics should rush with joy to the Eucharist, said Bishop Luis R. Zarama, the main celebrant of the opening Mass of the 2013 Eucharistic Congress.

As divine providence ordained, the Eucharistic Congress honoring the Blessed Mother during the Year of Faith began on May 31, the feast day commemorating the Visitation when Mary traveled in haste to stay with Elizabeth, who was also with child.

Bishop Zarama reminded those assembled of this gift, saying, "Today we are so blessed! It's the feast of the Visitation, the first Eucharistic procession because Mary, with Jesus in her womb, made the first procession with the Blessed Sacrament—going out, full of joy."

Mary's zeal to "share the good news" was so noticeable that words weren't necessary.

"She didn't need to say anything to Elizabeth. Her presence made the child in Elizabeth's womb jump for joy and smile to God," the Atlanta auxiliary bishop said.

But joy for the gift of Jesus in the Eucharist is often not as visible at Mass, Bishop Zarama continued. Approaching the Eucharist with reverence is important, he said, but Mary's joy also should be imitated.

"I look at the procession coming to receive the Eucharist and sometimes it looks like a funeral. … Where is our joy?" he asked. "Jesus comes to us to make us a part of him. Do we welcome him? Do we celebrate him and that beautiful encounter with the one who is love?"

He encouraged each person at the Mass to smile when they came to receive Communion.

Bishop Zarama recalled an incident when celebrating Mass for those with special needs. While distributing Communion he saw and heard a communicant jump and cry and clap.

"My first thought was, 'What is wrong with this person?' But do you know who was wrong? Me," he said.

Strive to be at a place in your heart free to receive Jesus with that overflow of joy, as this person did who jumped, cried and clapped with happiness, he said.

"How many times after we receive Jesus in our hands or on our tongue do we smile?" he asked. "We don't smile. … We don't have time for him."

Being in a rush keeps people from opening their hearts and experiencing the joy and healing that comes from the Eucharist and the company of Jesus. It's important to approach the sacrament with the heart more than with the head, the bishop said.

Like being at a "good fiesta … celebrate, jump and dance with your heart."

"Give (Jesus) time to embrace you. That is what the Eucharist is, that beautiful gift of Jesus, who is love, who is looking at us with such joy, waiting for us here to receive Communion and to give us joy."

That joy should spill out to others as Mary's actions demonstrated and the place to start is at home, Bishop Zarama said.

"It's great to serve in the church, to volunteer—it's beautiful. The first place, though, for volunteer service for all of us is to start in our homes. There is where we need to experience the freedom to love that person, that neighbor, close to me."

It can be the most difficult place to start, but Christ's example in the Eucharist is "our school."

"I hope all of us will rush from here tomorrow evening to tell the Good News without saying a word because of the fullness of joy in our lives," Bishop Zarama said. "People can see not us, but the face of Jesus. … Each of us can carry him, like Mary."

The "beautiful beginning" of the Eucharistic Congress continued with the Liturgy of the Eucharist, concelebrated by Bishop David P. Talley, also an auxiliary bishop of Atlanta. The choir from Transfiguration Church in Marietta led the congregation in music that included a soulful rendition of "Order My Steps."

Before the final blessing on the last day of the month honoring the Blessed Mother, Bishop Zarama thanked all mothers in attendance. "Thank you for the beautiful gift of our lives. Thank you for your 'yes' to love."

He was also thankful to all gathered for "the most beautiful (Communion) line coming to Jesus, smiling—that was beautiful!"

Donna Brisse, a parishioner at Holy Cross Church, in Atlanta, relished "Father Luis' smile comment."

"He's the most joyful, loving person. He's also very close to the people. It's easy to relate to him and he is so approachable. When he walks out, there's always a crowd to greet him," Brisse said.

Lilia Moncada, a parishioner at Immaculate Heart of Mary Church in Atlanta, makes a point of coming to the Friday night events at the Eucharistic Congress each year.

"It fills my heart with the message of my faith. My faith is renewed and it gives me the opportunity to share with my people," she said.

She comes for Mass and for the healing service afterward.

"I've always believed the Lord heals through the Eucharist and prayer," Moncada said.