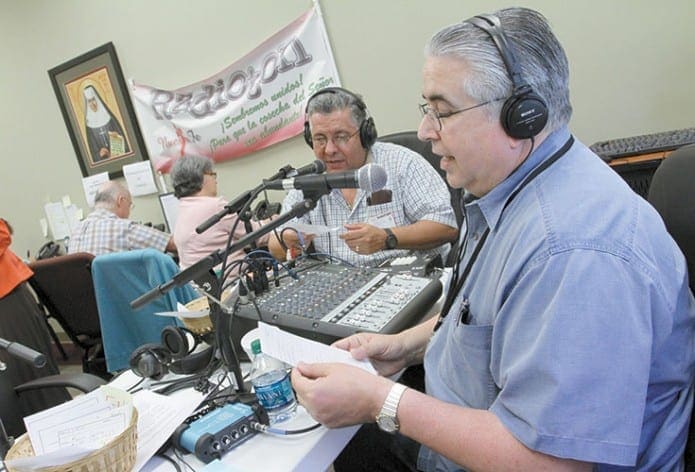 Published April 25, 2013
The second radio marathon, "Crece Nuestra Fe" (Our Faith Grows), took place from Monday to Saturday, April 15 to 20.
During the radiothon, live broadcasts of "Nuestra Fe" came from a conference room of the Chancery of the Archdiocese of Atlanta in Smyrna for an hour every day.
"Nuestra Fe" is a Spanish Catholic radio program produced by Nuestra Fe Catholic Broadcasting Inc. in the archdiocese. It is transmitted from Lawrenceville through Radio La Bonita 610 AM for an hour at 10 a.m.
The goal of the radiothon was to increase the number of "Nuestra Fe" founders, a person who supports evangelization through the local Hispanic media. The first radiothon was held in December 2010.
Nuestra Fe "is doing the job of taking the Gospel to those who cannot come to the church right now," said Jairo Martinez, director of the Hispanic ministry office. The program reaches people who are sick, who are older and infirm, who can't leave their homes or get to a church for many reasons, he said.
During the radiothon, "those are the people who are calling. They are donating one dollar, five dollars. They are trying to help. They are truly committed," he said.
The radiothon also drew several calls from people who needed prayer, he said, and that's most important. "It's so rewarding," Martinez said. "The answer from the people has been amazing."