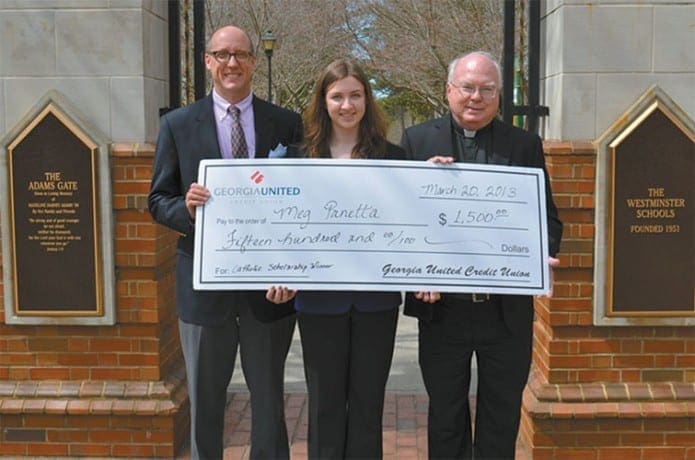 Published April 25, 2013
DULUTH—Georgia United Credit Union has announced the 2013 winners of the Archbishop John F. Donoghue scholarship, awarded for the sixth annual year.
Annual selection is based on a short essay, academic accomplishments, leadership and participation in both school and community activities.
The winner this year is Margaret (Meg) Panetta of The Westminster Schools of Atlanta, and the runner-up is Katherine (Katie) Lanthier of Blessed Trinity High School, Roswell.
Panetta, this year's first-place winner, received $1,500. Already accepted to Harvard University, she is valedictorian of her graduating class and is a National Merit Finalist, an AP Scholar with Distinction, and a member of the school's Honor Council. She is a member of the National Honor Society, Cum Laude Society, and a member of the Westminster Academic Quiz Team. She is president of the Science Olympiad Team, plays bass in the school orchestra, and has studied dance for 10 years. Panetta is also involved with her church, Immaculate Heart of Mary, and volunteers at Fernbank Science Center. She is the daughter of Dr. Edward Panetta and Ms. Patricia Gorham of Atlanta.
Lanthier received $1,000 as runner-up in the competition. The valedictorian for her graduating class at Blessed Trinity, she has been accepted to Georgia Tech. She will be graduating summa cum laude and is an AP Scholar with Honors, a Governor's Honors Program participant, and a recipient of the Chemistry and Spanish Awards for the highest GPA in those classes. A member of the National Honor Society, Lanthier is editor of the yearbook staff, and plays on the varsity softball and track and field teams at Blessed Trinity. A STARS tutor, she also volunteers for her church, St. Benedict, and Habitat for Humanity. She is the daughter of Kenneth Lanthier and Margaret Haggerty of Johns Creek.