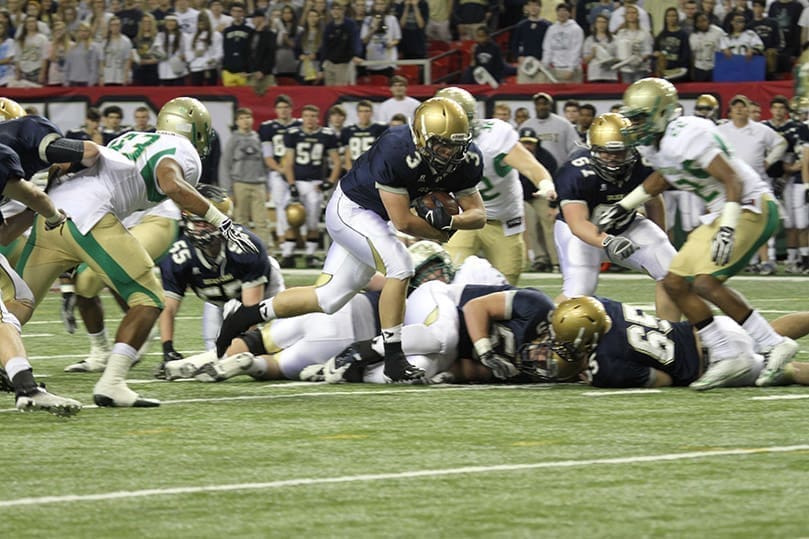 By MICHAEL ALEXANDER, Staff Photographer
|

Published December 20, 2012

In a highly competitive state championship football game, played out before scores of boisterous fans at the Georgia Dome on Dec. 14, the difference in the game came down to one fourth-quarter play. That play would eventually give Buford High School a 10-3 victory and its ninth state championship.

St. Pius X High School took home the runner-up trophy after competing in the state championship for the first time since 1968, the last time the school won a state championship in football.

It was a defensive struggle, and the tone was set from the beginning. In its first series of downs, St. Pius drove all the way down to the Buford 23-yard line. On fourth down with one yard to go for a first down, Pius went for it, but the Buford defense held.

Both defenses were stingy throughout the first half. Even a second quarter Buford fumble at midfield that was recovered by St. Pius senior defensive end David Marsau did not lead to a change in the game's momentum. The Buford defense held once again, and St. Pius had to punt the ball back to Buford.

In a six-play, 51-yard drive in the closing minutes of the second quarter, Buford was able to successfully kick a 43-yard field goal, to take a 3-0 lead into halftime.

With 4:38 remaining in the third quarter, St. Pius tied the game on a 47-yard field goal by Thomas O'Leary.

On two occasions during the game, the first and third quarter, the St. Pius offense was stopped on fourth down by the Buford defense. In the second quarter, the St. Pius defense halted a Buford offensive attempt on fourth down. But at the 9:10 juncture of the fourth quarter, the Buford offense tested the St. Pius defense once again. On fourth down and two yards to go for a first down, Buford running back Dontravious Wilson took the ball pitched from quarterback Taylor Mitchell, ran around to the outside down the right side, past the first down marker and 39 yards to the end zone for the tie-breaking touchdown.

St. Pius got the ball two more times after the Buford touchdown and point after attempt, but neither series produced a scoring drive.

St. Pius senior fullback Ryan Braswell accounted for 71 of the team's 184 total offensive yards. The defense held Buford to 178 total yards. St. Pius finished the season with a 12-3 record, the team's second best record in the last five years.