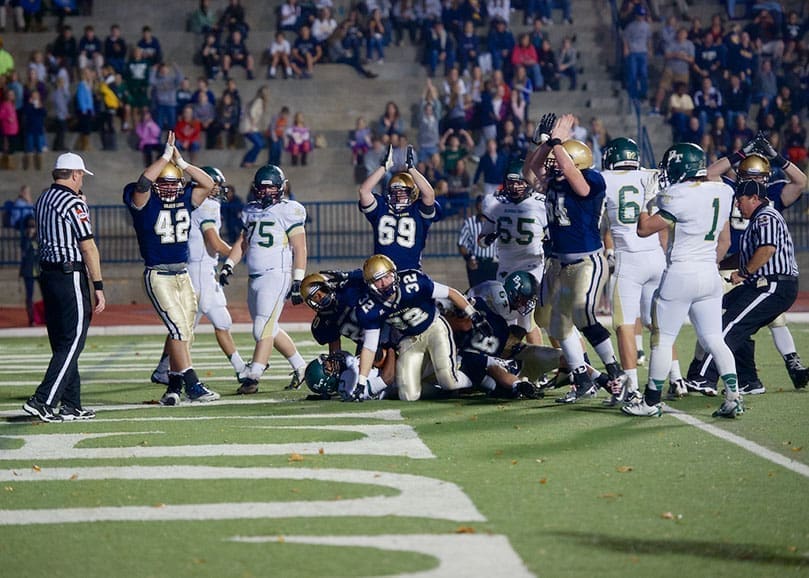 Published November 8, 2012
The St. Pius X High School football team did not disappoint the class of 2013 on Senior Night, and they also kept their home-game winning streak intact with a 24-17 come-from-behind victory over Roswell's Blessed Trinity High School.
St. Pius struck first with nine first-quarter points that came on a two-point safety by the defense and a 50-yard touchdown run by junior Branden Mitchell and the extra point conversion by junior kicker Thomas O'Leary.
In the second quarter Blessed Trinity closed the gap to within two points after quarterback Spencer McManes scored a touchdown run and Marc Nolan kicked the point after touchdown. Then with 4:45 remaining in the second quarter Blessed Trinity took the lead when McManes teamed up with wide receiver C.J. Brazil on a 73-yard touchdown play to put them up 14-9. Blessed Trinity maintained the lead through halftime.
In the first minute of the third quarter St. Pius junior safety Nick Glass picked off a McManes pass and returned it for a touchdown. After O'Leary's point after touchdown, Pius recaptured the lead 16-14. When Blessed Trinity got the ball back they penetrated the St. Pius defense far enough for Nolan to kick a 25-yard field goal to regain a one-point lead of 17-16.
It was only appropriate that Ryan Braswell scored the winning touchdown on Pius' final 96-yard drive with 1:21 remaining in the game. The senior fullback had 22 rushes for 104 yards and he also went over 1,000 yards for the season.
St. Pius (7-2) travels to Decatur High School Friday, Nov. 9, and Blessed Trinity (7-2) hosts Cedar Grove High School at home.