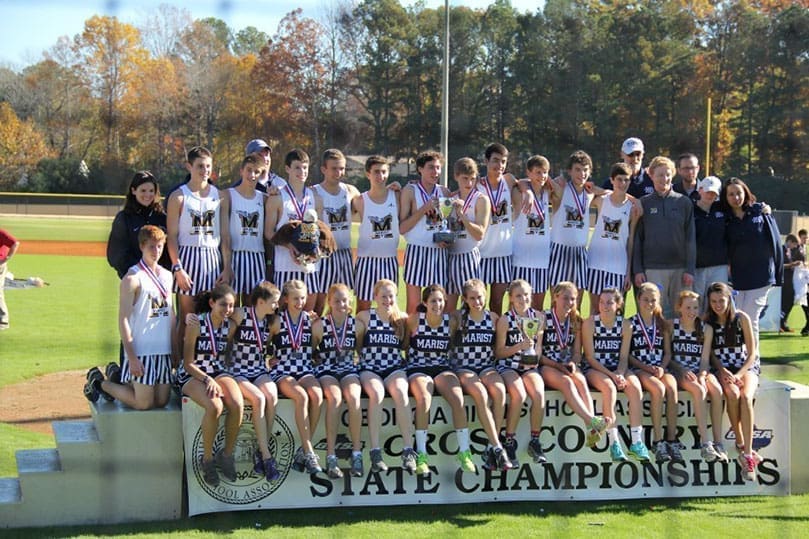 Published November 22, 2012
The boys and girls of Marist School and St. Pius X High School, Atlanta, captured the state championships in cross country in Class AAAA and Class AAA, respectively, during the Nov. 10 state meet at Carrollton High School.
The St. Pius boys team won its third consecutive state championship. Four of the St. Pius runners finished in the top five. Junior Austin Sprague (16:26.29) won the individual championship, while his teammates senior Calvin Tirrell (16:41.46), junior Joey Ferrugia (16:45.81) and junior Andrew Anastasiades (17:08.47) finished second, third and fifth, respectively.
"This team performed very well all season. From top to bottom this is our best team ever," said fourth-year coach Ryan McClay. "I think what separates us from the rest of the state is all the little things these guys do right. They run their long runs together to make sure they get them in, they're good about stretching and doing running drills, and they even hold each other accountable."
The St. Pius girls team captured its second state championship title since 2009. Three runners finished among the top seven. Senior Devon Dabney (20:21.39), junior Margaret Crawford (20:23.66) and freshman Emma Jayne Braxton (20:42.02) finished second, third and seventh, respectively.
Debbie Guilbeau just completed her 17th season as the coach of the girls team. She described the team's overall performance as remarkable and credited the leadership of captains Elizabeth Pettit, Catherine O'Neill and Sarah Fristoe.
"Our program has been successful because we work together and we race together as a team," said Guilbeau. "At every practice we preach the pack mentality to the runners. Another strong component of our success this season was the outstanding leadership of the seniors on the team. The captains were instrumental in not only motivating, but also instilling confidence in the younger runners. Finally and most importantly the team's top seven runners never let their ultimate goal of winning a state championship out of their sight."
For the Marist girls, it was an amazing fifth consecutive championship in Class AAAA. Sophomore Morgan Ilse (19:16.48) finished ahead of some 220 runners to capture the individual title. Her senior teammate and the team's captain, Kate Northrop (20:12.43), finished in fifth place.
The Marist boys team won its fourth championship in the last five years. Junior Michael Thurston (16:12.72) led all runners to win the individual championship. Two of his teammates, junior Daniel Navarro (16:16.83) and senior Jack Leahey (16:51.45), had top 10 finishes of second and fifth place, respectively.
Eric Heintz has coached the boys and girls cross country teams at Marist since 2006.
"Our girls and boys like to work hard. They are committed to success in all aspects of their lives so they understand what it takes to succeed. We truly have been blessed with a culture of hard work," said Heintz.
The girls team at Blessed Trinity High School, Roswell, was the Class AAA state runner-up. Juniors Ann Gandolfo (20:38.44) and Natalie Kile (20:54.33) finished in fourth and 10th place, respectively. The boys team finished in fourth place behind St. Pius, Woodward Academy and North Hall. Junior Matt Munns (17:15) finished in seventh place out of over 200 runners.