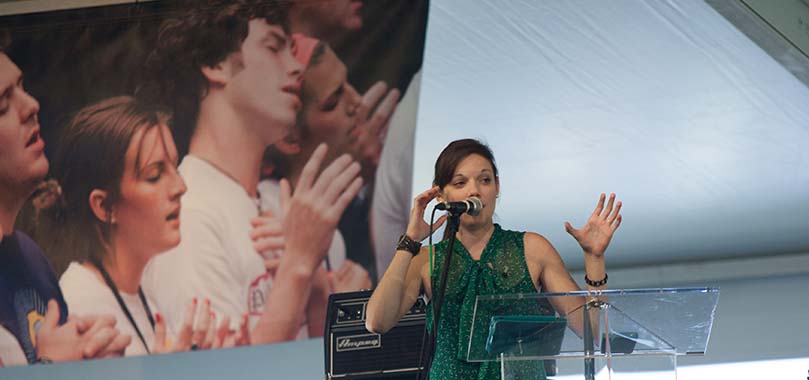 By ERIKA ANDERSON, Special To The Bulletin
|

Published June 21, 2012

Inspiration from a close family friend inspired Phillip "Pip" Arnold to change the world through more than just his incredible voice.

Pip, who grew up at St. Joseph Church in Marietta and is best known as a contestant on the NBC talent show "The Voice," spoke to teens during the Excite! youth track of the annual Eucharistic Congress June 9.

Wearing his trademark bowtie, 19-year-old Pip started his afternoon talk by singing "I'm on Fire" by Switchfoot. He then spoke of the late Stewart Hay, a New Zealand native and his best friend's father, who died of brain cancer in 2011.

"My whole life I've always been really affected by mission work," Pip said. "I went to Catholic Heart Work Camp, and I used to serve in soup kitchens and elderly homes."

Hay, who Pip referred to as "Mr. Stewart," was also dedicated to mission work, traveling to other countries to build homes for the less fortunate.

"Eight months ago, I started an organization in Mr. Stewart's honor called Youth in Mission. This helps kids and young adults who want to go on a mission trip but can't afford it," he said. "I really think everyone should be able to experience a mission trip."

The organization sells black wristbands, which Pip wore on "The Voice," imprinted with the New Zealand silver fern, to help young people achieve their dreams of mission work.

Pip was one of several speakers who spoke about mission during the day. Young adults from the Fellowship of Catholic University Students, from Life Teen and the National Evangelization Team also spoke to young people about living their faith through mission work.

John Huynh, who heads the youth and young adults programs in the archdiocesan Office of Formation and Discipleship, said that he hoped to inspire teens to look in their own backyards for missionary opportunities.

"Not every teen will have the opportunity to go to Honduras or Nicaragua for a mission trip. This is tangible," he said. "Hopefully they can relate because it hits a little closer to home."

For the first time, the youth track included "Mission Possible." Teens were encouraged to bring a canned good to restock a food truck to benefit the St. Vincent de Paul food pantry.

"When you hear of missions, they are often based on time. There are parish missions during certain liturgical seasons, or you hear about teens going on parish mission trips during the summer," Huynh said. "We were trying to get away from the concept that you have to wait for that one week for a mission. Your life—and living out your faith—is a mission in itself."

A cool breeze flowed through the white tent outside the Georgia International Convention Center, where hundreds of teens gathered for the track. Musicians Josh Blakesley and Sarah Kroger led the teens in worship throughout the day, as emcee Kevin Hickey introduced the speakers.

Chris Stefanick, director of youth, young adult and campus ministry for the Archdiocese of Denver, was the keynote speaker and encouraged the teens to remain in awe of Christ during the Mass.

"If you think of the words 'Mass' and 'boring' in the same sentence, you are missing the boat," he said. "Guess what? God does not care if you get bored. The point of Mass is not to entertain you. Catholics all around the world are literally risking their lives to attend the Mass that sometimes bores you."

Stefanick spoke of great Catholic leaders, including Blessed John Paul II and Blessed Mother Teresa, who lived lives of holiness.

"These are people who attended daily Mass. And you get no less grace from Mass than those people," he said. "You get the power to be superheroes. My friends, you are not ordinary when the Body and Blood of Christ is flowing through you. What do you get out of Mass? Nothing less than God himself. Don't ever go to Mass looking for entertainment, because that is nothing next to what we actually encounter there."

Later in the afternoon Bishop Luis R. Zarama spoke to the teens. He told them that though some of them may have been told by a parent or friend to come, it was Jesus who ultimately invited them. He encouraged them to be open in showing their faith.

"Girls are better at showing their feelings. Sometimes guys want to be tough. But Jesus wants us to open ourselves and be free to express our faith and who we are," he said. "Don't try to impress your friends. Let Jesus be impressed with you."

Archbishop Wilton D. Gregory also addressed the teens and expressed his delight that so many were in attendance.

"I hope this teen track is a source of life and courage and joy for all of you, just as you are a source of life and courage and joy for all of us."

Huynh and a team began planning the track in January, soon after he joined the office. He met with youth ministers, who offered feedback from previous Eucharistic Congresses.

"One thing we heard repeatedly is that the talks were sometimes too long. These are teenagers, and they can get restless sitting down and listening to someone speak all day," he said.

Huynh and team decided to structure the track like a school day, with hour-long sessions. In the middle of the day, gender specific talks were offered, while members of the opposite sex went to lunch.

"We got some great feedback. People seemed to really enjoy the style of and structure of the day," Huynh said.