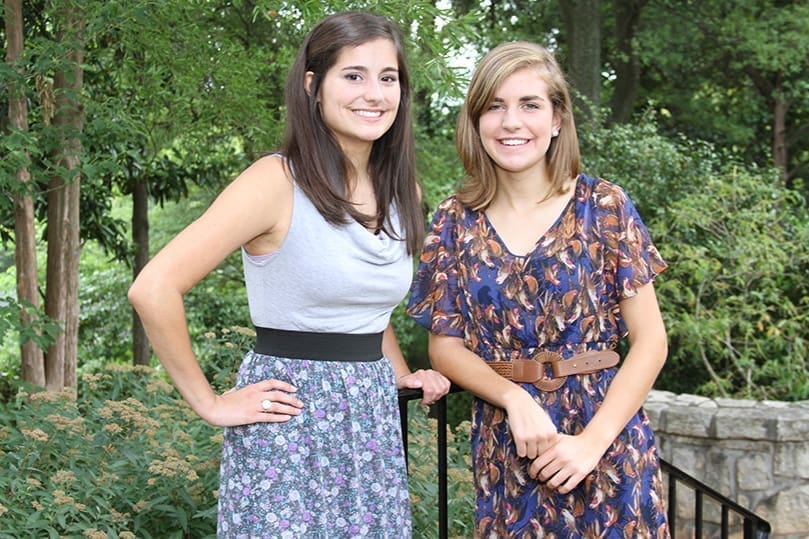 By STEPHEN O'KANE, Staff Writer
|

Published June 7, 2012

Recent Harrison High School graduates Maria Boff and Sydney Baker stand near the gazebo behind the rectory at St. Joseph Church and reminisce about their high school days that only ended a couple of weeks ago.

Somewhere between hectic academic schedules and exhaustive extracurricular activities the two teens have become good friends. The church has been the home parish for both 18-year-olds since they were young girls and is just one of many places they've made memories together over the past few years.

Both earned academic titles for their strong performances at Harrison High School; Sydney was honored with one of two valedictorian titles and Maria earned the title of salutatorian. Sharing many Advanced Placement classes, they feel prepared as they look forward to starting college life in the fall.

Sydney, whose family moved to Georgia from Indiana 13 years ago, will be heading to the University of Georgia, Athens. While she isn't sure which path she will pursue, she expressed an interest in studying foreign languages. Also a musician, who sings and plays guitar and piano, she is excited about experiencing Athens' renowned music scene.

The oldest of five, Sydney at first was not sure if she wanted to attend UGA. But after doing her research and visiting the school, she now knows it was the right decision.

"I can tell that's where God wants me," said Sydney, who acknowledged that her faith has played an important role in her life so far.

"Faith has helped me a lot through high school," she said. "It taught me to humble myself … and work for what God wants, not what I want."

Maria will be attending the Georgia Institute of Technology come the fall and has signed on to participate in Tech's cross country and track and field programs. Running has been an important part of her life since her freshman year when she tried out for the Harrison team with encouragement from her parents.

"I didn't really want to" run cross country, she said. "But my parents wanted me to make friends."

She made the varsity team after her first time-trial and now attributes some of her greatest high school memories to her cross country experiences.

"I have met a ton of good friends," Maria said, giggling as she added that her mom might know more than she used to think.

When asked about her salutatorian title, Maria humbly acknowledged that she didn't expect to receive the honor. She worked hard academically all four years but was pleasantly surprised when she heard the news.

"It was really exciting to find out," she said. She purposely did not tell her grandparents about the title so they would be surprised at the commencement ceremony.

"It added to the whole graduation experience," she said.

Sydney was also surprised to learn of her valedictorian title. She and another student tied for the top spot in the 2012 Class so Harrison High School recognized two valedictorians this year.

"It was kind of a surprise," she said. "I worked hard towards it … but high school has taught me you won't always be number one."

"High school is not an easy place," replied Maria. "It's really important to take a step back and figure out what is really important."

"You have to work really hard, but you also have to enjoy yourself," added Sydney.

As the two discussed the lessons they have learned and memories they shared during four years of high school, they looked more like sisters than friends. They promise the newfound college rivalry won't get in the way of their friendship.