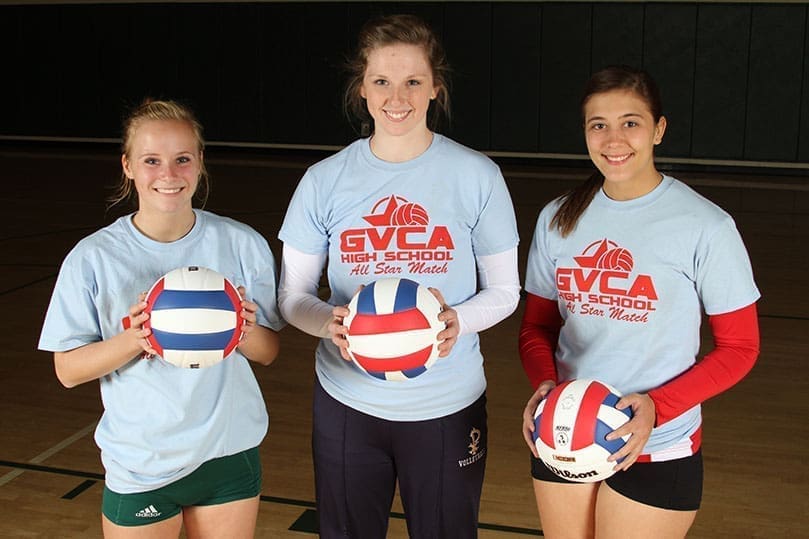 Published November 10, 2011
Mary Carter Thornton of Blessed Trinity High School, Roswell, Olivia Schmitz of Our Lady of Mercy High School, Fayetteville, and Alex Bidgood of St. Pius X High School, Atlanta, were named to the Georgia Volleyball Coaches Association senior all-star team.
Thornton, a four-year varsity starter, played libero and served and was one of Blessed Trinity's senior captains. She set the school record for digs in a single season with 653. The previous record, which had stood since 2003, was 499. This performance also ranks fifth all-time in state history. Her 41 digs in a single match is also a school record and is tied for the second best performance all-time in state history.
Schmitz, an outside hitter, ended the 2011 volleyball season ranked number one in the state in kills with 651. She also ended the year ranked number 12 in the nation in kills. She received Our Lady of Mercy's "Most Valuable Offense" award at this year's volleyball banquet. Schmitz is the first senior named to the Georgia Volleyball Coaches Association all-star team in the history of Mercy's volleyball program.
Bidgood played outside and middle hitter for St. Pius X. She is the only player in St. Pius history to have played in two state championship games, having started on the 2008 state runner-up team and this year's state runner-up squad. She will leave Pius as the sixth all-time leader in school history with 602 kills. She was also named as one of the two team captains during the season.
The Nov. 5 senior all-star volleyball match took place at Blessed Trinity High School.