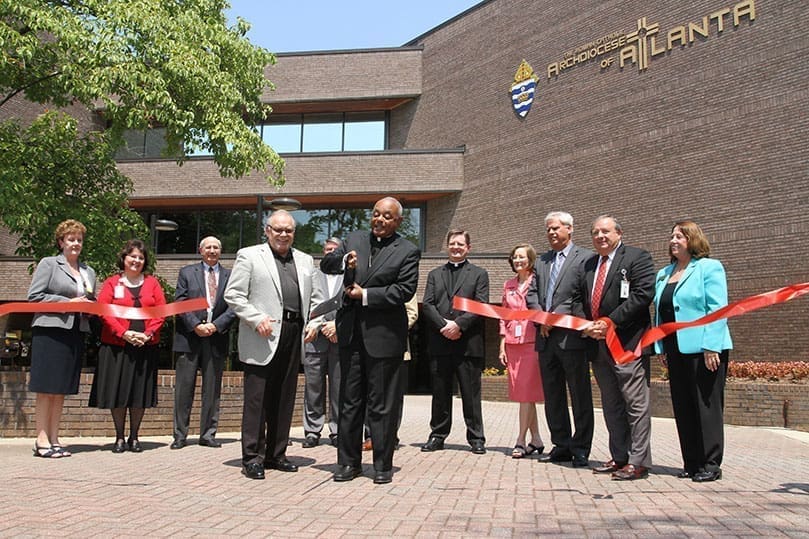 Published September 1, 2011
Using a pair of oversized scissors, Archbishop Wilton D. Gregory with Smyrna Mayor Max Bacon at his side officially opened the new Chancery on Aug. 24.
More than 160 people were expected at the two-hour open house, giving visitors the opportunity to tour the three-story administrative offices of the archdiocese and view a photo exhibit by Georgia Bulletin photographer Michael Alexander.
"It has been my great hope and desire to bring everybody together in one central facility and that's what this represents," said Archbishop Gregory.
Bacon said he is happy to welcome the staff to Smyrna.
"We delighted you all are here," he said, in brief remarks before the ribbon cutting.
Close to 1 million Catholics live in the 69 counties of the archdiocese, up from 22,000 when the archdiocese was formed in 1962.
The administrative staff of the archdiocese had outgrown many offices since it was formed almost 50 years ago in 1962. Most recently its main office was at 680 West Peachtree St. in Atlanta.
Many of the ministries and offices moved to the new office building at 2401 Lake Park Drive in the spring. Catholic Charities Atlanta continues to operate out of the West Peachtree Street location, until the building is sold.
The archdiocese purchased the property on Lake Park Drive for $3.3 million in 2009 and overhauled the 96,000-square-foot-facility complex with a $5.9 million renovation.