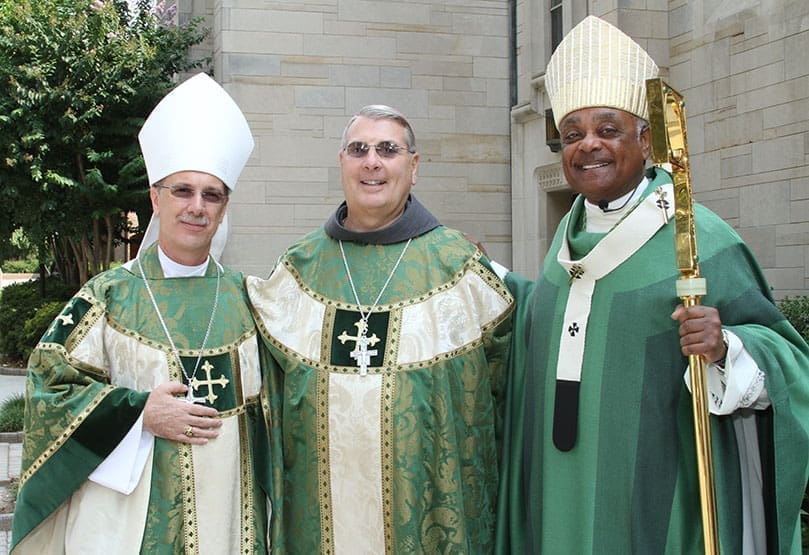 By STEPHEN O'KANE, Staff Writer
|

Published September 15, 2011

Bishop-designate Gregory J. Hartmayer received a supportive sendoff Sept. 1 as the brotherhood of priests serving in the Atlanta Archdiocese came together at a Mass in recognition of his recent selection as the next bishop of Savannah.

"We, your brothers and sisters in this local church, assure you of our love and prayers as you set out at Christ's invitation," Archbishop Wilton D. Gregory told the future bishop, a Conventual Franciscan priest and pastor in the archdiocese.

"We thank you for your loving presence in our lives for these past 16 years. We praise God for your laughter and tenderness, for your good example and zealous ministry, for your spiritual depth and humanity," the archbishop said.

"All these gifts you will bring with you to the Diocese of Savannah, and they will win the hearts of the people there as they have touched our hearts here," Archbishop Gregory said.

More than 60 priests concelebrated the Mass held at the Cathedral of Christ the King. In addition to his parish work, Bishop-designate Hartmayer, 59, is chairman of the Atlanta Council of Priests. He has spent 16 years ministering in the Archdiocese of Atlanta, 15 as pastor of St. Philip Benizi Church, Jonesboro, and the last year as pastor of St. John Vianney Church, Lithia Springs.

He was appointed July 19 by Pope Benedict XVI to succeed Bishop-emeritus J. Kevin Boland, 76, whose retirement was accepted by the pope. The new bishop will be ordained and installed on Tuesday, Oct. 18, at 2 p.m. at the Cathedral of St. John the Baptist in Savannah.

Archbishop Gregory spoke with emotion during his homily, expressing his excitement at the pope choosing one of Atlanta's priests to be elevated to bishop, but also noting some of the difficulties that he will face.

"Jesus frequently asks each one of us to do something whose efficacy we may doubt or question," the archbishop said, referring to the reading from Luke's Gospel where Jesus calls Peter to be a fisher of men.

"A request to leave the familiar for the unfamiliar—to learn how to do something in a different way—is a repetition of Peter's experience, only it comes in our lives and we are asked to respond in trust," he said.

"Gregory is being asked to set aside what he has found fulfilling and meaningful in his life as a Franciscan living in community and to leave his very fruitful ministry as a pastor here in the Archdiocese of Atlanta in order to learn something new among a new community," Archbishop Gregory continued.

"He is being asked to trust that Jesus' plans for him will make him successful and happy in ways that he simply cannot now envision," the archbishop said.

Bishop-designate Hartmayer will be only the second Conventual Franciscan to be selected as a bishop in nearly 100 years of the order's ministry in the United States, which he recognized as a great honor. He took a few moments at the end of the Mass to share his gratitude for the experiences he has had in the Archdiocese of Atlanta and to thank the priests who have helped prepare and shape him to be the next bishop of Savannah.

"You are looking at a very blessed man," he said to the assembly. "I have enjoyed the fraternity that exists among the priests in this archdiocese. Over the years I have developed many deep and supportive friendships in this presbyterate, and I know I will continue to enjoy those relationships in my future years in Savannah."

"In addition to my family at home and my Franciscan community, you, my brother priests, have helped me become who I am today," he continued. "I have said this over and over: This archdiocese is blessed with some of the finest, holiest and most talented priests I have ever met. I have learned a lot from you. … I always feel at home in Atlanta, and I hope to see you in Savannah."

Father Paul Burke, who serves as vice chairman of the Atlanta Council of Priests, said he has known Bishop-designate Hartmayer since 1996 and worked closely in the area of Catholic education with the future bishop, who himself has served as a Catholic high school principal, teacher and counselor.

"When I was appointed chaplain of Our Lady of Mercy Catholic High School, Fayetteville, in 2000, Father Greg was one of the first priests to congratulate me and offer his full support," Father Burke wrote by email. "On several occasions, he gave me the opportunity to celebrate holy Mass at St. Philip Benizi and to preach on the value of Catholic education and to build the enrollment of Our Lady of Mercy."

"Having been a teacher and principal, he knew firsthand the demands and challenges of not only building and opening a school, but maintaining its Catholic identity," Father Burke wrote. "I could always rely on him for support and guidance. He served on the first Principal Advisory Board of the school. He was always there to help us celebrate our joys and to console us in our sorrows. Father Greg exemplifies the Franciscan spirit of humility and simplicity."

A native of Buffalo, N.Y., he professed his solemn vows as a Conventual Franciscan on Aug. 15, 1973 and he was ordained a priest on May 5, 1979. He holds master's degrees in theology, in pastoral counseling, and in education, specializing in secondary Catholic school administration.

Marist Father Paul Hachey, who represents religious order priests on the Council of Priests, said his sentiments "echo what I have heard said by the presbyterate regarding Bishop-elect Hartmayer."

"It has been our good fortune to work alongside such a wonderfully pastoral, prayerful, collaborative, and keenly organized priest," said Father Hachey. "His style is an excellent match for the exceptional leadership God's people in the Diocese of Savannah have enjoyed through Bishop (Raymond) Lessard and most recently from Bishop Boland."

As bishop of Savannah, Bishop-designate Hartmayer will be the shepherd of some 77,280 Catholics in 90 counties in the southern half of the state where 2.8 million people live.