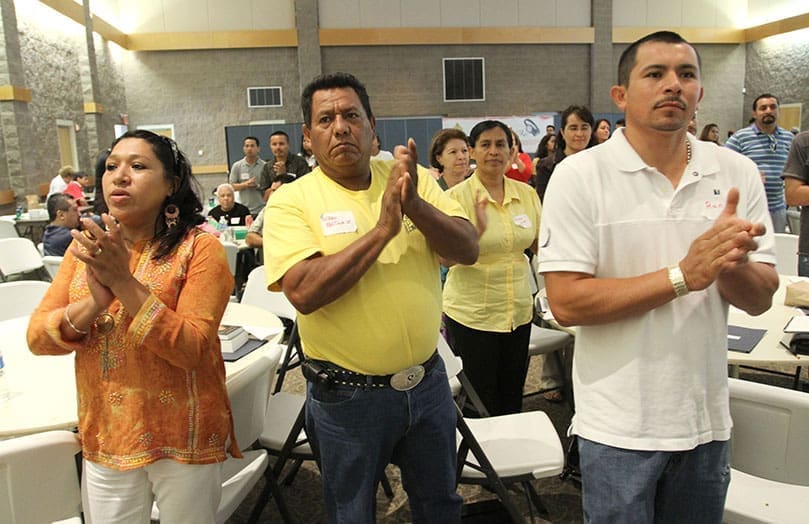 By RUTH E. DÁVILA, Special To The Bulletin
|

Published August 4, 2011

"Unity without uniformity" was the broad theme of this year's Encounter of Hispanic Ministries, as organizers intentionally left the Encuentro untitled this year to explore how to serve the growing and complex community of Latino Catholics. Conventual Franciscan Father Kenneth G. Davis, a preacher and bilingual author specializing in Hispanic ministry, led the workshop July 23 at St. Andrew Church in Roswell.

"Half of all Catholic minors in the U.S.A. are Hispanics who on average are 10 years younger than white, non-Hispanic Catholics," Father Davis told The Georgia Bulletin. "Given the demographics, one cannot legitimately claim to be doing youth ministry without doing Hispanic ministry or Hispanic ministry without doing youth ministry."

Father Davis called upon participants to recognize diversity within different segments of the Hispanic population—not only country of origin, but also levels of "acculturation" and age. All these factors influence how Latinos live their faith. A blanket approach to ministry—targeting, for example, only recently arrived immigrants—is unlikely to engage all Latinos, particularly young ones.

Hispanic youth are trapped in a "sandwich generation," according to Encuentro organizer Jairo Martinez. "For teens and young adults, ministries are often based almost entirely in the experience of immigrants," said Martinez, director of the archdiocesan Hispanic Ministry Office.

"Different realities aren't always considered, such as that of a young person who came here when he was 3 or 4 years old. Often he can't communicate with an immigrant group because he doesn't speak Spanish," he added.

To make ministry relevant, leaders must talk to Latino youth in terms they can understand, said Encuentro attendee Ana María Culverhouse.

"We must create a dynamic with young people in which we can communicate on their level, speak their language and infiltrate their hearts with the grace of the Holy Spirit, so they can develop as future leaders of the church," said Culverhouse, a parishioner at St. Brigid Church in Johns Creek. "I view it as a beautiful but challenging task that we must implement urgently—to focus on Latino youth groups in our parishes, not in just a few, but everywhere possible."

Father Davis, the only non-Hispanic to have served as president of the National Catholic Council for Hispanic Ministry, spreads an encouraging message: Anyone can serve Hispanics, regardless of their language skills or prior experience working with the population.

The first step is to examine the ministry's mission statement. "Does it imply you are serving all Catholics within your particular mission? If so, ask yourself whether or not in fact you are serving Hispanics: Do you really have the resources to do so? Are there Hispanics in executive positions?" he said.

If the mission statement implies universal service when, in reality, Hispanics are not served, one has two choices, according to Father Davis: plan to include Latinos in executive and administrative positions or change the mission statement to say that Latinos are not served.

"Simply revising your mission statement, if necessary, makes Hispanics less invisible, which in itself is helpful," Father Davis said. "So you see, you help the cause whether or not you choose to adapt your ministry or simply clarify what you actually do in ministry."

A self-proclaimed "white guy with no rhythm," Father Davis has been working with Latinos for more than 30 years. He has worked with various Hispanic ministries and lectured in Mexico, Central America and Spain. Presenting teachings from his new DVD and CD called "Hispanic Ministry and the Future of the Catholic Church," he discussed the challenges of serving Latinos today.

Having moved to Atlanta three decades ago, Culverhouse can attest that Atlanta's Hispanic ministries have changed immensely since her arrival. On the upside, Hispanic groups within parishes have improved coordination. One of the biggest changes, however, is "anti-immigrant sentiment" of late, she said.

Immigration law was a palpable issue at the Encuentro, both in Father Davis's speech and in the aisles. According to Martinez, attendance dropped this year due to Latinos' fear of being targeted for deportation.

"Sometimes we speak only of the legal aspect when explaining immigration to our brothers and sisters, rather than church doctrine," Martinez said. "As Catholics, we must support a fair reform that doesn't sacrifice people's dignity."

Immigration reform should be "humane, comprehensive and federal," while respecting the right of every country to protect its borders, Martinez added, citing Father Davis's speech.

Closing the day—which was divided into talks and breakout sessions among a dozen or so tables —Father Davis broached the topic of apostolic movements.

"The Hispanic popular devotion had a great influence on the Cursillo movement, which contributed to the Charismatic movement among Hispanics," Father Davis said. "A study by Pew (Pew Hispanic Center) indicates that half of Hispanics identify with the Charismatic movement," he added.

Enrique Romero, Cursillo lay director for the Atlanta Archdiocese, was inspired to hear Father Davis speak about the Cursillo's impact in the life of the laity. Through Cursillo, Romero hopes to begin revitalizing the larger community, especially with Hispanics with whom he interacts. "We proclaim the good news that God loves us, and we are sent out to transform our own surroundings, to spread the Christian faith," said Romero, originally from Colombia and a member of Holy Cross Church in Atlanta.

A Marian movement was instrumental in Culverhouse's spiritual life. Twenty-two years ago, after struggling to conceive with her husband, she became pregnant with twins. At the fifth month, she went into preterm labor. The babies, a boy and a girl, survived only three hours outside the womb. After their deaths, Culverhouse fell into a traumatic depression, only to be relieved when the sister of a priest, a consecrated follower of the German-born Schoenstatt tradition, invited her to make a "covenant of love" with Mother Mary.

"I began to search, in my pain, for Christ. I had to say, 'Lord, this was not my will, but yours," said Culverhouse, who facilitates Schoenstatt groups in Alpharetta and Tennessee. "Then Our Lady's warm love entered, along with a great thirst entered to learn about the mysteries of God more deeply. What is the meaning of life? Where am I going? What does God want of me?"

Culverhouse's longing, thirst and quest are a common thread among ministries. Through the Encuentro, the Archdiocese hopes to tap into the fervor of ministry leaders and expose them to new methods to cultivate their communities.

"We invited Father Ken to bring a fresh perspective," Martinez said. "One might think that how we operate here is the only way to do things. But this priest has had the opportunity to travel to many places and see the ministry in many forms. We could learn a good deal from him."

Father Kenneth Davis, OFM Conv., currently serves as spiritual director for Saint Joseph Seminary College in Saint Benedict, La. For more information, visit www.kennethgdavis.com.