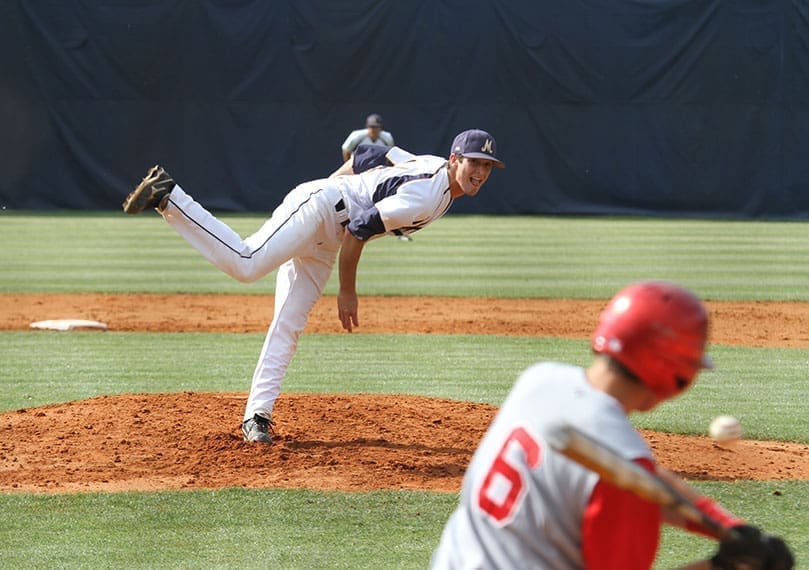 By MICHAEL ALEXANDER, Staff Photographer
|

Published May 12, 2011

Marist School, the defending state champions of Class AAAA baseball, swept Madison County High School, Danielsville, in the first two games of their best-of-three series, May 6. Marist won the first two games 10-0 and 4-0, respectively, on their home diamond of Jerry Queen Field. In the first game, Marist pitcher, senior Blake Stevens, had 10 strikeouts and allowed only one hit, a first inning single by Madison County shortstop Haden Martin. On defense Marist held Madison County to only three base runners for the entire game, but on offense their bats connected on 11 hits, including a fifth inning two-run homer by sophomore catcher Anthony Sherlag. Seniors Brett Dolan, Chesny Young, Kevin Gale and David Bourbonnais each had multi-hit performances. Marist scored two runs in the first inning and added four runs each in the fifth and sixth innings.

In game two of the series Madison County continued to struggle against Marist pitching. Senior Brandon Leibrandt allowed five hits in pursuit of his ninth consecutive win of the season. Leibrandt held it down for six innings until reliever David Bourbonnais came in for the seventh inning, striking out all three batters he faced. Marist scored one run in the first inning; senior Kevin Gale had a two-run homer to right-center field, just missing the brand new scoreboard that was installed earlier in the week. They scored their final run in the sixth inning. But Brett Dolan was the offensive leader of game two with three hits (two doubles and one single).

Marist (25-3) hosted Creekview High School (17-12), Canton, in round two of the state playoffs on Wednesday, May 11, in another best-of-three series, but no results were available by press time.
---
Marist assistant baseball coach Jerry Novac also contributed to this report.