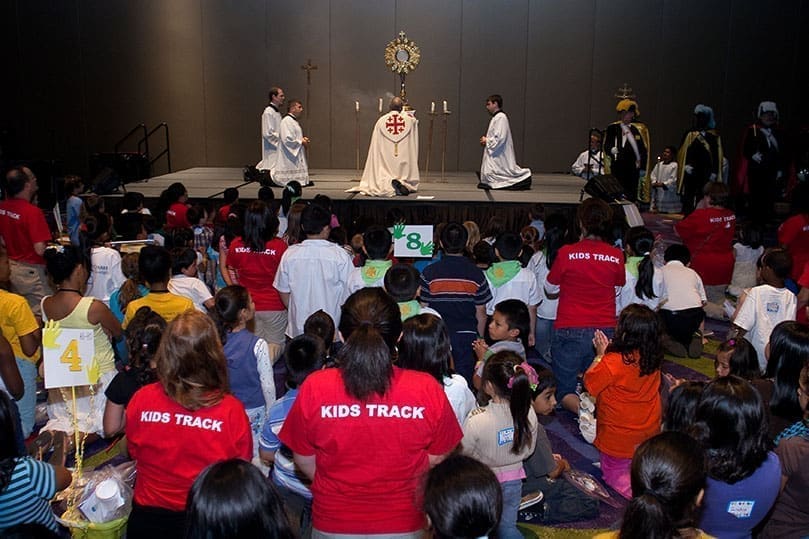 By STEPHEN O'KANE, Staff Writer
|

Published April 14, 2011

New York Archbishop Timothy Dolan will be among a number of nationally recognized speakers and musicians who will lead reflections at the 2011 Eucharistic Congress. The focus will be on all vocations, following the theme, "The Harvest Is Abundant," chosen by Archbishop Wilton D. Gregory.

The Eucharistic Congress will open its doors on June 24 and 25 at the Georgia International Convention Center, College Park, next to Hartsfield-Jackson Atlanta International Airport.

Archbishop Dolan, who was elected president of the U.S. Conference of Catholic Bishops in 2010, will speak at morning exposition of the Blessed Sacrament that will open the events on Saturday, June 25.

Now in its 16th year, the Eucharistic Congress brings together thousands of Catholics from across the archdiocese and the Southeastern United States in time devoted to prayer and reflection on the Eucharist.

Held on the vigil of Corpus Christi Sunday, it is a snapshot of the local Catholic Church and allows people of various ethnic, cultural and linguistic backgrounds to come together for a weekend of worship and faith fellowship, centered on this unifying belief, where they can also share in one Liturgy of the Eucharist. Some 20,000 to 30,000 people attended last year's congress.

This year the emphasis is upon how the Eucharist assists people to live whatever vocation is theirs in life.

"Archbishop Gregory selected the theme and asked that we focus on vocations," said Deacon Dennis Dorner, chancellor and leader of the congress steering committee.

"I am personally happy that we have this focus on vocations," he said. "The Eucharist is so central to our lives as Catholics."

"God has called each of us to serve in a particular way," he continued, and in striving to discern and follow that call each person "is nourished by Jesus himself in the Blessed Sacrament."

"I pray that people will be touched and energized in their chosen vocation and that this encounter helps bring clarity to all of those who are still struggling to hear his call," he said.

Activities for all ages and speakers for tracks in six languages—English, Spanish, French (Francophone), Portuguese, Vietnamese and American Sign Language—are planned. Speakers from across the globe will be presenting at this year's Congress, from archbishops to lay leaders and Catholic artists.

The congress is free and is open to the public.

Opening events take place on the evening of Friday, June 24, when there will be an evening Mass celebrated by Auxiliary Bishop Luis R. Zarama, followed by a healing service led by Father Jack Durkin and Father Nicholas Azar. At the same time as the healing service, unique times of worship and reflection will be held for young adults, for French-speakers and for Portuguese-speakers.

On Saturday, there will be an opening procession, exposition service, and then distinct tracks for youth, for children, for English-speakers, Spanish-speakers, speakers of Vietnamese and those using American Sign Language. At the end of the day a vigil Mass for Corpus Christi is to be celebrated by Archbishop Gregory.

A few changes are planned this year. Deacon Dorner said many of the tracks have been renamed to represent the language spoken there, so the general track will now be known as the English track, the Hispanic as the Spanish track, and the deaf as the American Sign Language track.

Also, a hotel adjacent to the Georgia International Convention Center is now open for those who plan to stay at the site overnight. A MARTA train is also available this year from the airport to the convention center.

In the English track, presenters include Father Bob Barron, Chicago priest, author, theologian and founder of Word on Fire, a nonprofit media ministry. Father Barron has spent many years using a wide range of media to speak about the Gospel to diverse people, including those with no church affiliation and inactive Catholics.

Others who will be in the English track are Irish singer Dana, writer and educator Paul Thigpen, Sister Olga of the Eucharist, and Raymond Arroyo, commentator on Eternal Word Television Network and author.

For the Spanish track, speakers include Father Pedro Núñez, a priest of the Archdiocese of New Orleans, who hosts "Conozca Primero Su Fe Católica" (Know Your Catholic Faith First), a weekly television program that is broadcast to 110 countries. Also speaking are Father William Canales of the Atlanta Archdiocese, Fernando Casanova Ramos and Mario St. Francis.

The youth track, which has been dubbed "EXCITE!" this year, will be held outside in a large tent near exhibit hall D to allow more space for the other tracks indoors. Included on the schedule are APeX Ministries, Tom Booth, well-known Catholic composer and musician, and DJ Bill Lage & The Catholic Dance.

Vietnamese language speakers include Archbishop Pierre Nguyen Van Tot and Father Joseph Dau Vu, of Memphis, Tenn.

Father Tom Coyte, pastor from the Denver Archdiocese and a leader in deaf ministry there, will guide the American Sign Language track.

A track for children ages 5 to 11, who must be registered that morning, will be called "ADORE!"

The day will begin with the 8:30 a.m. opening procession of banner-carrying representatives from over 100 parishes, schools, ministries, and outreach programs, along with musicians. It will close at 5 p.m. with the vigil Mass. Among those invited to take a special role are children who receive their first Communion this year. They have a special place in the processions and can wear their first Communion attire.

On Friday evening, Father Yvans Jazon, a priest of the Diocese of Camden, N.J., will serve as a presenter for the Francophone track. A native of Haiti, and fluent in French, Creole and English, Father Jazon will be a welcome addition to this budding section of the congress, held for the first time in 2010.

Father Celso Martins Jr. will speak in the Portuguese language track, which also debuted for the first time last year.

The young adult track, called "REVIVE!," will be led by Kathy Powell, marketing director for the Ignatius House Jesuit Retreat Center in metro Atlanta. Also on the docket for "REVIVE!" are Mario St. Francis, a motivational speaker and independent video producer, Father Henry Atem of the Atlanta Archdiocese and composer-musician Tom Booth.

Usually the halls of the Georgia International Convention Center are full of ministry tables spreading their messages to attendees.

This year there will instead be tables devoted to all vocations, from marriage to religious life, to support the theme of the 2011 Eucharistic Congress.

"The Archdiocese of Atlanta ministries that typically are represented in the concourse have given up their spots so that we can invite representatives from all of the religious orders that are here in Atlanta, as well as vocation-related groups like Marriage Encounter," said Deacon Dorner.

While the framework of the 2011 Eucharistic Congress is in place, hundreds of volunteers are very much needed for the event as the success of the Congress relies heavily on their contributions. Those who are interested may apply as a volunteer through the archdiocesan website.

"It's exciting to again be working with the great volunteers on the steering committee," Deacon Dorner said. "I hope that we get a good response from the archdiocese for volunteers; we need over 600 to make things work!"

Parking is free but limited. Parishes are encouraged to use shuttle buses or carpools.

For those interested in staying overnight, a special Eucharistic Congress rate is available at the new Atlanta Airport Marriott Gateway Hotel that is located immediately adjacent to the GICC. Attendees may also take MARTA to the Hartsfield-Jackson International Airport station and board the new ATL SkyTrain that serves as a shuttle from the terminal to the GICC/Gateway Center station.