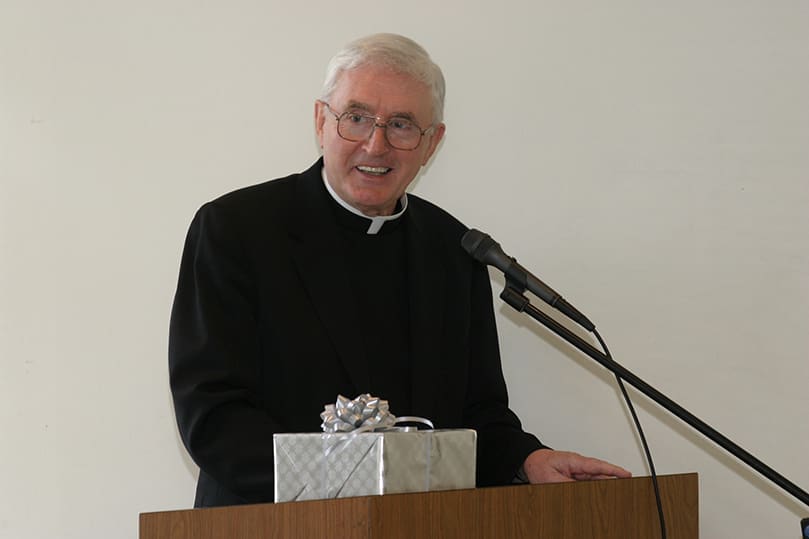 By ANDREW NELSON, Staff Writer
|

Published December 23, 2010

Msgr. Paul H. Reynolds served the faithful in the Deep South for close to 50 years.

A son of Ireland, Msgr. Reynolds planted himself in the Bible belt. After seminary and ordination in Ireland, he served first as a priest for the Diocese of Mobile-Birmingham, Ala., in 1963 and then joined the clergy in the Atlanta Archdiocese in 1970, which became his home.

Msgr. Reynolds, the pastor of St. Brigid Church, Johns Creek, died Saturday, Dec. 18, at Emory University Hospital. He was 72.

"He was a good priest, dedicated and loyal. The church came first in his life," said Msgr. R. Donald Kiernan, a longtime friend. The two were so close that Msgr. Reynolds preached at his friend's celebrations marking his 50th and 60th ordination anniversaries.

A priest for 47 years, Msgr. Reynolds saw the church from many angles, serving as a pastor of new and booming churches, as a confidante of archbishops, selected by other priests to represent them in leadership roles, sitting on the archdiocesan Board of Education and on the Court of Appeals of the Province of Atlanta.

Msgr. Reynolds left his fingerprints as Catholic churches opened their doors in the northern suburbs of Atlanta. He served as pastor at Thomas the Apostle Church, Smyrna; St. John Neumann Church, Lilburn, where he was the founding pastor and assisted in opening St. John Neumann Regional School; St. Andrew Church, Roswell; and St. Brigid Church.

Msgr. Reynolds' service to the church was recognized when he received the rank of prelate of honor with the title of monsignor in May 2001. Stricken by leukemia in 2002, while serving as vicar general in curia of the archdiocese and chancellor, he underwent medical treatment and received an outpouring of prayer from the faith community. He returned to serving the church full time, resuming his role as vicar general until 2006 when he was named pastor of St. Brigid Church, his final pastorate.

A New York priest wrote on his blog how Msgr. Reynolds was a model for his young priesthood.

"I was grateful that he was always available at the other end of the phone whenever I had questions or needed some advice or was worried or needed to make a decision and wasn't sure what answer was best.  Father Reynolds was always there with 'Bar-Gold' advice—never reactionary, but always measured, thoughtful and sound!" wrote Father Christopher Monturo, the pastor of St. Anthony of Padua Church, West Harrison, N.Y.

Father Monturo was an altar server at St. John Neumann Church where a friendship was born. Msgr. Reynolds attended Father Monturo's 2003 ordination.

"And, I must admit, that I learned more about the priesthood from Father Reynolds in these last few years than from all other priests I know and all of the years I spent in the seminary combined," he wrote.

As pastor, Msgr. Reynolds fostered strong faith communities with vibrant ministries.

Deacon Leo Gahafer, the director of religious education at St. Brigid Church, said Msgr. Reynolds guided the parish even though his treatment for cancer forced him this fall to step back from day-to-day operations. He'd still call people suffering through tragedy, he'd go out of his way to compliment people, send out Christmas cards.

"As I watched him live, I learned how to live," said Deacon Gahafer, who worked with Msgr. Reynolds since 2006.

The parish is in very sorrowful mood, knowing what people have lost, he said.

Msgr. Reynolds "said yes to serve God in this way. He poured that love out on this parish and people in this parish," he said.

"There's going to be a huge void because he showed us how to live and how to love," said Deacon Gahafer.

Msgr. Paul H. Reynolds

Born: April 13, 1938 in Dublin, Ireland

Parents: Patrick and Brigid Phelan Reynolds

Seminary:  All Hallows College, Dublin, Ireland

Ordained: June 16, 1963 in Ireland by Bishop Denis Moynihan of Kerry

Assistant Pastor: St. Barnabas Church, Birmingham, Ala., 1963-1967

Holy Spirit Church, Huntsville, Ala., 1967-1970

Sts. Peter and Paul Church, Decatur, Ga., 1970-1972

St. Thomas the Apostle Church, Smyrna, 1972-1974

Pastor: St. Thomas the Apostle Church, Smyrna, 1974-1977

St. John Neumann Church, Lilburn 1977-1988

St. Andrew Church, Roswell, 1988-2000

St. Brigid Church, Johns Creek, 2006-2010

Appointed: Vicar General in Curia of the Atlanta Archdiocese, April 27, 2000

Chancellor of the Archdiocese, November 1, 2001

Invested: Monsignor (Prelate of Honor), May 10, 2001

Additional Posts: Archdiocesan College of Consultors;

Archdiocesan Board of Education; Pastors' Task Force on Finances;

Priest Personnel Board; Judge of the Court of Appeals of the

Province of Atlanta; Dean of the Northwest Metro Deanery.

The vigil service and funeral Mass for Msgr. Reynolds were to be celebrated at St. Brigid Church on Dec. 22 and Dec. 23, respectively, followed by interment at Arlington Memorial Park in Sandy Springs. Auxiliary Bishop Luis R. Zarama was to preside at the vigil service with a homily by Father Frank McNamee, pastor of the Cathedral of Christ the King. Archbishop Wilton D. Gregory was to be principal celebrant and homilist of the funeral Mass.

Msgr. Reynolds is survived by three nieces: Jane Boles, of St. Augustine, Fla.; Stephanie Knolt, of Buford; and Mary Murphy and her husband, Eamon, of Ireland; and one nephew, David Ryan, of Ireland.

In lieu of flowers, memorial contributions can be made to the St. Brigid Catholic Church Building Fund.
---
St. Brigid Church is located at 3400 Old Alabama Road, Johns Creek, GA 30022.