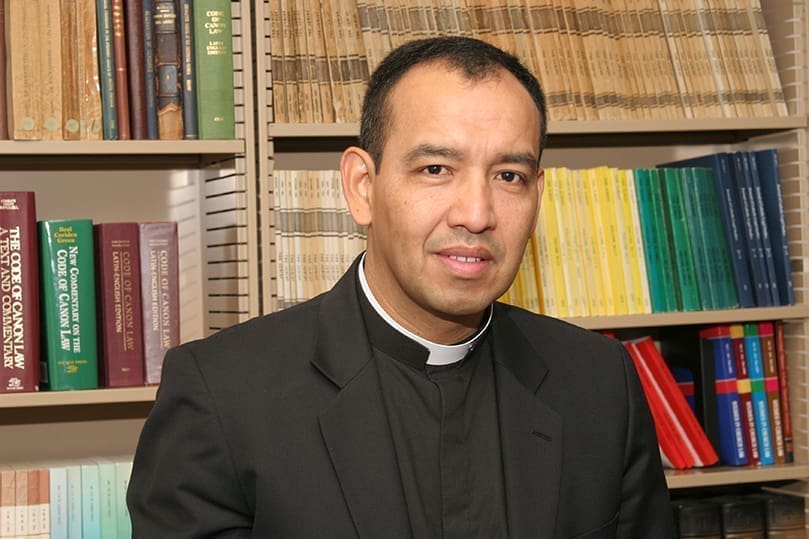 By ANDREW NELSON, Staff Writer
|

Published November 25, 2010

The new judicial vicar for the Atlanta Archdiocese hopes to show people how his office isn't focused simply on legal work but is part of the "healing process" for the faithful, especially when confronting failed marriages.

Father Pedro Poloche was appointed to the position Nov. 1. He succeeds Atlanta Auxiliary Bishop Luis Zarama as head of the Metropolitan Tribunal.

The judicial vicar is the presiding judge of the tribunal, a church court of law, and a consultant to Archbishop Wilton D. Gregory regarding how church law is applied and practiced throughout the Archdiocese of Atlanta.

The tribunal is concerned with many matters, but Catholics would mostly likely contact the tribunal when seeking a marriage annulment.

And that is where Father Poloche sees the need to correct misperceptions.

"Experience has taught me that a canonical process to determine the validity of a marriage is, above all, a healing process; therefore, at our tribunal we are committed to give each and every case the pastoral approach it deserves," he wrote in an e-mail.

Father Poloche, 41, was ordained in 1998 at Holy Spirit Church in Atlanta and served for eight years as a parochial vicar in parishes across the archdiocese. He attended the Catholic University of America, Washington, D.C., to study canon law and earned his licentiate in canon law in 2008. Since then, he has served as an auditor at the tribunal, a role in which one collects testimony from a party or witness in a marriage annulment case, and most recently as chief advocate.

A native of Colombia, South America, Father Poloche moved to the United States in 1996. He is a native Spanish speaker and has learned English and Portuguese. He has also been appointed as a vicar for clergy to Hispanic priests in the archdiocese.

He said he studied canon law because there was a need in the archdiocese for a priest with that expertise.

"It has helped me a lot to see the church's law as an extension of pastoral ministry," he said.

The Hispanic community has fueled the increase in the number of Catholics in North Georgia. And the tribunal has taken steps to respond, he said.

There are now more officials at the tribunal who are Spanish speakers, Father Poloche said. And there have been several workshops given entirely in Spanish to educate case sponsors at parishes to help them explain to applicants the tribunal process.

Asked his goals as he begins serving as judicial vicar, Father Poloche said he wants to keep on top of the increasing number of marriage annulment petitions.

In 2009, some 601 petitions for annulments were received and the pace continues, with 583 petitions so far this year.

"Keeping up with the work is, in itself, a great challenge, as well as a plausible goal," he said.