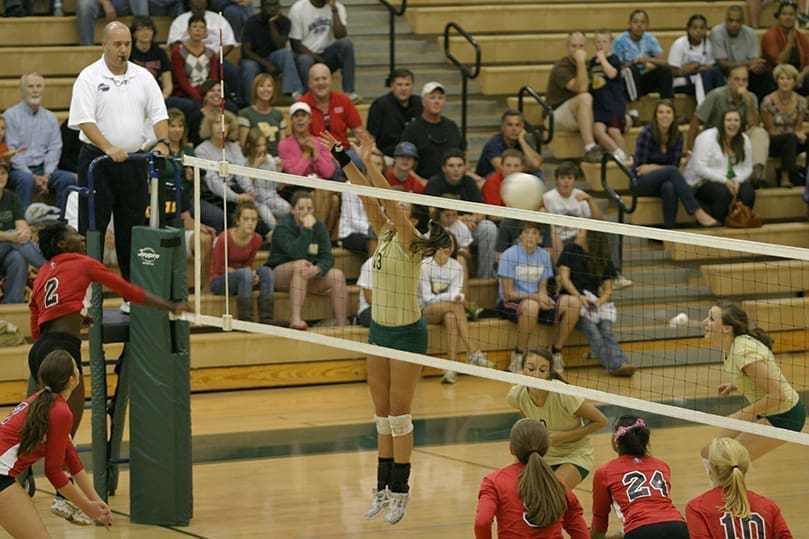 By MICHAEL ALEXANDER, Staff Photographer
|

Published October 28, 2010

 Blessed Trinity advanced to the final four of the state A/AA volleyball tournament by defeating Our Lady of Mercy High School, Fayetteville, 3-0. The final scores were 25-9, 25-12 and 25-15. Freshman Molly McAlvany and senior Eileen Hogan led the team with eight kills each. Senior Meghan Morillo had 19 assists and senior Ali McAlvany finished with seven aces. Blessed Trinity (55-7) will host the final four matches. In the second game Wednesday, Oct. 27, they were to take on The Lovett School (29-13) of Atlanta. Mercy had its best finish in seven seasons with a record of 33-16. Senior outside hitter Brittany Smith led the team with over 347 kills for the season. Senior setter Nicole Gagnier led Mercy in assists with over 568 and was also the team ace leader with 168. Senior middle hitter Amanda Miles had over 248 kills and over 62 blocks. Junior outside hitter Olivia Schmitz had over 43 blocks, over 301 kills and over 100 aces.

Marist School defeated defending state champion Whitewater High School, Fayetteville, in the second round of the state AAAA volleyball tournament at Whitewater, Oct. 19. In the best three of five match, Marist won the first game 25-22, dropped the second game 20-25, won the third game 27-25 and won the fourth game 25-16. Jenna Zivalich led the team with 16 kills. Meghan Connolly led the offense with 33 assists and three service aces. The defense managed to come with 20 digs. According to head coach Anna Bush, "It was our most aggressive service game of the year, which was one of the keys to our success." Marist defeated Sequoyah High School, Canton, in the third round 3-0 (25-22, 25-18, 25-17). In the semifinal round Marist (38-2) was to play Chattahoochee High School (50-5), Johns Creek, Wednesday, Oct. 27.