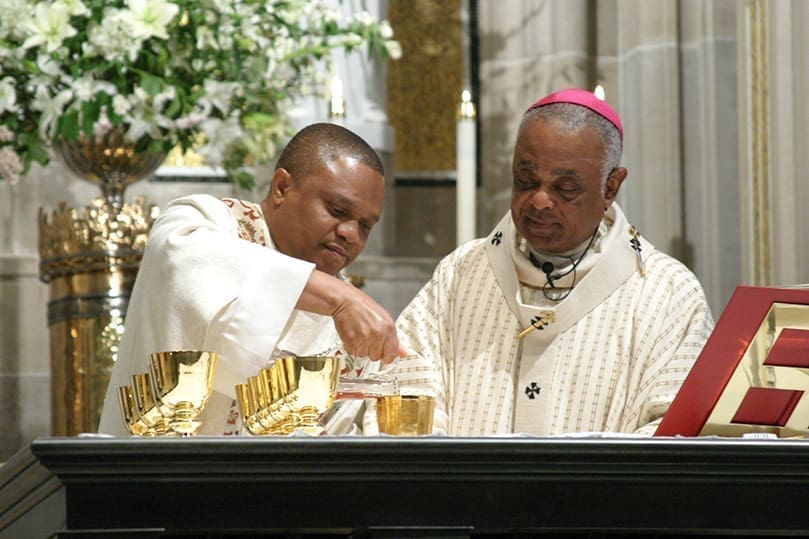 By ANDREW NELSON, Staff Writer
|

Published June 10, 2010

Catholics celebrated the ordination of two transitional deacons Saturday, May 29, at the Cathedral of Christ the King.

Rev. Mr. Charles N. Okeke and Rev. Mr. Juan José Sánchez now serve for a year of ministry as "heralds of the good news" before their ordinations to the priesthood next year.

Lorena Sanchez, who lives in Mexico, held back tears at the end of the Mass.

"She feels like she gave (her son) to God. And he is where he belongs now," said Rev. Mr. Sanchez's niece translating her grandmother's Spanish.

The ceremony at the cathedral drew about 100 people. Some 21 priests attended, with Auxiliary Bishop Luis R. Zarama and Archbishop-emeritus John F. Donoghue, along with 18 deacons.

Archbishop Wilton D. Gregory ordained the two with the ancient ritual of laying on of his hands.

They will serve as deacons for close to a year, ministering at life's milestones, baptizing children, presiding at weddings and burying the dead. They are to be ordained priests next spring.

The archbishop told the men that as deacons their purpose is dedicated to "humble service."

"The diaconate was born in response to the needs of God's people and forever it is joined to the ministry of caring for the people the Lord has chosen as his own," he said.

Archbishop Gregory told them "to share a word of hope with the entire world."

"You are to wed your work of charity with the proclamation of the Gospel so much so that one always strengthens the other and confirms the other," he said.

The archbishop urged them to be men of prayer.

Rev. Mr. Okeke, 54, who holds a doctorate in medical microbiology, worked in research at what is now part of the University of Toledo, Ohio. A native of Nigeria, he was a novice at the Trappist Holy Spirit Monastery in Conyers for two years, considering monastic life before deciding to seek the diocesan priesthood.

As a deacon, he said he looks forward to serving as "an instrument of God's grace and mercy to humanity, especially the people of God."

This summer, he is to serve at Mary Our Queen Church, Norcross. In the fall, he will return to Blessed John XXIII Seminary in Weston, Mass., and will serve as a deacon at St. Francis of Assisi Parish in Braintree, Mass.

Rev. Mr. Sánchez, 38, will serve at St. Lawrence Church, Lawrenceville, during the summer. When he returns to Mundelein Seminary in Chicago for his last year, he will help during the weekends in a nearby parish.

He grew up as one of nine children in Mexico, where his parents ran a grocery store and a restaurant. He attended the Military School of Engineering and the School of Mathematics of the University of Guanajuato, Mexico.

Rev. Mr. Sánchez worked in the poultry industry when he lived for seven years in Dalton and he attended St. Joseph Church. He reflected on the final year of seminary study.

"It is going to be a period of intense learning for it is the preamble to the priesthood," he said. "Another challenge is the fact that once you get ordained, people start looking to you as a model to follow. They see a leader, and yet you are still one of them. It is a great challenge to be one of the community, to share of their accomplishments, their challenges and difficulties, and of their suffering and to be the person who may bring the hope that only Jesus can bring. This is a great challenge, but I count on the help of God and of the prayers of the people," he said.

Father Luke Ballman, the vocations director of the archdiocese, said the men "truly reflect our church in Atlanta."

He said the two deacons share a sense of responsibility and balance and, in addition, they have life experiences that'll help them relate to people they serve.

"They are both deep thinkers; they both ponder the feedback they receive, almost as if they are ruminating on it," he said.

"Both new deacons are international; they embody the 'catholic' sense of our church. Our diocese is multicultural; this ordination brings that point home. Both men have ties to the Archdiocese of Atlanta; and yet both men came here from somewhere else. Most Catholics in North Georgia can say the same thing," he said.