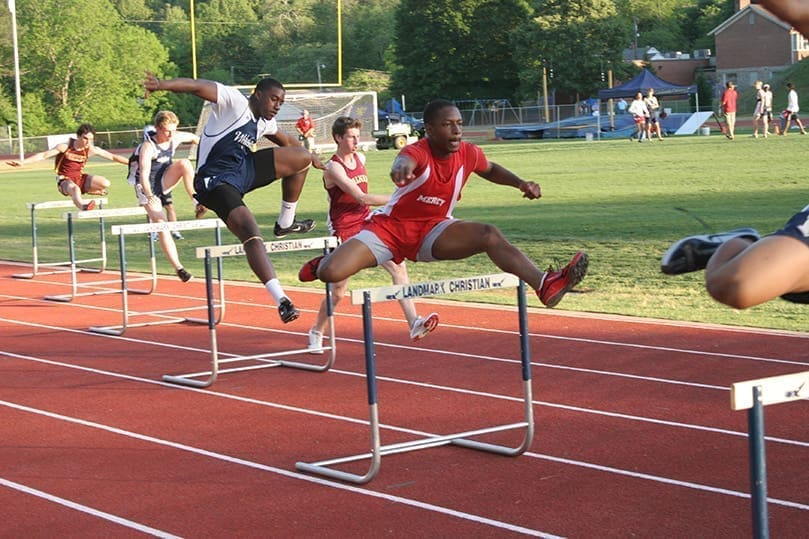 By MICHAEL ALEXANDER, Staff Photographer
|

Published May 13, 2010

Our Lady of Mercy High School track and field athletes competed in the Region 5-A meet at Landmark Christian School. The girls meet was held April 26-27, and the boys took place May 3-4.

As a result of the region meet, the following athletes competed in various events at the state level.

Girls: Megan Malasarte  –  400m, 800m 4x400m relay; D'Arnca Bloodworth – 4x100m relay, 4x400m relay; Kristin McClure – 4x100m relay; Olivia Roche – 4x400m relay; Chyna Terrell – 4x400m relay; Yarahi Castillo – 4x400m relay; Tynese St. Cyr – 4x100m relay, 100m, 200m; Alyssa Maker – shot put; Morgan McClure – 4x100m relay, 4x400m relay.

Boys: Daniel Alexis – shot put, discus; Daniel Wesley – shot put; Pierce Vincent – long jump, 100m; Courtney Prevost – triple jump; Jordan Sartor – 100m.

During the girls state meet in Albany, May 7-8, the Our Lady of Mercy team finished as state runner-up in Class A. Senior Malasarte won the 400m and 800m for the third consecutive year, while St. Cyr finished fourth in the 100m and seventh in the 200m. Maker finished sixth in the shot put.

Mercy's 4×100 relay team, consisting of Bloodworth, Kristin and Morgan McClure and St. Cyr, and 4×400 relay team, including Morgan McClure, Roche, Terrell and Malasarte both finished second place. The 4×400 team also set a school record of 4:03.

The boys state meet takes place in Jefferson, May 14-15.