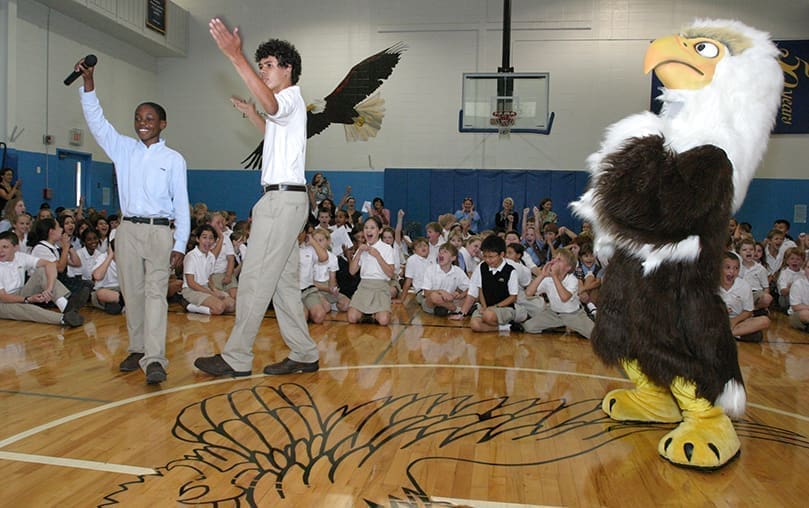 By STEPHEN O'KANE, Staff Writer
|

Published September 17, 2009

The Atlanta archdiocesan Office of Catholic Schools joined educators and parents throughout the archdiocese in welcoming exciting news on Tuesday, Sept. 15, when four Catholic elementary schools in metro Atlanta were awarded the prestigious Blue Ribbon School of Excellence title.

The schools are Holy Redeemer, Johns Creek, Holy Spirit Preparatory, Atlanta, Immaculate Heart of Mary, Atlanta, and Our Lady of Victory, Tyrone. Holy Spirit is an independent Catholic school, while the other three are archdiocesan Catholic schools. The four are among 50 private schools nationwide to be given the 2009 U.S. Department of Education honor.

The notification came as a surprise to students and parents Tuesday morning, with the schools variously making the announcement on closed circuit television, holding school assemblies and pep rallies, putting up signs and sending out e-mail blasts.

The Blue Ribbon Schools program, established in 1982, honors public and private schools based on various stringent criteria to measure continuing academic excellence or dramatic improvements in student accomplishments at high levels.

In the case of private schools, as a minimum, they must consistently rank in the top 10 percent of the nation on nationally standardized tests.

The Council for American Private Education (CAPE) initially reviews the applications submitted by private schools. CAPE then provides the Department of Education with schools whose applications it finds worthy of consideration, which are then invited by the Secretary of Education to submit an application for possible recognition as a Blue Ribbon School.

On Sept. 15, U.S. Secretary of Education Arne Duncan announced that 314 schools had received the award this year. The schools, 264 public and 50 private, will be honored at an awards ceremony on Nov. 3 in Washington, D.C.

Five private elementary schools in Georgia were awarded the title, with four of them coming from metro Catholic schools—a new record for the archdiocese. (The fifth is St. Francis Xavier Catholic School in Brunswick.) The schools are reviewed blindly, with the judges having no knowledge of a school's geographic location.

The applications, in a process described by educators as grueling, went to CAPE last fall. In the spring, CAPE notified the schools if they were accepted at that level and submitted for further review to the Department of Education.

While the announcement came as a surprise to some, Office of Catholic Schools Superintendent Diane Starkovich had a good feeling about the applicants.

"This is just wonderful. I couldn't be prouder," she said. "It is an affirmation of the quality of schools we have in the Archdiocese of Atlanta."

Starkovich said there are several factors that make each of these schools worthy of the award. In addition to solid faith formation, each of these schools has strong leadership, excellent teachers, supportive parents and a hard-working student body, she said. Ten of the 15 archdiocesan elementary schools are now designated as Blue Ribbon Schools.

"The Archdiocese of Atlanta should be very proud," Starkovich added.
Immaculate Heart of Mary School
Immaculate Heart of Mary School, founded in 1958, is the oldest of the four schools. Originally serving only parishioners of the Briarcliff Road church, the school has grown by leaps and bounds and now caters to the surrounding Atlanta metropolitan area, serving both Catholic and non-Catholic children with a variety of ethnic backgrounds. Non-Catholics comprise approximately 13 percent of the student body and students of cultural diversity account for more than 25 percent.
Serving kindergarten through eighth grades, the Atlanta school, which has previously been recognized as a National PTA Parent Involvement School of Excellence, has 34 faculty members educating nearly 500 students. Led by principal Tricia DeWitt, IHM is accredited by the Southern Association of Independent Schools and the Southern Association of Colleges and Schools.
"The archdiocese has so much to be proud of," DeWitt said. "I feel like our teachers work so hard for these children. … It's truly a ministry and it affirms the hard work we have been doing."
IHM had a surprise assembly the day of the announcement to share the news with its students. The recognition came on the heels of the school's 50th anniversary celebration in 2008.
Holy Spirit Lower School
Holy Spirit Preparatory School, an independent Catholic school, was founded in 1996. The Lower School of Holy Spirit, which serves about 360 students in kindergarten through sixth grade, was named as a Blue Ribbon School of Excellence. The school emphasizes small class sizes and a personalized learning program.
The recognition was announced to students on Tuesday morning by the mayor of Sandy Springs, Eva Galambos. Archbishop-emeritus John F. Donoghue was also on hand for the assembly of students gathered to hear the good news.
Dr. Linda Anthony, principal of the Lower School, called the award "an amazing honor." She thought that the process of applying for the Blue Ribbon designation was "pretty competitive."
"It was a lengthy process, very thorough," she said.
Anthony was happy to note that this was their first try to attain the achievement.
Holy Spirit Preparatory also has an Upper School serving seventh through 12th grade. Holy Spirit is committed to providing a classical Catholic education and forming the student spiritually, academically, socially and athletically. It is also accredited by both SACS and SAIS.
Commenting that four of the 50 schools honored are Atlanta area Catholic schools, Anthony said, "How wonderful for Catholic education."
The school will be celebrating the Blue Ribbon honor throughout the year, beginning with T-shirts for all the students to wear and an all-school parent party on Sept. 25.
Our Lady of Victory School
Our Lady of Victory, positioned about 30 minutes southwest of Atlanta, was the first archdiocesan school established on the south side of Atlanta below the beltway. Opened in 1999, as one of three new archdiocesan elementary schools, Our Lady of Victory is a single section school for students in pre-kindergarten through eighth grade. Linda Grace is the principal. Like IHM, the school is accredited by both SACS and SAIS.
Approximately 270 students are enrolled. The school has two divisions, a Lower Division encompassing pre-kindergarten through fourth grade and a Middle Division encompassing fifth through eighth grades. While the school is located adjacent to St. Matthew Church in Tyrone, it is a regional school serving students from several parishes in the area.
"It is a phenomenal honor," said Grace, noting how impressed she was that four of 50 private schools were area Catholic schools.
"It's wonderful that Catholic education is being recognized for its consistent excellence," she said.
Grace credits the school with attention to continuous improvement.
"We always look for ways to better serve our students," she added.
She thanked her faculty and staff, as well as crediting the support of the parents and the archdiocese, and, of course, the "wonderful students." She felt it was a great complement to their tenth anniversary.
Holy Redeemer School
"It feels good," said Dr. Eric Westley, Holy Redeemer principal, with grateful understatement. "A lot of good people worked hard to get this."
Faculty who worked for a long time on the involved application process are rewarded by receiving this national honor, he said.
"This is another verification and affirmation … that we are doing a good job for the students who are going to school here," Westley said. "That gives everyone a greater sense of pride and accomplishment and helps to offset those days when there's a lot of papers to correct and you need a little encouragement."
It's heartening and affirming to know "other people have looked at what you are doing and said you are doing a good job, keep it up," he said.
"It is a good slap on the back and energizes you to keep going."
Holy Redeemer, which recently reached its 10-year anniversary, is another of the regional Catholic elementary schools that opened in 1999. The school serves kindergarten through eighth grades with a 100 percent Catholic student body of 500 from 14 parishes in the surrounding area.
The Johns Creek school, adjacent to St. Brigid Church, is accredited by SACS and SAIS. All of its teachers are certified, with 58 percent holding advanced degrees. The faculty has an average of 17 years of teaching experience.
Westley said he made the announcement on a closed circuit television system at the school "30 seconds" after the press embargo was lifted at 10:30 a.m. as faculty who worked on the project cheered on camera.
The day after, the school was to celebrate "Blue Day" with students dressing in blue, eating blue ice cream at lunch and ending the day with a prayer of thanksgiving outdoors and the release of blue balloons.
Holy Redeemer faculty member Jerry Beck chaired the application committee, assisted by Julie Hall, Jan Hartzell, Ann Jump, Jan Schefstad, Jane Sullivan and Toni Trevisan.