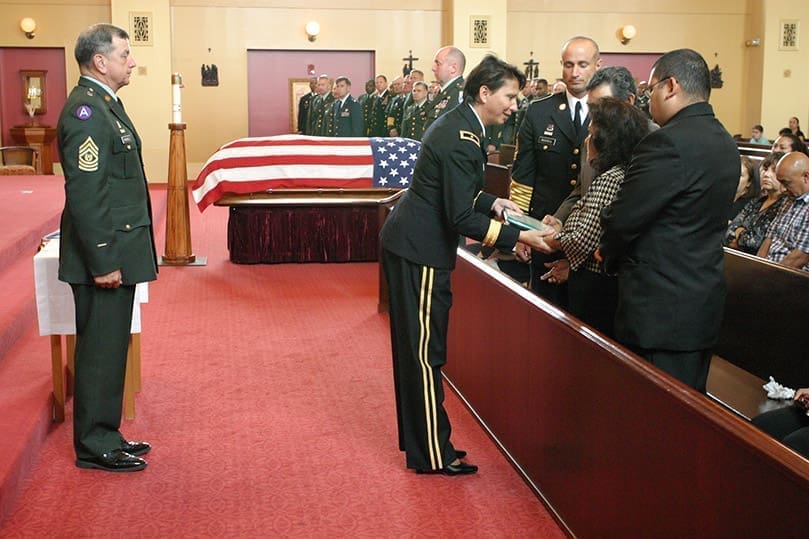 By ANDREW NELSON, Staff Writer
|

Published August 20, 2009

Family, friends and soldiers remembered Sgt. Raymundo (Ray) Morales as he was laid to rest at St. Joseph Church in Dalton with military honors.

Uniformed members of the Georgia National Guard carried his flag-draped coffin, a motorcycle honor guard of Patriot Rider Guards kept watch, and a flyover by Black Hawk helicopters in a "missing man" formation marked his farewell in his hometown.

An estimated 300 people filled the church on Thursday, July 30.

Sgt. Morales, 34, died July 21 in Methar Lam, Afghanistan, from injuries sustained when a Humvee in which he was riding rolled over. He was assigned to the 148th Brigade Support Battalion, based in Cedartown. Sgt. Morales was a native of Dalton, a 1992 graduate of Murray County High School and a member of St. Joseph Church.

The Mass was celebrated in English and Spanish, a nod to the two communities he belonged to. Some 60 members of the Georgia National Guard attended to honor their colleague.

Sgt. Morales' military position put him in danger so that he could prevent harm to fellow soldiers and that is how he served his friends, said Father Paul Williams in his homily. His job was to look for danger and stand between that danger and the convoy he was guarding.

"He gave himself in service," said Father Williams, St. Joseph Church pastor. He reminded mourners how the guardsman gave his life protecting others.

Sgt. Morales was a son, a brother, a father, a nephew, a friend for many, a citizen, a soldier, a child of God, said Father Williams.

"And for that we thank God for his life," he said.

Father Williams said he and Sgt. Morales shared a common interest as both native sons of Georgia: fishing. And the church community hopefully will organize a fish feast in the future at a lake near the church in honor of his love for the sport, the priest said.

Morales was posthumously promoted from specialist to sergeant for his service to the country. Brig. Gen. Maria Britt, the commander of the Georgia Army National Guard, presented the Bronze Star to his family for Sgt. Morales' service to the country.

He served for nine years as a tank mechanic in Dalton. After a three-year break in service, he returned to the Georgia Army National Guard.

"Sergeant Morales was an outstanding tank and wheeled vehicle mechanic. Solders were always competing to have Sergeant Morales repair their vehicles because of his expertise and skill. He was a quiet professional who was respected by his peers and subordinates," according to an announcement from the Georgia National Guard.

The Department of Defense said the circumstances surrounding the fatal crash are under investigation.

He is survived by four children, Lillian, Brianne, Valerie and Noah, his parents, Tomas and Manuela, his brother, Tomas Jr., his sister, Sylvia, many aunts and uncles and two nieces.