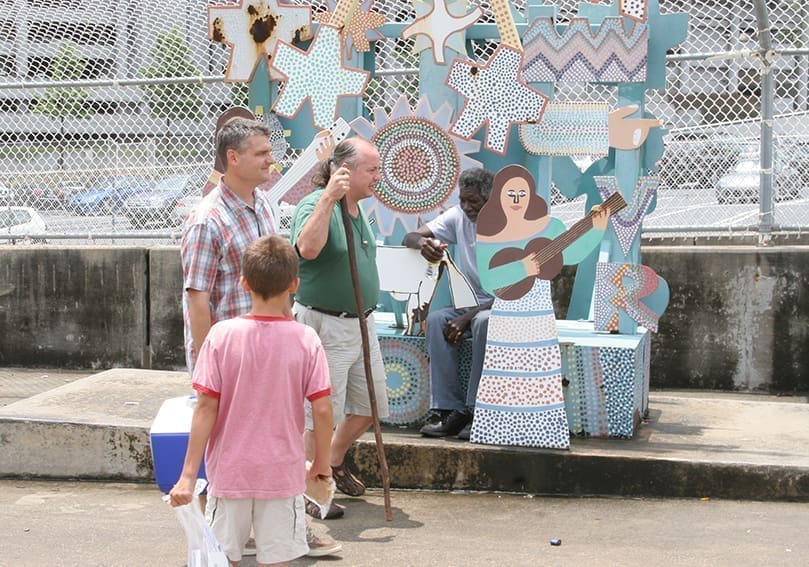 By ANDREW NELSON, Staff Writer
|

Published July 16, 2009

It wasn't the typical 40th birthday celebration as Todd Coppinger and his two sons set up an assembly line to make peanut butter and jelly sandwiches.

"We live in a society that consumes. I just want to give back," said Coppinger as his youngsters, William and Ben, slathered the ingredients on the bread. The parishioner of St. Peter Chanel Church in Roswell bought the $75 worth of groceries for this unusual party.

Watching them in the basement of Sacred Heart Church in Atlanta and offering tips was Sean Rogers, a longtime street minister whose mission is to make the rough lives of people sleeping in city parks and homeless shelters a little easier. On summer weekends when the mercury hits the 90s, he hands out bottles of cold water on the streets. At lunchtime, he helps people with donated sandwiches and snacks.

A party planner he isn't, but Rogers calls this a "PB & J party for the homeless."

"For two hours, you can knock out 200 peanut butter sandwiches," said Rogers, who is called Brother Sean. While he isn't a member of a religious order, he said a few years ago street people started calling him "brother" and it stuck.

Rogers is 42 years old. He has on shorts, his hair pulled back in a ponytail. A Celtic cross is around his neck and he carries a large hickory walking stick. He said he was raised near Lake Lanier and he worked for a time in the military and in the business community. He said he attends Sacred Heart and the Cathedral of Christ the King.

Deep Waters Ministry is his brainchild. He persuades others to volunteer in the effort by telling them about the urgency of acting now. He said he started his street ministry on his 21st birthday in Little 5 Points. His then girlfriend couldn't make it to the celebration, so he bought 10 large pizzas and bottles of soda for some of the young people living on the street in the Atlanta neighborhood.

After Hurricane Katrina, Rogers said he felt a calling to make his work full time.

"I got such a kick out of it, I continue to do it," he said.

Rogers said his goal is to remind people living on the streets that they are loved. He'd like other Catholics to see the homeless as the image of God.

"You can't help but love them," he said. "We're not here to judge people."

Rogers survives on contributions to the organization to fulfill his work of delivering bottles of cold water to the homeless. There are no public water fountains anymore for people to get a drink, he said.

So, he solicits help. He approaches grocery stores and other beverage companies for refreshments. They often give him whatever he needs, said Rogers.

"There is abundance everywhere," he said.

Volunteers gather on most Saturdays of the summer at the Krispy Kreme store on Ponce de Leon Avenue, Atlanta, and give the drinks away until the ice coolers are empty. Rogers said they give out 4,000 bottles during a weekend. The next event is Saturday, July 18, starting at 11 a.m.

"I've wedded myself to this service. This is all I am going to do for the rest of my life," he said.
---
For more information, visit www.deepwatersministry.org.