By STEPHEN O'KANE, Staff Writer
|

Published July 2, 2009

As Father Tim Gallagher prepared himself in the days prior to his ordination, he felt a slew of emotions wash over him.

He knew that when the day came on Saturday, June 27, there would be a feeling of relief as years of study, patience and prayer came to fruition.

But he was experiencing "a lot of emotions" beforehand. Along with the excitement and anticipation came a feeling of unworthiness as he pondered the magnitude of a vocation to the priesthood.

"A sense of unworthiness has become evident," he said, along with "the relief of coming to that point of realizing the fullness of my vocation."

Father Gallagher, who is 37, welcomed all these feelings as he has come to understand more deeply that a vocation to the priesthood is not his, but belongs to God.

A Georgia native and U.S. Army veteran, his discernment began in college. During his time at the University of Georgia and then at Georgia State University, Father Gallagher first heard the call, a subtle, gentle tug at his heart that he did not pursue because he "was not mature enough."

After graduation from Georgia State, as he started a career as a physical therapist he began to have doubts about his Catholic faith. Particular church teachings on Mary and the sacrament of confession were among the questions he had during his "faith identity crisis."

He began to seek a relationship with Mary since she was at the heart of his hesitance to accept fully the doctrines of the Catholic Church. Father Gallagher felt that Mary was either what the Church said she was, or not. And if Mary was indeed as the Church described her, then he vowed to embrace the Catholic Church in its entirety.

Father Gallagher said that his personal relationship with Jesus benefitted significantly from his pursuit of the Blessed Mother. He felt urged to find more Catholic people to spend time with, in order to better understand his blossoming faith life.

As he became more and more involved with Catholic young adult events in the Atlanta area, he found himself at an apologetics presentation at the Cathedral of Christ the King.

"I saw the true church of Jesus Christ," he said about the event.

And then, for the first time in nearly 10 years, he went to confession, which "gave me a lot of grace," he said.

Shortly afterward, Father Gallagher began discerning the priesthood. He eventually entered a discernment group, which helped his vocation become clearer and gave him a chance to rededicate his life to God.

"I had to go through a deeper reconversion," Father Gallagher remembered.

Looking back over his life now, Father Gallagher identified the faith of his father and the simplicity of his mother as positive influences in his journey toward the priesthood. He grew up as one of six children in Madison, where the family belongs to St. James Church.

"My father was heroic in his faith," said Father Gallagher, adding that his parents, John and Rebecca, live their faith vigorously and faithfully.

He hopes to live a life of service as a priest in very much the same manner and feels ready to face the challenges of his vocation.

First Assignment: St. Pius X Church, Conyers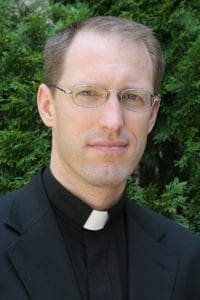 Father Timothy J. Gallagher
Education: Bachelor of science in physical therapy, Georgia State University. Master's in divinity, Mount St. Mary's Seminary, Emmitsburg, Md.
Work Experience: In high school in Madison worked on dairy farms and as bag boy at Piggly Wiggly. U.S. Army veteran, driving tanks in Germany, Saudi Arabia, Iraq in Desert Storm. Physical therapist in Newnan and St. Mary's Hospital in Athens.
Hobbies and Interests: Outdoor activities, running, biking, sports, reading books on the Catholic faith, occasional travel, good movies and music, sacred art, prayer, hermitage and retreat time, pilgrimages to religious sites of the Church, mission trips to Third World countries, occasional hunting/fishing with family and friends.
Particular Ministries of Interest: Offering the sacraments to the people of God; preaching; leading retreats; young adult ministries; marriage preparation; training altar servers, lectors and extraordinary ministers of holy Communion; forming prayer groups; Bible studies; catechesis; pro-life ministry; evangelization; outreach to the poor.
Additional Languages Spoken: Intermediate Spanish
Favorite Quote: "God is love" (St. John the Apostle).
Most Admired: Pope John Paul II