By ANDREW NELSON, Staff Writer
|

Published July 16, 2009

Every Catholic milestone in Father Nicholas Azar's life has taken place within the walls of Christ the King Cathedral.

From baptism and first Communion to first confession and confirmation, the celebrations have all taken place at the Peachtree Road mother church of the Atlanta Archdiocese.

Now, add holy orders.

"I like that I have been able to really experience being Catholic in a place that has allowed me to share gifts that I have and develop into a man who recognizes, or hopes to recognize, Christ in so many faces that cross the threshold of our parish," he said.

"This is my home parish."

Atlanta-born Father Azar was one of eight ordained priests on Saturday, June 27, at the Cathedral of Christ the King. He is the oldest of four children of Donald and Barbara Azar.

Before entering the seminary, the 45-year-old spent a number of years on the business track after receiving an MBA from Wake Forest University and an undergraduate business degree from the University of Georgia. He had worked his way up the corporate ladder at Delta Air Lines, leaving as a controller in the cargo division.

He left the job to serve as the youth minister at Christ the King. Indeed, working with young people, first as a volunteer for many years and then in ministry for 18 months, influenced him in his vocation, Father Azar said.

"When you are working with kids, you have to be honest about who are you because they see right through you," he said.

Father Azar said being with young people and attending the 1997 World Youth Day in Paris helped make up his mind and his heart to attend seminary.

For the past four years, he has lived at the Pontifical North American College seminary in Vatican City. He is working on an advanced degree in moral theology at the Pontifical University of the Holy Cross. He earned a baccalaureate degree at the Pontifical Gregorian University, also in Rome. After the summer at Prince of Peace Church in Flowery Branch, he returns to Rome in the fall for his last year of studies.

His work as a seminarian included teaching English in the Ukraine and assignments at St. Clement Church, Calhoun, Immaculate Heart of Mary Church, Atlanta, St. Joseph Church, Dalton, and St. Peter Church, LaGrange.

Studying in Rome exposed him to the worldwide church, he said. In the classroom, he said he learns about life experiences and religious orders from around the globe. The Vatican itself is a rich immersion experience.

"You have access within two or three steps in any direction you turn, to church history, world history," he said.

Studying there has made him conversant in Italian, Spanish, French and German.

Asked about people he admires, Father Azar mentioned teachers, firefighters, police officers and soldiers.

"It's the service thing, giving to the common good," he said.

These professions don't get the esteem given to others, but "they can do as much, or more, to help the lives or save the lives of many people," he said.

"I am sure there are living saints (among them), living lives that lift people up," he said.

First Assignment: Prince of Peace Church, Flowery Branch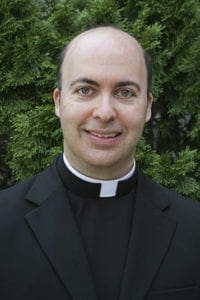 Father Nicholas G. Azar
Education: Bachelor of business administration, finance, University of Georgia. Master's in business administration, finance and operations, Wake Forest University, Winston-Salem, N.C. Pre-theology philosophy program, Mount St. Mary's Seminary, Emmitsburg, Md. Baccalaureate in sacred theology, Pontifical Gregorian University, Rome, Italy. Candidate for licentiate in sacred theology, Pontifical University of the Holy Cross, Rome, Italy.
Work Experience: Director of youth ministry, Cathedral of Christ the King, Atlanta. Delta Air Lines, Atlanta, corporate controller—SkyTeam® Cargo U.S. Sales Joint Venture, LLC; manager of finance, marketing division; strategy analyst; financial analyst.
Hobbies and Interests: Hiking, travel, UGA football
Additional Languages Spoken: Italian, Spanish, French and German
Favorite Quote: "We even boast of our afflictions, knowing that affliction produces endurance, and endurance, proven character, and proven character, hope, and hope does not disappoint, because the love of God has been poured out into our hearts through the Holy Spirit that has been given to us"(Romans 5:3-5).
Most Admired: Teachers, firemen, policemen and American soldiers