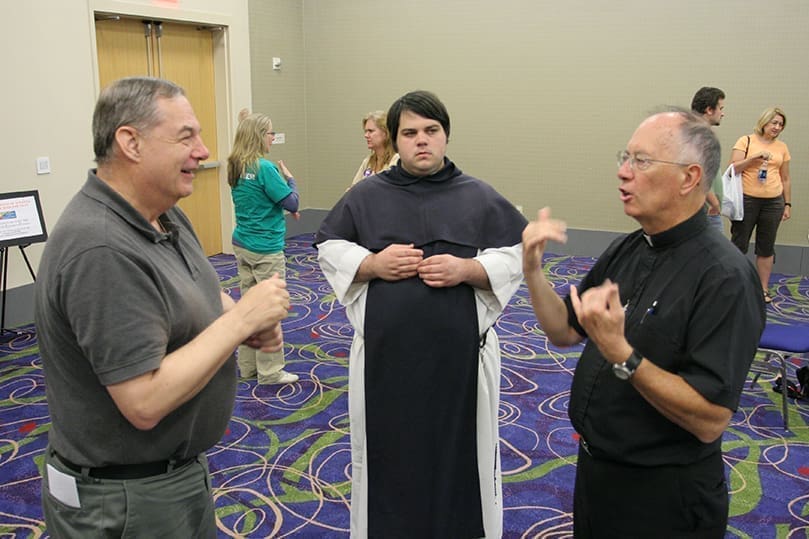 By KATHRYN R. BYRNE, Special To The Bulletin
|

Published June 18, 2009

Is deafness a blessing from God? Many wouldn't think so. Dominican Father Thomas Coughlin begs to differ.

Father Tom, as he is affectionately called, the first deaf Catholic priest to be ordained in the United States, in an interview with Sister Lou Ella Hickman in February, said that "God created me a deaf person for his glory." And he exhibited his God-given charisms during his presentation for the Deaf Track at the 2009 Eucharistic Congress.

Presenting his talk in American Sign Language (ASL), his native language, Father Tom opened the minds and hearts of the deaf and hearing participants to a deeper understanding of the Beatitudes, especially in relation to solidarity with the poor and suffering. The Beatitudes give "eight steps to holiness … but trying to follow Jesus is not easy," he explained. He pointed out that people tend to want holiness at the Walmart price. We want to become as holy as God cheaply and quickly, but it doesn't work that way.

"As we trust more in God, our wills become weaker and weaker. Is that easy? No. It takes years," explained Father Tom.

"He is an amazing speaker," signed David Klinger of Transfiguration Church in Marietta. "He goes in depth." David and his wife, Michelle, have acted as hosts for the presenters of the Deaf Track in recent years, picking them up at the airport, taking them to their hotels and making sure their needs are being met.

Before the Deaf Track began, Archbishop Wilton D. Gregory entered the room and greeted the participants.

"Thank you for your participation. Your involvement in the congress is an important component in helping us be the whole church, the church that the Lord loves and calls his own," he said. "I am also grateful that one of our deaf Catholics is now a member of our Archdiocesan Council. That means that whenever we meet, you are present."

Frania Franch-Sonner began serving on the Archdiocesan Pastoral Council in January to bring voice to the thoughts and wishes of the Catholic deaf community. She is also a founding member of the Archdiocesan Advisory Council on Disability Concerns, which began in 2003.

Walking the participants step-by-step through the Beatitudes during his presentation, Father Tom pointed out truths that were profound and life changing. Referring to the first Beatitude, "blessed are the poor in spirit, for theirs is the kingdom of heaven," he explained that when Catholics share their wealth they bring God to others. He said that people tend to say to the poor, "Don't worry, I'll pray for you and you'll have the riches of heaven." They should instead be working to eliminate poverty, which would bring the goodness of God to all.

"We could feed most of Africa," he said, sobering all as they recognized the implication of his words.

In explaining the fourth Beatitude, Father Tom stated that "it is good for us to experience a hunger and thirst for justice so that we will experience the wonderful domination of God's love in our society." He explained that the government provides services because it is required, but "the church provides services because of the love and mercy of God." The side effect is that when Catholics offer mercy, they become transformed themselves.

At one point Father Tom compared the walk of faith with mountain climbing, both sharing the same rules. First, carry a light load, the lighter the better. The more frustration, anxiety and lack of forgiveness given to God, the lighter the load. Second, remember that those climbing are moving from the bottom to the top. Have persistence in searching for God, and never give up.

Third, thin air prevents one from talking too much. Father Tom explained that people tend to talk too much in their prayer. He said that his prayer time is becoming more and more a silent encounter with God, and he encouraged working toward the same.

Concerning the seventh Beatitude, "blessed are the peacemakers, for they will be called children of God," Father Tom believes that people lack peace and engage in conflict, including war, because of the perception of others as the enemy. In an interesting scenario from one who is deaf, Father Tom asked, "Why do we have two ears?" He explained, "We have one ear to hear one side of the story and the other to hear the other side of the story." He gave the example of a man who admitted in court that he had stolen. The judge was in the process of deciding the man's sentence when someone asked the man why he had stolen. The answer was that he and his family were hungry. Upon hearing the "other side of the story," the judge was able to treat the situation with empathy.

In Father Tom's closing statements, he encouraged the participants to see everyone's value. Everyone is precious in God's eyes. It is important to affirm others as significant and loved by God. His ending summed up everything he had said for the day, "If you are blessed by God, you are a walking beatitude."

Each year, the Deaf Track has an appeal for people of all ages. Sixteen- year-old Hugo Soto of St. Oliver Plunkett Church in Snellville received his first Eucharist last year and will receive Confirmation next year. When asked for his thoughts on the Deaf Track, he exclaimed in sign language, "I really enjoy it! I have come for three years."

Doug Burasco, a deaf channel manager with AT&T from Transfiguration, was a first-time attendee. Burasco feels that the Deaf Track "is a nice opportunity. It increases the visibility of the deaf. I have learned a lot listening to Father Tom and have enjoyed meeting new people." He hopes that next year the deaf community will have a booth and sell T-shirts like the other tracks.

Deb Garner, the coordinator of deaf services with the Disabilities Ministry Office of the Atlanta Archdiocese, works closely with Ed McCoy, the director of the office, in preparing for the annual Deaf Track. Because of her long-time connection with the National Catholic Office for the Deaf, she is able to find presenters from a pool of priests and deacons who are either deaf or fluent in ASL. Garner usually schedules presenters several years in advance and spends months coordinating interpreters and gathering interpreting materials for the congress. Under her direction, Transfiguration has been a hub for the Catholic deaf community of the archdiocese for many years. She joyfully expresses that "the growth of the deaf community within the archdiocese has increased participation in many events such as the Eucharistic Congress."

Known for beating the odds, Father Tom's energy for serving the Catholic deaf community seems boundless. Initially turned down by several seminaries because of his deafness, he studied to receive his B.A. in English from Gallaudet University in 1972. He then continued his heartfelt quest for a vocation by earning a master's degree in religious studies from the Catholic University of America and was finally ordained a priest of the Trinitarian order in 1977.

In 1985, seeing a need for deaf youth to be encouraged in their faith, Father Tom joined other members of the deaf community and founded Camp Mark Seven in New York, named for the chapter in Scripture in which Jesus heals a deaf man. When he later learned that the camp would need a nurse on staff in order to continue its operation, he simply took it upon himself to obtain a nursing degree, receiving his R.N. from the state of New York.

Some years ago, at Cardinal John O'Connor's request, Father Tom established a house of studies for deaf seminarians in Yonkers, N.Y. Upon Cardinal O'Connor's death, Father Tom established the Dominican Missionaries for the Deaf Apostolate, a community of deaf seminarians, which was later given the status of a private association of the faithful by Bishop Allen Vigneron of Oakland, Calif. It is now located in San Antonio, Texas, where nine men are studying and discerning the priesthood. Both hearing and deaf men are admitted to the seminary, but proficiency in ASL is a requirement. As there are currently only 11 deaf priests in the United States, this seminary is serving a huge need.

Brother Derrick Elkins from Father Tom's seminary traveled with him to Atlanta and helped with the interpreting for the Deaf Track. He and Lisa Palak acted as voice interpreters, so that hearing participants could understand Father Tom's words. They also interpreted for him as he sat on stage for the closing Mass.

In addition to his other roles, Father Tom is also the chaplain and director of the San Francesco di Paola Deaf Church in San Antonio, the chaplain for the International Catholic Deaf Association and a regular feature writer for the "Deaf Catholic," the ICDA-US monthly newsletter.

Is there anything that this priest can't do? One might rightfully point out that he can't hear. Yet, as those who attended the Deaf Track of this Eucharistic Congress can well attest, Father Thomas Coughlin exemplifies that deafness is indeed a beautiful blessing from God.