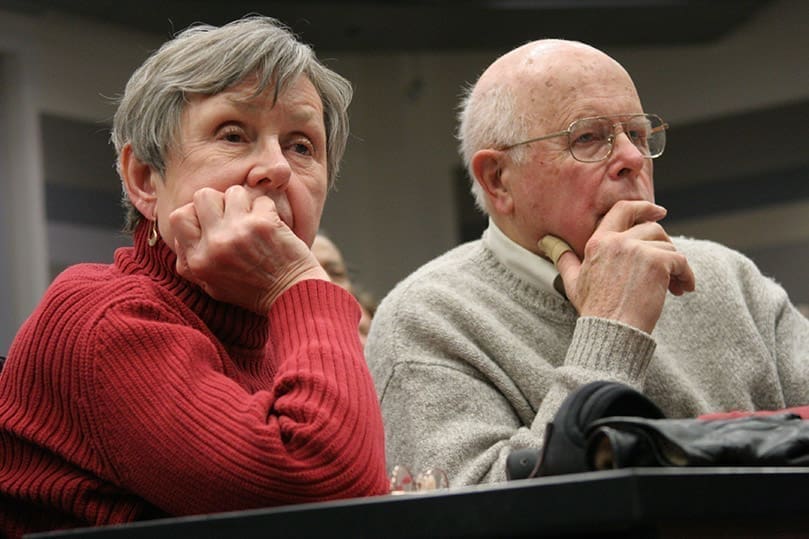 By ANDREW NELSON, Staff Writer
|

Published February 12, 2009

Two prominent Catholic attorneys squared off on how to handle illegal immigrants living in the country.

Michael Scaperlanda, a professor of law at Oklahoma University, and William Chip, a senior partner with a prominent Washington, D.C., law firm, wrestled with how to apply church principles to the thorny issue.

"I hope you see the human face of every immigrant, legal or otherwise. And if you are Christian, the face of Christ," said Scaperlanda at the forum at Emory University.

Chip questioned whether opening U.S. borders to immigrants is the best way to fulfill the Christian obligation to relieve poverty in the world. If the country is really serious about raising the rest of the world out of poverty "large scale immigration is just not compatible with those objectives," he said.

More then 200 people filled the hall at Emory University's Candler School of Theology, applauding points made by each speaker at the forum that stretched beyond its scheduled two hours. It was held on Tuesday, Feb. 3.

The format allowed brief presentations by each lawyer and questions from a panel of Emory professors and a representative from the Georgia Association of Latino Elected Officials.

Phillip Thompson, the director of the Aquinas Center of Theology at Emory, said illegal immigration challenges two ideals of America: being a country that welcomes foreigners and also being a nation that adheres to laws.

"This issue brings us a clash of who we are as a people and a country," he said.

The Aquinas Center of Theology, an independent center of Catholic theology and research, sponsored the event.

Other co-sponsors include the Emory University Department of Religion, the Candler School of Theology and the Emory Center for Ethics. The parish and social justice ministries for Catholic Charities, Archdiocese of Atlanta, was also one of the debate co-sponsors.

Before the economy began to sour, Georgia experienced a boom in its population of women, men and children who are Hispanic. Roughly 696,000 people, about 12 percent of the state's population, are Hispanic, according to the Pew Hispanic Center. Estimates of the number of unauthorized Hispanic immigrants ranged from 350,000 to 450,000, according to 2005 figures.

And as state lawmakers proposed tough measures to curb the flow of undocumented workers, Atlanta Archbishop Wilton D. Gregory co-wrote a pastoral letter about immigration reform in 2006 with Savannah Bishop J. Kevin Boland.

The two attorneys sharing the spotlight wrote opposing columns in the May and June/July issues of First Things magazine. They agreed on the principles the church teaches, but split on how to implement the church's vision for immigration.

Mary and Arnie Dill, members of Christ the King Cathedral, said their faith and understanding of the issue was increased by listening to intelligent Catholics discuss the volatile issue.

Mary, a retired social worker, said she is concerned about the influx of children of illegal immigrants filling up classrooms and putting more pressure on medical services.

Arnie said he was impressed by the Catholic teachings that support aiding immigrants, especially the idea of solidarity with others. He was impressed that both sides agreed that illegal immigration is a bad thing.

The husband and wife agreed the forum didn't change their minds on the issue, but left them feeling proud that Catholics have a deep intellectual tradition that requires people to figure out complicated issues. Or as Mary put it, "I don't have to give up my brain."

Scaperlanda quoted church documents and popes to make his point. He spoke in support of a six-point plan favored by American bishops.

"We are our brother's keeper," he said.

The Catholic notion of supporting the common good should encourage people to help the immigrants who are here with family reunification, legalize people who are here without the proper documents, develop a guest worker program, among other features.

But Chip said there is no conflict between supporting the common good and ensuring Americans and legal immigrants have jobs that are safe, with good wages, and that their children are educated in good schools.

He also questioned whether the advocates for illegal immigrants push the costs on to others. He challenged the church, which is a strong proponent of immigrant rights, to offer students of illegal immigrants free schooling at parochial schools or provide free medical care at Catholic hospitals instead of putting the burden on the public.

Chip said he sees how near his home garbage collection businesses hire unskilled Hispanic workers and exploit them by putting workers in harm's way and paying a pittance wage.

However, Scaperlanda said there are few accurate economic facts that support restricting or deporting undocumented workers. In fact, the people who come here have great initiative and enrich the economy and the country, he said.

He said people that want to restrict immigrants coming here now offer the same arguments promoted ever since the foundation of the country. They claim that immigrants are not smart enough to survive, cannot assimilate and use limited resources, he said.

"The anti-immigrant side has been proven wrong," he said.
Five Basic Principles Of Catholic Social Teaching Relating To Migration
Persons have the right to find opportunities in their homeland.
Persons have the right to migrate to support themselves and their families.
Sovereign nations have the right to control their borders.
Refugees and asylum seekers should be afforded protection.
The human dignity and human rights of undocumented migrants should be respected.