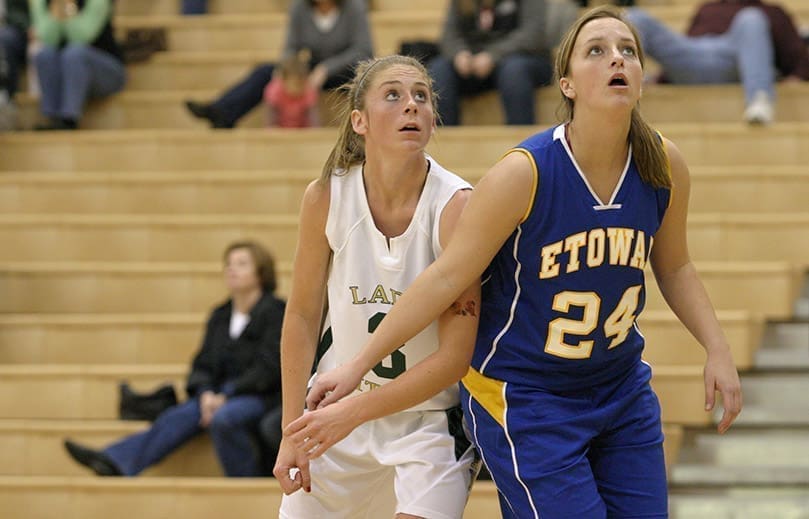 By MICHAEL ALEXANDER, Staff Photographer
|

Published January 15, 2009

After their third game in five days, the Blessed Trinity High School girls may have shown some fatigue as they lost to Etowah High School of Woodstock 76-52. Blessed Trinity held a four-point lead at the conclusion of the first period, but Etowah forged ahead 35-30 just before halftime. Etowah went on a 9-0 run to start the third period. They capitalized on a number of second-half Blessed Trinity turnovers to pull away for good. Etowah was led by shooting guards Stephanie Huffman (17 points) and Courtney Hatchett (14 points). Huffman also had three 3-pointers on the night, and Etowah center Krysta Lewis added 12 points. Blessed Trinity's Joi Reynolds and Katie Hawkins had 13 and 11 points, respectively. Riley Cerone and Caitlin Cox added nine points apiece.

In the boys game that followed, Blessed Trinity squeaked out a 72-71 win over Etowah in overtime. Etowah hit a 3-pointer at the buzzer to send the game into overtime. Then Blessed Trinity junior guard Austin Cremins hit a 3-pointer at the buzzer in overtime to seal the victory, and the home crowd stormed the court. Ryan LeGates led Blessed Trinity with 28 points, and Arris Brundidge had 21 points and 15 rebounds.

The Blessed Trinity boys (11-2) and girls (5-8) go to Atlanta to play The Westminster School Friday, Jan. 16.