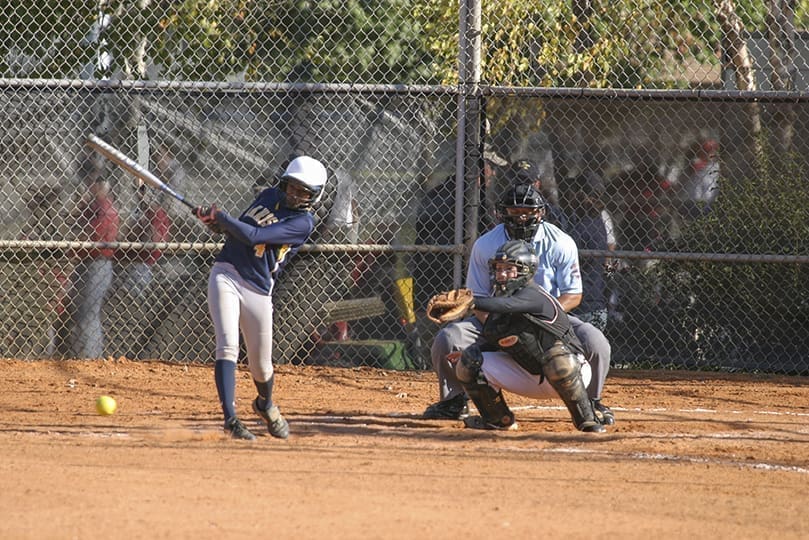 By MICHAEL ALEXANDER, Staff Photographer
|

Published October 23, 2008

It was a scoreless game through five and a half innings, but in the end Whitewater High School, Fayetteville, prevailed 3-2 over a tenacious Marist School in the Class AAAA North Sectionals at Hobgood Park, Woodstock, Oct. 18.

Marist was one of the top four teams to advance to sectionals after defeating Forsyth Central High School in the regional tournament Oct. 9-10. The sectional tournament allows four out of 16 teams in the north to advance to the state tournament in Columbus. Before Marist took the diamond against Whitewater, they defeated Alexander High School of Douglasville 1-0 Oct. 17 and North Whitfield of Tunnel Hill 5-0.

Junior pitchers Lori Spingola of Marist and Whitney Toler of Whitewater dominated the action early on as they garnered 10 and eight strikeouts, respectively, during the game. Marist centerfielder Tesia Davis started a rally with two outs in the bottom of the fifth when she delivered a base hit. She also stole second during senior Dana Middleton's at bat. When Middleton singled, Davis advanced to third and then third baseman Kelsey Sharp drove in the two players on her base hit to give Marist a 2-0 lead.

In the top of the sixth inning, Whitewater batters lined out and popped out to third base. Spingola also struck out left fielder Melanie Ennis. In the bottom of the sixth, Marist shortstop Kelly Miller was left stranded on base to end the inning. Whitewater second baseman Ashley Schwab started the top of the seventh off with a base hit. After third baseman Haley Richards popped out for the first out, first baseman Jamie Saunders got a base hit, which put runners on first and second. Catcher Kaitlyn Johnson delivered the base hit that allowed the runner on second to score and bring Whitewater to within one run. Spingola provided her last strikeout of the game for the second out. But it was outfielder McKenzie Mosley who delivered the crucial blow when her triple scored two runs giving Whitewater a 3-2 lead. Nikki Montesanti lined out to Sharp once again to end the inning.

In the bottom of the seventh inning, the final opportunity for Marist, Toler recorded her final strikeout to get the first out. During the next at bat Davis was walked and advanced to first base. Middleton followed up the walk with a base hit, but Davis was tagged out going to second. With Middleton on first and two outs, Sharp tried to replicate her fifth inning heroics, but she grounded out to end the game.

In the game that followed, Marist defeated Alexander High School 3-1 in the losers bracket. Marist begins Class AAAA state tournament play against Evans High School Oct. 23.