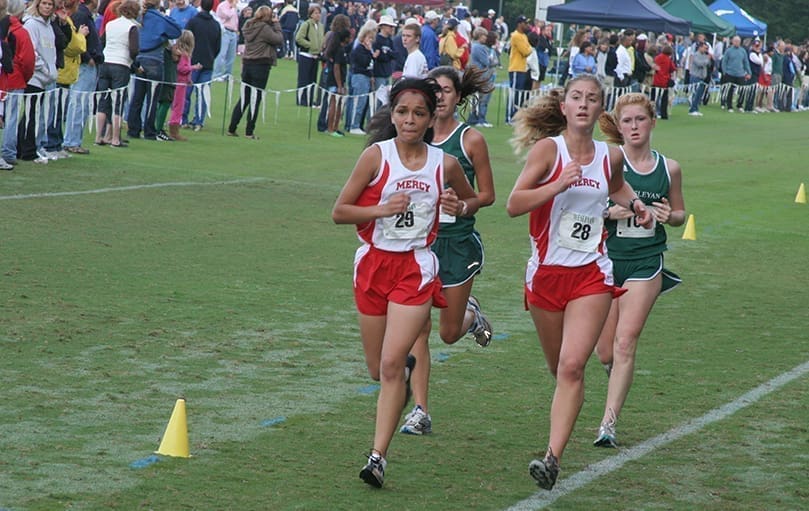 By MICHAEL ALEXANDER, Staff Photographer
|

Published October 23, 2008

Our Lady of Mercy High School, Fairburn, and St. Pius X High School, Atlanta, were among the 18 boys and 12 girls cross country teams running at the Wesleyan School Invitational, Norcross, Oct. 18.

Mercy brought its boys and girls teams, while the St. Pius boys team competed. Mercy's Jared Cooper finished 10th out of a field of some 150 runners with a time of 17:12.62. Pius' Trey Ellis finished sixth with a time of 16:53.80. Niall Longobardi of Peachtree Ridge High School, Suwanee, crossed the finish line first at 16:11.64. Five other runners from Mercy and Pius cracked the top 30 with times between 17:16 and 17:55. They include Mercy's Jake Lethbridge (12th), Justin Yakubesan (18th), Jonathan Bridier (21st) and Pius' Brendan Hoban (20th) and Michael O'Leary (28th).

In the girls meet that followed, Mercy's Megan Malasarte finished fourth in a field of 102 runners with a time of 20:11.35. Two additional Mercy runners finished in the top 20, Andrea Raville (21:14.64) at 13th and Sarah Hohenberger (21:58.36) at 20th. Heather Morris, another Peachtree Ridge runner, finished first with a time of 19:34.40.

In team scoring, Mercy boys were third, Mercy girls were fourth and St. Pius boys were fifth. Both Mercy and Pius will compete in the Last Chance Invitational at Carrollton Elementary School on Saturday, Oct. 25.