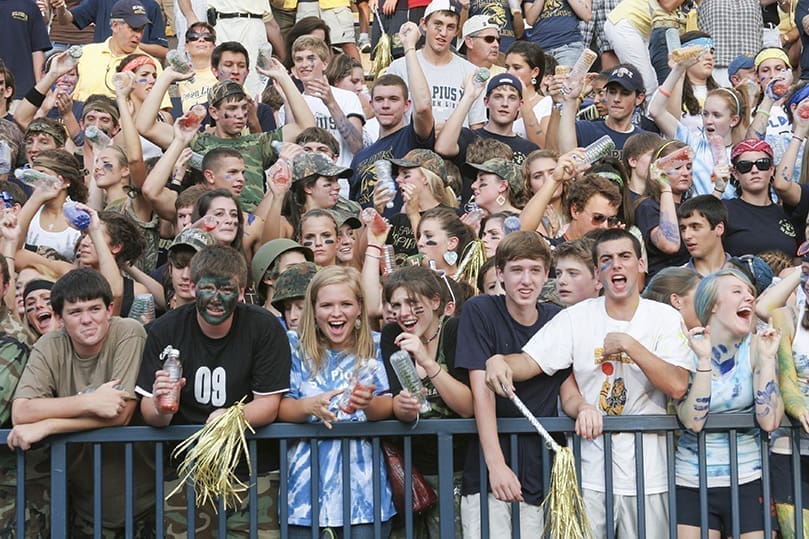 By MICHAEL ALEXANDER, Staff Photographer
|

Published September 4, 2008

This year it was the first game of the season on a warm August evening instead of the last game of the regular season on a cold November night, but the excitement and intensity surrounding the annual football encounter of archrivals Marist School and St. Pius X High School was still present.

On the first play from scrimmage Aug. 29, St. Pius senior tailback Jonathan Carter scampered 58 yards to take the team deep into Marist territory. This play set up the team's first touchdown, a pass from quarterback P.G. Standard to senior wide receiver Matt Pierce, just over two minutes into the game. After a Marist fumble with 9:16 left in the first quarter, St. Pius recovered and four minutes later they scored their second touchdown on a 1-yard run by junior fullback Cole Moon. Moon finished the game with 120 yards on 25 carries.

With 6:16 left in the second quarter, Marist got on the board with a touchdown of their own. St. Pius' Moon scored his second touchdown of the game just before halftime to put St. Pius up 21-7.

Marist added three more second-half points on a field goal by junior Justin Moore, but 21 points is all St. Pius would need to seal its first victory over Marist since 2003.

Both teams are on the road Sept. 5 as St. Pius (1-0) takes on Greater Atlanta Christian School and Marist (0-1) faces Stone Mountain High School.

Blessed Trinity High School, Roswell, did not disappoint the home crowd in the team's season opener Aug. 29. They defeated Oconee County High School 37-13. Senior fullback Sam Burkhalter led the team with 166 yards rushing and two touchdowns of 14 and 37 yards, respectively. Senior quarterback Kohl Hegetschweiler ran for one touchdown and threw for another. He also completed 14 of 19 passes for 127 yards. Tight end Michael Gray had three receptions for 42 yards and one touchdown. Junior Jake Skole had six receptions for 60 yards, returned a punt 38 yards for a touchdown, and led his team with 13 tackles on defense.

Blessed Trinity compiled 318 total yards on offense, while their defense held Oconee County to 161 total yards. Oconee County quarterback Zach Mettenberg, who has committed to the University of Georgia, was held to 63 yards passing. Blessed Trinity (1-0) travels to Riverwood High School, Atlanta, on Friday, Sept. 5.

Holy Spirit Preparatory School, Atlanta, lost a close one on the road to Harvester Christian Academy, Douglasville, 27-26. Holy Spirit's Tré Blanchard returned a punt 71 yards for a touchdown following Harvester Christian's opening series of downs. Blanchard was also on the receiving end of a touchdown pass from quarterback Curtis Johnson. Holy Spirit held a 26-21 lead at halftime, but Harvester Christian scored the game-winning touchdown with 1:05 remaining in the game. Johnson finished with 264 yards passing and three touchdowns in the loss. Holy Spirit (0-1) plays Dawson Street Christian School, LaGrange, in their home opener Friday, Sept. 5.

Pinecrest Academy, Cumming, opened the season on the road against Westminster Christian Academy, Watkinsville, with a 30-24 double overtime win. The teams were tied 24-24 at the end of regulation. Junior Kevin Metz helped propel the team to victory with his 3-yard run. Pinecrest (1-0) travels to Macon Sept. 5 to face Windsor Academy (1-0).