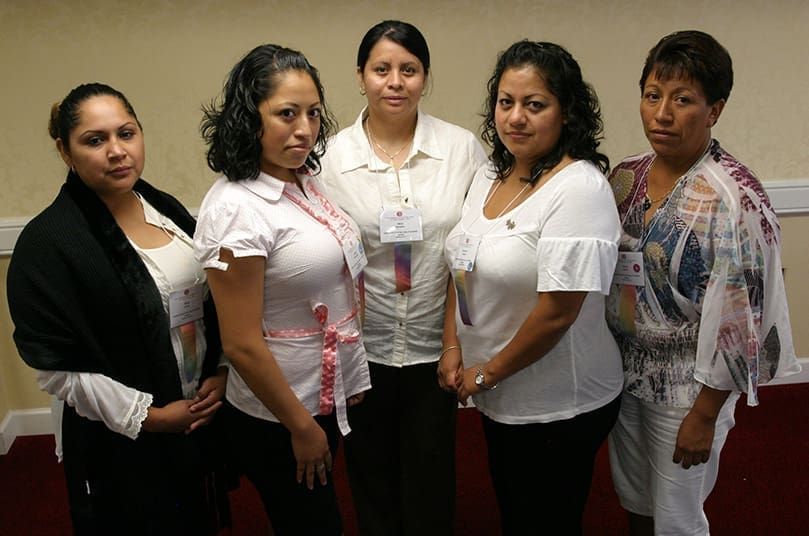 Published September 25, 2008
Women from all over the Atlanta Archdiocese convened for a weekend of prayer, workshops and fellowship at the Atlanta Archdiocesan Council of Catholic Women convention. Held the weekend of Sept. 5-7 at the Atlanta Marriott Northwest, the 52nd annual convention drew over 180 attendees.
AACCW president Joan Brown was pleased with the success of the convention and the number of women who came "to share and experience the bond we all share as Catholic women who are called by our Lord to serve." She added, "He has truly blessed many women with the ability to become leaders in their own parishes and to step up and be leaders on the archdiocesan level."
The event brought together Catholic women from across the Southeast representing different ethnicities, large parishes and small missions, young and old (from age 18 to 83), with as many as three generations of one family in attendance.
The convention started Friday night with a buffet dinner, rosary (each decade was prayed in a different language), a newcomers' welcome and presidents' reception.
Everyone was up early Saturday morning to celebrate Mass with the group's new spiritual moderator, Father Tim Gadziala, pastor of St. Anthony of Padua Church, Atlanta. After a 9 a.m. business meeting that included a welcome from 3rd District Cobb County Commissioner Tim Lee and approval of by-laws changes, two workshops were offered. One was given by Dr. Jan LaBoone, director of the Coastal Georgia Learning Resources System, and the other by Wanda Lowe, RN, the cancer care navigator at West Georgia Health System.
The luncheon speaker, Frank Mulcahy, executive director of the Georgia Catholic Conference, gave a rousing talk on what Catholics should inquire about and where to get information about social justice.
A closing Mass was celebrated by Archbishop Wilton D. Gregory on Sunday morning and was followed by brunch.
Marianna Rosales attended the convention for the first time, along with four friends from the Hispanic community at Our Lady of LaSalette Church, Canton. Rosales said, "We had never felt so welcome and accepted as we did at the AACCW convention."
Another first-time attendee was JoAnne Burch, from St. Vincent de Paul Parish in Dallas. She noted that, "It was the best of women taking care of their fellow women, therefore we experienced the best of the best."
Marylou Bishop, also from St. Vincent de Paul Parish, added, "Being that we are located in the Bible Belt, I've never experienced such an incredible event with women of my own Catholic faith. I look forward to next year in Peachtree City."
---
For information about AACCW, go to www.archatl.com/clife/aaccw or call (770) 948-4849. The AACCW president is Joan Brown, and she may be reached at jrwbrown@comcast.net.